SANDMAN'S DEFINITIVE RATINGS: CELTIC v THE FIRST ORDER: SCHADENFREUDE SUNDAY SPECIAL…
"The First Order emerged from the remnants of the Galactic Empire after the Empire fell at the end of the Galactic Civil War, around 2012. And Darth Vader's a Zombie  so-and-so."
Star Wars Wikipedia.
"What. Even. Is. It?"
David Attenborough sighting Alfredo Morelos, BBC 'The Pumped (Again) Blue Planet'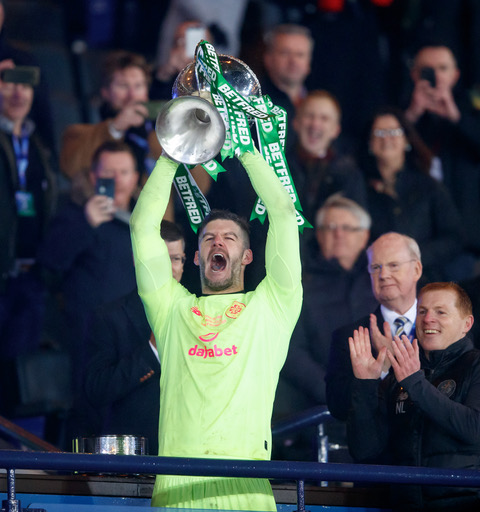 THE WALL – 10/10 MOTM
GOD. G-O-D! On yer knees. Enough said/written. Anything to add, use the reply box. I'm too busy building a flaming statue.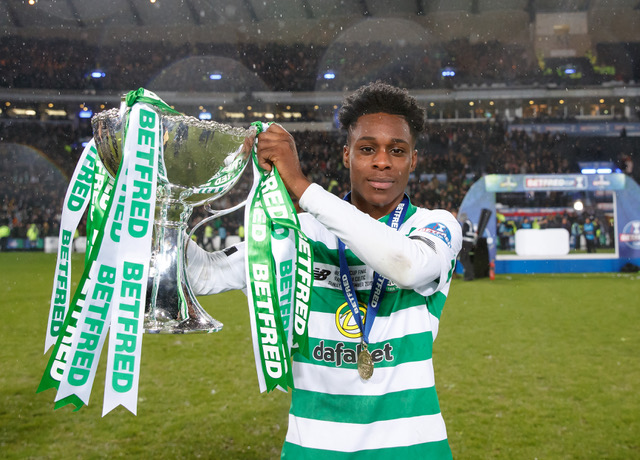 PINGPONG – 7.5/10
Tennn-shun! Junior Skelping classes start Sunday 3pm right after chapel. Do not be late! And the wee man was bang on time to earn his first filth-rattling merit badge. Yet…Sent off. Feck off, Gollum, you simpering forelock-tugging wee weasel. Yes it was a pen, yes it was a card – a YELLOW, NEVER a red – the Misser was NOT in possession of the ball, nor did it have a goalscoring opportunity CLEARLY denied. The ricochet was heading in
their general direction. Sometime wee Wullie Gollum lets his dick, dic-tate…
That aside, young Pingpong was great when many of his experienced compatriots were PHISH. He kept the Koncentration-kamp Kapo Kent quiet all game. You're a proper Skelper now, kid, so revel in it.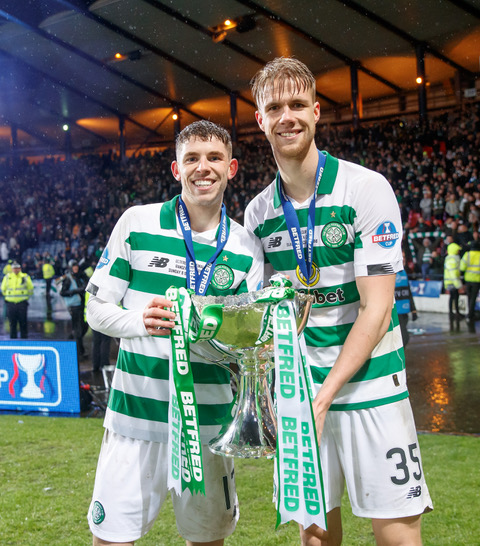 AJER – 7/10
Go on, the Techno Viking! Embattled is his favourite state and he spent 90 minutes plus Fun-time digging in like the Norse legend in the making he is. Only one slip all game – early lunge – but great stalwart resistance when
the chips were down.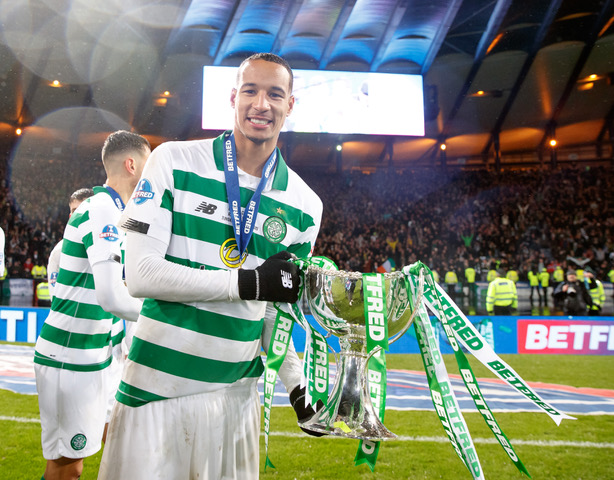 JULLIEN CLARY – 7.5/10
'What. Even. Is. It!' he scorned, Attenborough-like as the Morelos thing hustled up against him like an orphaned sloth with genital herpes looking for frottage. Those big casual clown feet turned swiftly into beautiful pinball flippers to guide in the winner – a moment of historical jhoy for VVD MkII.
His work was cut out being part of the only functioning dimension of the Celtic side – a defence that thwarted every ball thrown at them and intervened with a last-ditch boot every time they  were pulling the trigger. He suffered often during play with the lurgy of the rest – loose balls, no urgency, no vision. But what a finish…
HAYES – 6.5/10
On a pitch like the Somme in Autumn, our winter soldier showed why there's so much faith in him as he deployed his honorary Skelper status to yet again prove his worth and stability in the face of intense pressure. Every defensive player was let-down by their man ahead and Jonny exemplified the grit and steel of trench warfare as
he took on waves of Them. And won. Again. Caps doffed.
BROON – 7.5/10
Another game like midweek where he expected to cruise but ended up scrapping it out. HE doesn't lose. HE wins by any means necessary. Junkies down Govan environs keep their feral weans in check while they heat up the spoons with tales of the Boogeyman, Broon.
Trophy-lifting skipper got his hands on that cup by sheer focus and combative excellence. None of the mythical Ibrox  hard-men got in a dig/upset his rhythm. So utterly vital today as we tried to hold it together amid a malfunctioning performance. Ultimately, when the dust and smir settled, Broon was the last man standing. With the cup in his grasp. Captain. Leader. FLAMING Legend.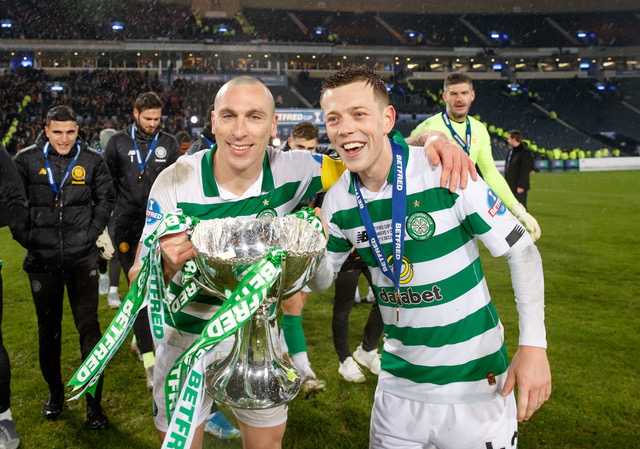 CALMAC – 5/10
Such a disappointment to a girl, or thousand… When we needed him to take control of the mid and let his class dictate, he…Disappeared. Popped up scrapping like a good 'un later but he's better than that and better than them and better than this journeyman effort.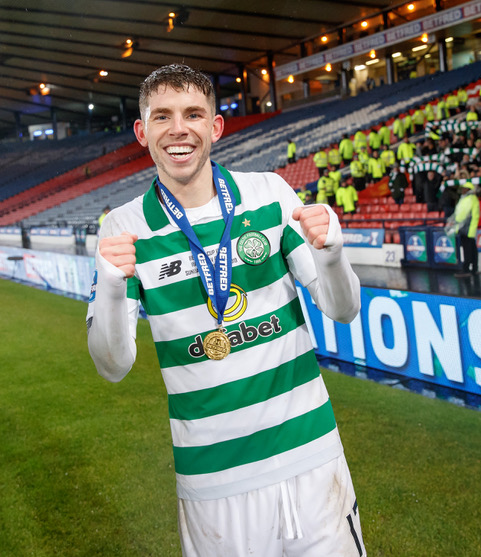 CORPUS CHRISTIE – 4/10
Oh, Father why have you forsaken me? Not quite crucifixion time yet, but this was a murderous turn by our match-winner. He's so much better than he showed – and he showed FECK ALL, as they say in the Old Testament. It's up to him to impose his physique and class upon these dog-raping hobos, yet he failed in every aspect that makes his game potent -timing, tackling, scoring. Nothing played out and he was a shadow of the bhoy we rely on.
FORREST – 3.5/10
Hey, Jamesy, there's a game on. It's me sat in the pub with the beers, so no need for you to play like it was you. Terrible turn from the flashing flop.
ELSHAGYONLASSIE – 3/10
Not fit , not at it, not even close to the surging match-winning displays we got used to seeing. It was like we got loaned Morelos' twin for the first-half.
MORGAN FREEMAN JR.- 3/10
Yeah, Dad's occasionally God, but you're an ex-Zombie mascot with photos Lennony doesn't want revealed, or something similar given your shoe-horn into bigger games than you can handle ahead of PROVEN Skelpers like Griff and Sincy. FFS, Lennony, give the kid some breathing room. This one went as expected when the team came out, and it's difficult to curse the Junior Freeman for a role he is NOT suited for. Not in games of any magnitude, at least; he's a WINGER, ffs.
SUBS:
FRENCH EDDY – 7/10
French Shreddy as the Zombies are getting used to calling him – showed THE difference and his class when setting up Mikey for his mega-fail. Played from the start, this game could have been done by half-time.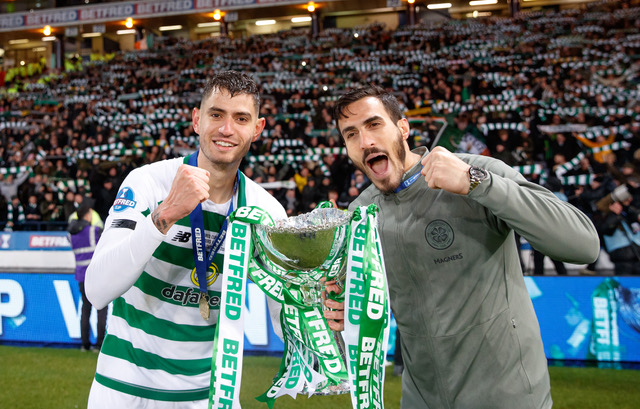 BITTON – 5.5/10
Appeared with backs to the wall, Big Nir won't shirk that sort of challenge, and helped shore up the rearguard in lieu of late calamity.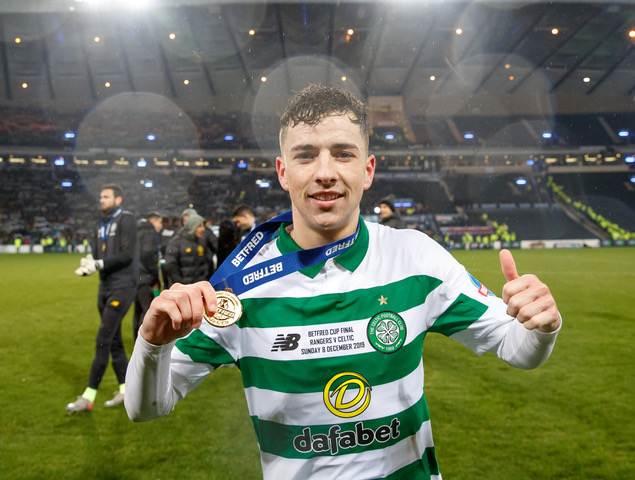 MIKEY J – 5/10
Jeeeeee-sus, Mikey… the entire eighties (well, the majority, save for FGTH) was all but forgiven as he strode though on French Eddy's beautiful bit of play and… Missed. FFS, Mikey, just plant it v THEM and prove the doubters wrong while we celebrate like the reprieved on death-row.
LENNONY – 6/10
Wow. The stars aligned for Lennony today. That team – all askew and nothing clicking. NO relief up front as he imagined his favourite nephew would impact the gurning Ibrox sides o' beef. It was a shambles form beginning to end, salvaged only by his crowning decision – bringing the big bear-buster back from the effette wilderness of Southamptonville into the fermenting cauldron of Glasgow winter Sunday cup finals to single-handedly
take the trophy.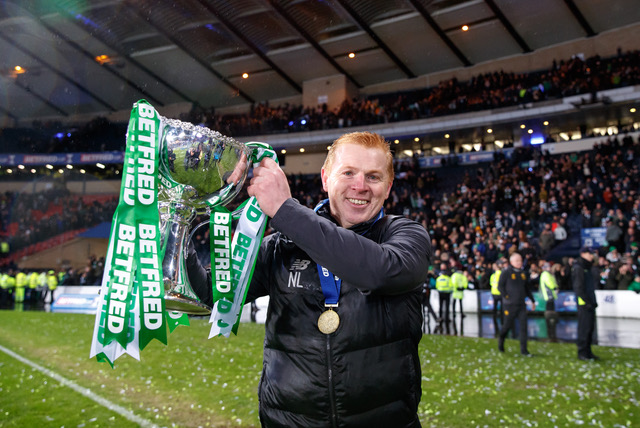 Lennony was out-guessed and out-pressed by his sneering, luckily smirkless, Scouse nemesis opposite. Yet, he stayed smooth on the surface and paddled like the devil underneath as the manager seemed to fall upon the sword of his own wrong-choosing. But a handful of players were antithetical to the general garbage we mustered and those guys' moments of class made the ultimate difference. Thank them, Lennony – for you escaped a pounding.
OVERALL – 7/10
The Wall saves us ALL! On another Beautiful Sunday!
We were so poor; Politely. Honestly? Craig Whyte.  I was blabbing about rope-a-dope early on but in truth we were the dopes – never off the damn ropes, unable to impose ourselves or put a constructive move together, let alone dominate a midfield of journeymen minus their most composed player.
This was shaping like Black Christmas last year and we had NO answer, save for another brilliant goalkeeping performance – big Gordon saved the skins at Mordor to an extent and The Wall went one better today, winning the cup on his own.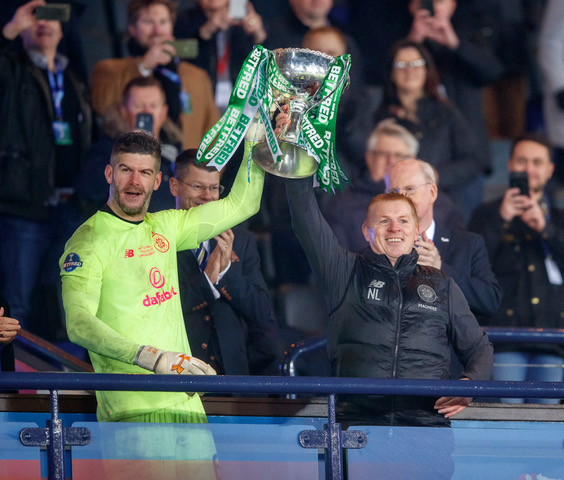 Shocking performance – probably worse than our Livi effort but, hey – LMFAO! We WON! First leg of the Quadrophenia treble nailed! Bears demoralised! And aw, Wee Alfie the scape-drug-mule-thing…
Kudos to the Big Guy, Pingpong, Broon, The Franco sophisticat, the Techno Viking, and… Well, that's about it. Utter failure as half the team declined to turn up and those excitable Zombies nearly bust the Glory Bubble.
But they didn't. And that, kids, is what makes a GREAT team – when the creatives malfunction and you've still got a supporting cast good enough to make the difference, get the result over the line. Dirty, cheating – ball out by us,
never returned – they got the big dose of Karma they were due. And Slippy's never even won a League Cup, never mind a league…
Hail, Hail, we nailed the mini-prize and set ourselves for the BIG prize. They'll never get a better chance to de-rail the Hooped convoy, not with the Rubber Duck at the wheel…
VICTORY! REJOICE!
QUADROPHENIA TREBLE ON THE CARDS!
Go Away Now.
Sandman. 7 pints and counting.