…And furthermore in the Colin-Nish-Talk case, you honour, we present…
Continued: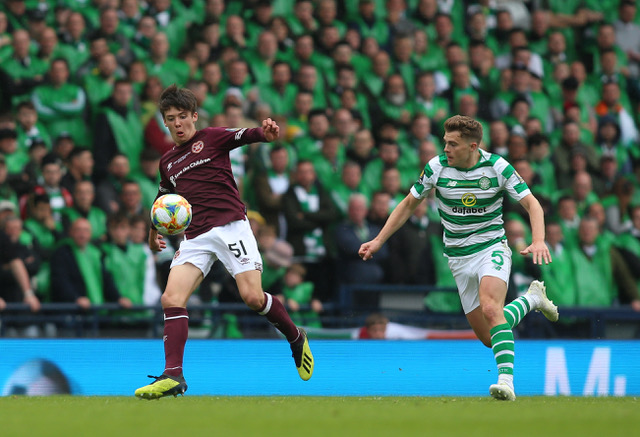 FORREST – 5/10
In Prestwick they have a saying – 'If the sun's high and Jamesy's on the teamsheet, it's taps aff and dangles oot.'
However, quaint customs aside…Sixteen, that kid who buzzed all over ye, Jamesy. Sixteen. About the average age of a Prestwick glass collector… But Jamesy had nothing to dazzle (or dangle) this particular minimum-wage trainee with. One cross in the match, rarely a run, nothing of impact.
He's had some season, the Prestwick Flying Flasher, but in the big finale he was sadly absent.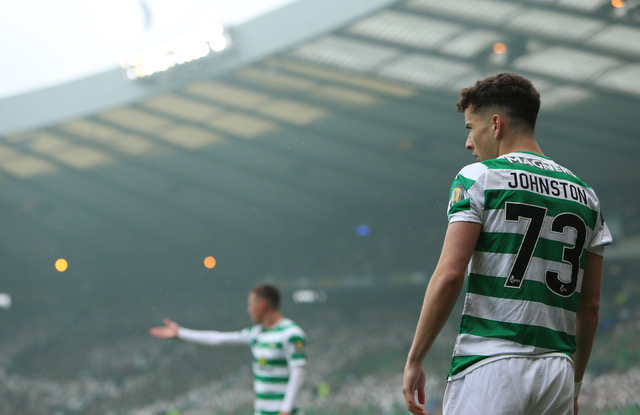 MIKEY J – 5/10
Wee man with the modified Echo and the Bunnymen hairstyle – a cut above the generic and tragic New Romantic mop he's been sporting previously – was another 'almost.'
He again looked lively, but crucially lost the gallusness required at THE moment.
Thought he showed well for the ball with Hayes first half and not afraid to spin around to flummox opponents, BUT his big moment came when released in their box, right-side,
second-half – the Mikey J of training ground reknown would have CUT BACK on the Hearts player
after checking in front of him; skipped away again and slammed a shot in.
Inexplicably – though it's not – Mikey chose to play the ball back to the edge of the box
and we lost the big chance. His moment, lost to confidence; watch yourself in the highlights,
Mikey – you had them toasted; one flick to the right and you were in for glory.
There and then I reckoned subbing him was correct – you get one chance to be a legend in
a cup final and he wasn't up for it. Yet.
However, some are…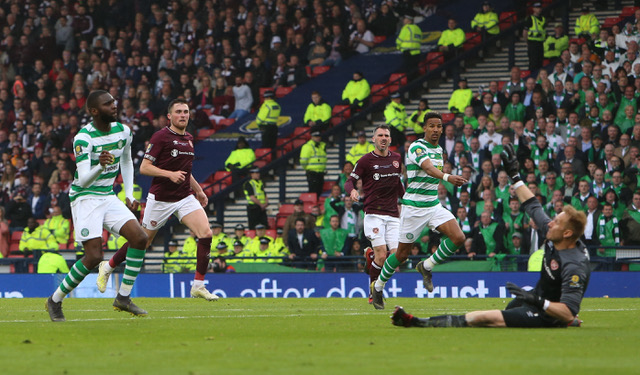 FRENCH EDDY 9/10 MOTM
My man. Or, rather, Sparky's man; he's French, eh, and he's called Eddy, aye?Or as Alan Stubbs calls him – Edwin Ozard… fe-ck-ing whit?
Craig Levein will tell you – French Eddy is the mercurial silver that slips through your fingers just as you think you've got your hands on the treasure and it's going nowhere.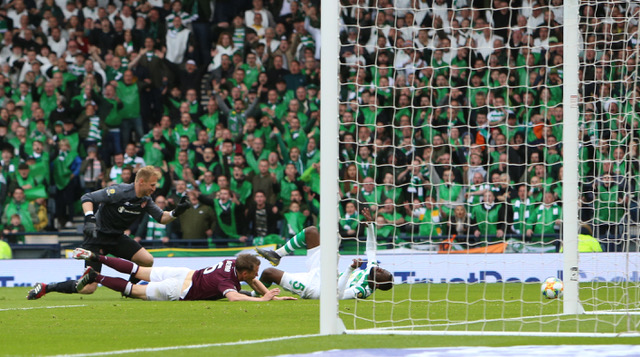 Drifted into the penalty incident – and hilariously we had ratfink bassa Neil McCann
(Celtic heritage traitor) on TV attempting a dissemination of said conflict in keeper's
favour – with the instinct of a predator onto a ball not meant for him.
Then, with eight minutes to go… HE WAS ALREADY MOVING onto Micka's header – watch Oor
Wullie's buddy Soapy Souttar playing defence for Hearts as he slashes at a clearance and
lumps it towards the halfway line.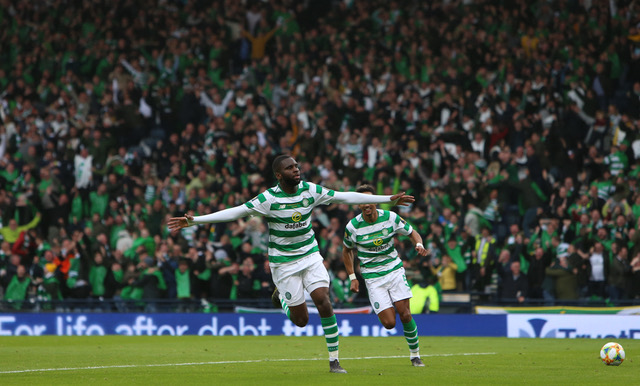 Soon as Soapy's sclaff takes air, Eddy is MOVING into the centre-forward channel. THAT is
why we paid NINE MILLION pounds for him, Celtic myopics and lurking Zombies – THAT is
why L'Equippe Magazine constantly rated him among the top ten world football prospects.
His subconscious positioning bought him three yards and time to execute THAT finish,
which will be in my heid every time the wife says…
Well, anyway… Just magical moments, even if his pen was a saveable one; it went in and
that's what counts.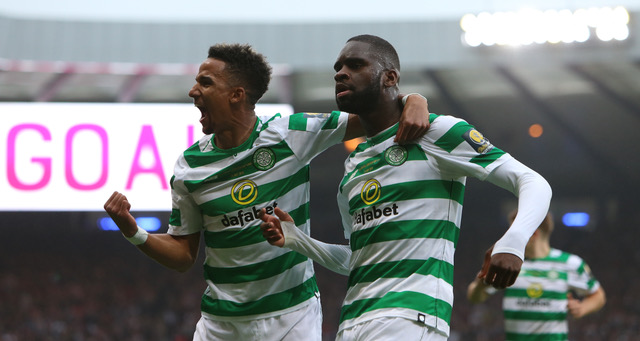 The bhoy is playing out of position and STILL winning us trebles. Give him a strike
partner to take the heat, make the layoffs, play Eddy in the Lennox-esque inside-forward
position and let our French wunderkind run at opponents. A scintillating scenario.
SUBS:
SAM JACKSON – N/A
Really not much to muthufeckin' do save rile up some Diet Muthufeckas an' he will need to
prove himself THE muthufecka to consider for the Rogic space come summer. Our finest player
last August/September. Skelper, then introverted mad muthufecka right after the
international break. Hmm… Someone for Lenny to work with; similar positions and styles.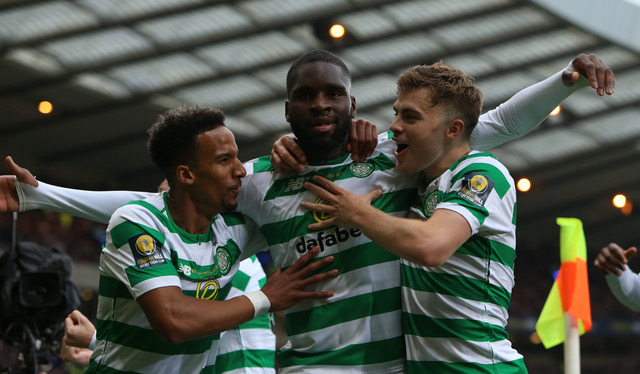 SINCY – N/A
Certainly appears like a guy committed to the cause. Whether we get the scintillating Sincy
back for 2019/20 – and what a bonus THAT would be – remains a mystery for the near future.
BITTON – N/A
Another floater who I'd like to see stay – he's got some guile and steel; a worthy squad
member with experience who would cost a penny or two million to replace.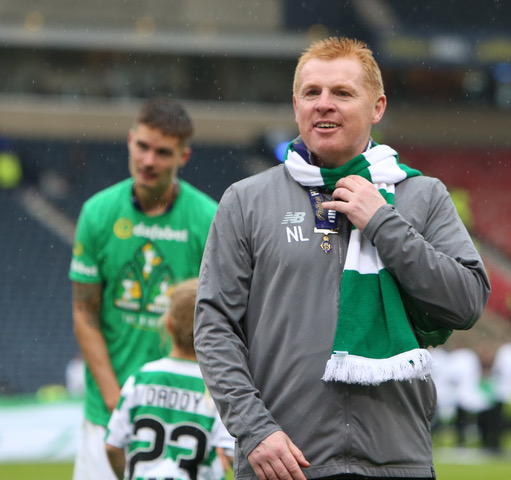 LENNY – 9/10
HAAAAAAAAAAAAAAAAAAAAAAAAAAAAAAAAAAAAA!
How's that working out for you, hand-wringers, pious dry-witted 'Celtic supporters' and the terminally virtue-signalling egotists who remain traitorous Rodgers apologists and 'measured' Celtic commentators. Anyone but Lennon, eh?
HAAAAAAAAAAAAAAAAAAAAAAAAAAAAAAAAAAAAA!
Down in the nitty-gritty of day-to-day squad management, down at grass-roots level, down in
the cage with the snarling Zombies against a nation of bigots and demented ignorant backward
bassas, there IS only one man to take Celtic into 2019/20.
Today, the perfect job application; a Celtic side struggling with tactics passed down from the
previous all-conquering regime. Tactics that every side in Scottish football have familiarised
themselves with over the three seasons and formulated plans to stifle.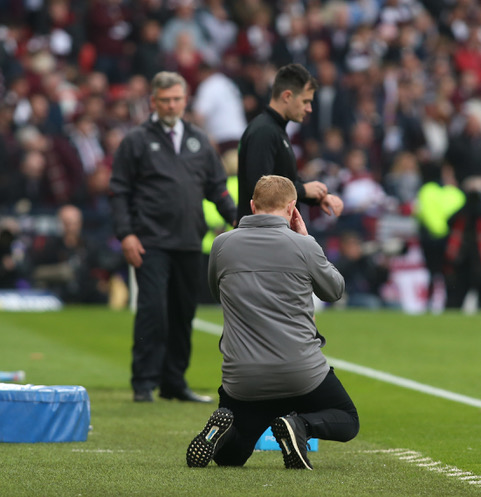 Hearts did that superbly, it MUST be said – for balance in the Lenny debate. Big mumbling
budgie-pumping Leveine, for all his truncated dour wit, certainly can set out a team to combat
flair and guile. He screwed the Snakeman over TWICE. He surely imagined he'd done Lenny over
for a historical victory when they took the lead after barely conceding us a clear-cut chance.
But NOW. RIGHT NOW! Pay attention, Lennon-haters – yes you! – right NOW, right THEN in that flux of reality when EVERYTHING was in the balance – and the balance was Edinburgh-tilted – THAT is when Neil Francis Lennon exerted his influence. Players play, managers manage, HEROES influence. You'll deny it, of course you will, if you're a Lennon hater – but he was there on the sides calling the belief out, focussing the minds as the players stared defeat in the face.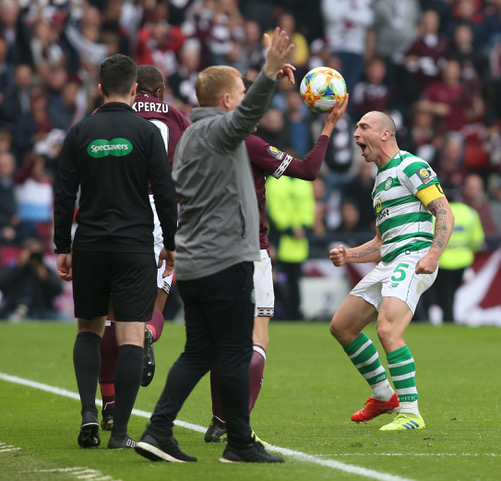 If you pretentious spoiled brats ooze over Rodgers for his Ibrox 3-2 victory with ten men then you're in denial if you can't credit Lennon with the downright id – a transferred will to power – that dragged a beaten Celtic side back into it. And not only back into it – to victory.
A manger's ability is reflected by his team's response in adversity. And how we showed the Lennon
character today.
Whiners, the disgruntled, the deniers – his name is Neil. He is the BOSS. We will love him and his achievements. Unlike others, we know that if it's not working out for him, HE will do the right thing and walk before it's too late. HE will not jump ship in the middle of the night at a crucial time in a historic season for a shot at the big fat English tourist attraction, like a tawdry Club 18-30 liason.
HE will give his life – without irony – and 100% every day to make Celtic successful. HE is Neil Lennon, Celtic manager. YOU are lucky. Get used to it.

GREEN BRIGADE – 101/10
That display: pride, choking – and not the fueking smoke – tear in the eye; tremendous effort,
tremendous execution, drumtastic thruoghout the 90 min. Next season those bhoys will lead the THUNDER.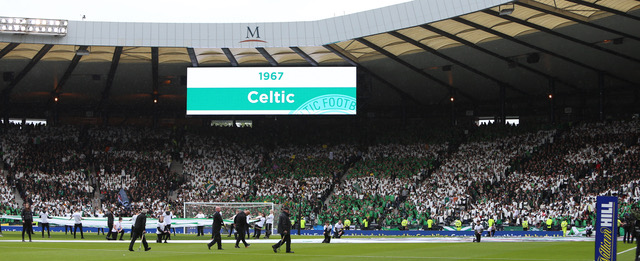 OVERALL – 8/10
Coming back form 0-1 down to win 2-1 in a cup final to seal a historic treble rebel treble on the
anniversary of the greatest triumph in Scottish football history when we also turned around a 0-1
to win 2-1…
Football poetry.
Not much to critique – Hearts fought like mad dugs over a zombie corpse; we couldn't get any space to find any rhythm; big Harry Potter On The Register had his stranglehold working perfectly until class finally found a way through.
It became more than a game of football or tactics – half an hour to go it was simplified into a
cup final scrap. Brilliantly, our bhoys came out winners. They will take more from that victory
than a 4-0 cruise; we will have re-discovered levels of self-belief that may have fallen by the
wayside over the past month.
Treble Rebel Treble. Just think about that. Sheesh.
Magic Days indeed.
Sandman out. Of it…