SANDMAN'S DEFINITIVE RATINGS: CELTIC @ PNF
'Noted Irish archeologist Indiana Murphy travels to the Vatican with ten thousand Celtic fans to decode ancient manuscripts that reveal secrets of the Five Way Agreement, pursued by Opus Dei – hired agents of Peter Lawwell, desperate to conceal the truth behind the assisted resurrection of the evil Govanites.'
Da Vinci Code II, plot summary
'Who said that my grandfather and Hitler were lovers? The fact I called him Granny Adolf was just childhood affection. And no, I did not used to be a porn star; I simply look like a well-used ex porn star."
Alessandra Mussolini
"How the hell did all these Celts get into my front yard?"
Pope Francis.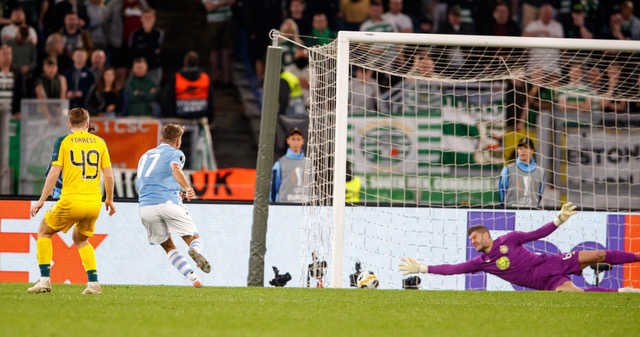 THE WALL – 7.5/10
Mistaken for the Colosseum by many locals and bewildered a couple of Chinese tourists who thought they were back home in Beijing. Celtic took the Great Wall to Rome. And he crumbled. Flapping, dropping, scudding – a first-half full of textbook goalkeeping disaster; BUT bailed out by luck and some quick-witted defending.
Then came the half-time terminator-9000-esque system reset and what Lazio were presented with for the second 45 was an impregnable keeping machine, rebounding their bombardment twenty yards away from danger, covering everything close to him and sweet with every kick. Confidence is a goalkeeper's best buddy.
HAYES – 8/10
Genius pick for a starter as he's fresh from time-fighting fascists in 1960s Spain with the XV International Brigade. A quick quantum-leap had him in Rome 2019 and at it from the start – superb and competent performance from Jonny; a man many had written off LOUDLY at length and in much contretant avec moi BEFORE he'd even kicked a ball (you know who you are, whiner…)
But just to remind you… Not. Fecking. Me! Jonny Hayes. Dubliner. Celtic legend!
AJER – 8/10
Big Techno Viking madness for the Lazio recalcitrants to cope with, and they couldn't cope with his uncompromising and extremely enthusiastic mindset – contested everything with a balanced maturity he'd been lacking previously, got every commitment right, clearances perfectly timed to relieve pressure.
JULLIEN CLARY – 7.5/10
Appeared unusually shaky after they got an early opener; lost command of the line for a ten minute spell in which big Kris and Jonny bailed him out. Not helped by Hat Attack's uncharacteristic flapping. But once he got a grip? Terrific. Timed his interventions to perfection whole second period, took control of his defensive unit and got us through like a titan.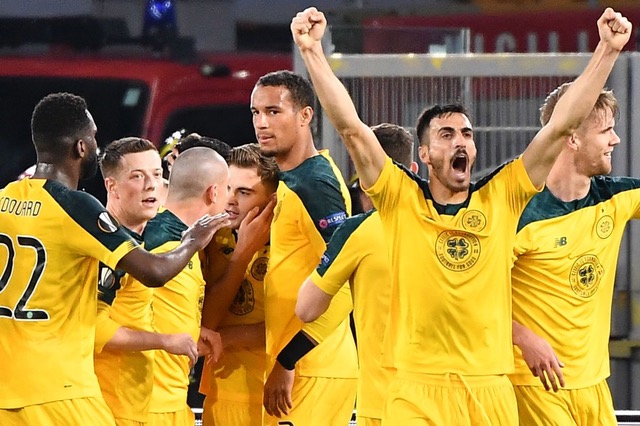 HAT ATTACK – 6.5/10
Worst first-half we've seen from him – hopelessly wandering out of position to leave Europe's second-top striker a tap-in on 7 minutes, continued to fail with his movement and play them onside thereafter as we faced a pumping. Seemed generally not at it at all. Then, like The Wall, came out after the break and rediscovered his true form, doing all the spadework and shutting down the formerly lethal threat on their left wing. Hope his blue-balls late injury isn't too serious (that's what happens when you gaze around at those Italian babes in the crowd, big man…).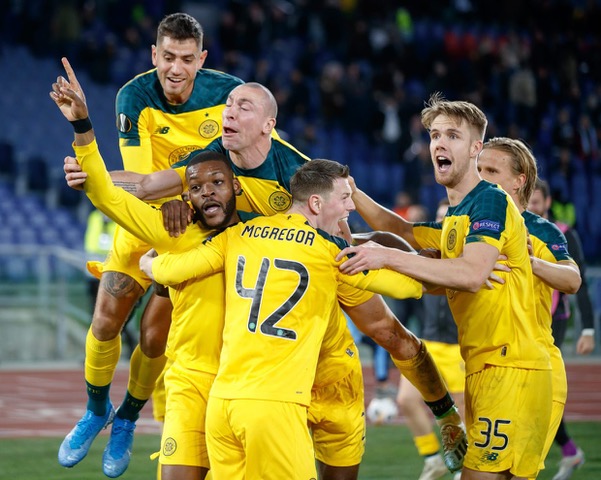 BROON – 8.5/10
When in Rome… You bring a gladiator. Maximus Scottius Broon. Soldier of Celtic. General, leader of men. Finished, according to Scottish press tragic fannies…Aye. Outstanding battling, prompting performance. Superlatives running out before Broon's legs. Which are gone, according to some; How's that working out for ya, zoomers?
CALMAC – 8/10
'Sign that new contract and I'll finally give you a rest,' said Lennony. And Calmac did… Sucker!
'Ah telt him," sighed Jamesy, shaking his head as he huffed and puffed up the wing. So Calmac was thrown into the fray again to tempt The Snake into parting with 50 million of Arsenal/Man United's filthy lucre when he commits his life to them, sometime after quitting the Squirrels, or Long-Haired Weasels, or Faxes or whatever his wee diddy EPL-steroided club call themselves. So Calmac's ours for keeps-ish and our metronome got metronomical on the Surrender-Waffen.
What a disciplined performance- thought he was too far from Broon first-half, too much on the front-foot when we needed to exert control. But with subtle adjustment in his movement he became the axis by which we turned the tie. A Bhoy who paid his dues and became THE player we've missed since The Maestro.
CORPUS – 7.5/10
Perpetual motion, almost single-handedly kept us alive in the first 20 minutes as many toiled to get a grip of Lazio's pace. He was there, in and around them with the afterburners on. Still managed to keep his touch and guile on-call deep into the game as we had them sweating. Major unheralded factor in the glory.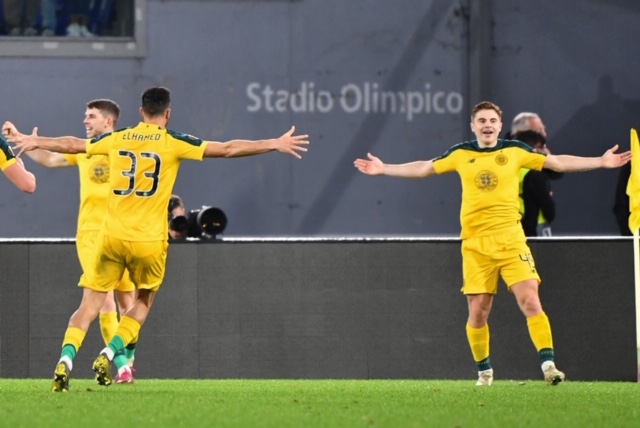 FORREST – 8.5/10
Ha, the Flying Flasher of Old Prestwick Town slaps the fascists in the face with his whipped crosses, and whipped wanger as he skelped down the wing right in front of their baying hordes of whores, building through the first-half to the climax – that arrow bulging the net. A constant torment – let those sky-blue representatives of racist supremacists know what it's like to collect glasses on Scotland's riviera with an outstanding just-about-man-of-the-match-performance. But not quite…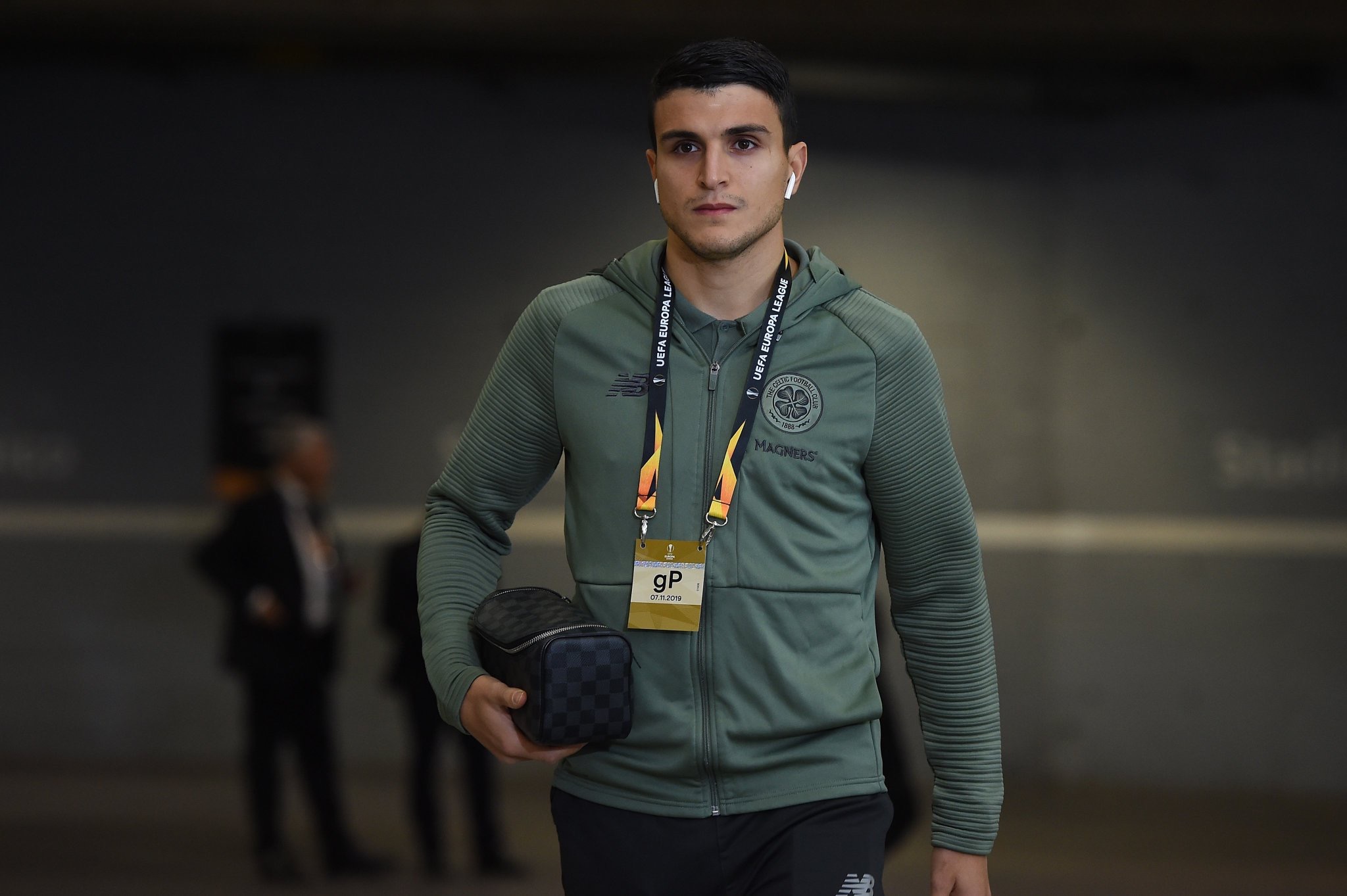 ELSHAGYONLASSIE – 8.75 MOTM
You got to give it to the liquid relentlessness that is big Nailtheminaminute, or however his name translates… Looked set for stardom through the first 45 but his final ball was agonisingly flawed as he, on numerous occasions – Calmac in particular – could have buried them with a little more deftness of touch.
But he maintained his quality despite the setbacks and – like a top player – played until his class made a difference. Brilliant show. Involved in everything good right until the marvellous death of the fascists' figurehead.
FRENCH EDDY – 7.5/10
Oh, he's a handful, but oh, he's been a little out-of-sorts, but he's still in and about them and… Oh, he's missed THE big chance… But NO! – he's got it again, he's unstoppable, he's heard the cry in French from his right-side – 'Gie's it ya Bam!" – and he's played in that Muthuf*cka and… And…Aaaaaand…
SUBS: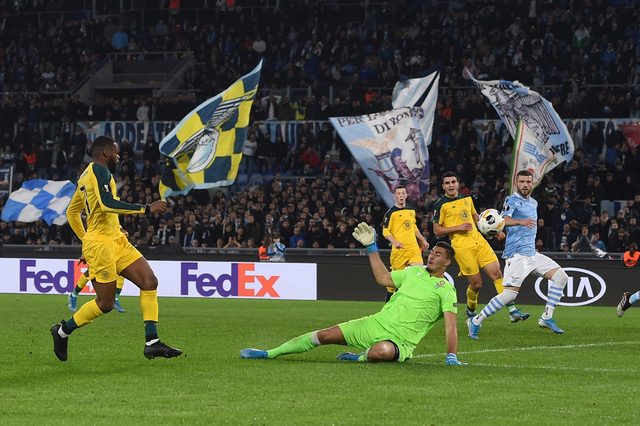 Sam MUTHUFUCKIN Jackson – 0/10 – 10/10
MUTHUF******CKAAAAAAAAAA! MUTH******-F*****CKAAAAAAA – have a go! dink it! DINK IT…
He's dinked it! It's….floating….it's innnnnnMMMMMMM*****THUUUUUF*********CKKKKA
AAAAAA! YYYYYAAAAAAAAAAAAAAAAAAAAASSS!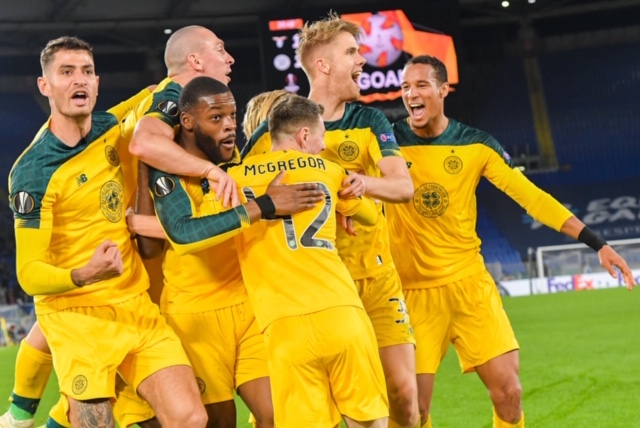 MUUUUUTHUUUUUFF********CCCKKKKKKKAAAAAAAAAA!
Came on, MMMMUUUUUTHUUUUUUUUFFFFFFFFFF***CKKAAAAAAAAAAA YYAAAAASSS!!!!!!!
for Corpus on 77 minutes to kill MMMMMUUUUTHHHHUUUUUUFFFFFFFFFFF*******CCKKKAAAAAAAAA
time… did little of note. MUUUUUTHUUUUUFFFFFFFF******KKKKAAAAAAAAAAAAAAAAAAAAAAAAAA
AAAAAAAAAAAAAAAAAAAAAAAAAAAAAA!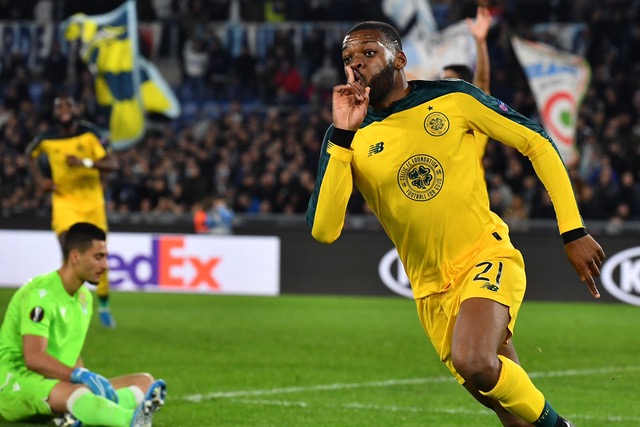 BITTON – N/A
On for a comeback treat to witness the moment of muthuf*ckin' ecstacy.
GOLDILOCKS – N/A
Drew attention of Lazios' sexually-insecure Ultras with his shimmering locks. Appeared so Aryanly-homoerotic many fainted and were spared the Muthuf*cka's dagger to their black hearts of hate. Bless.
LENNONY – 9/10
And so The Snake is laid to rest. God Bless the dry Brenadistas of satirical blogs everywhere. Your false Ghod was a European straw man. With sheer pragmatism Lennony has turned us into a side who bring more to the Euro-banquet than stylistic pumping of inferior SPL dross to fall back on. We now have COMPETENCE. We now can be stoical in the face of presumed superior class and counter with dramatic and sensational recoveries.
The Cluj abberation showed how unforgiving a certain level of the game can be when you deviate from your instinct – as Lennony did by shifting up the formation and selection, costing us a 20-minute suicidal breakdown in communication and rhythm. Did he learn? Well, feck me – qualified from this group with 2 games to spare is quite a rebound. Turning a deficit on Serie A's finest TWICE in a row is no fluke, dear SMSN. Yer Mhan Lennony's doing the business. Get behind him.
OVERALL – 9/10
The Pope's big moment – did he really have the Big Man's ear or was it all Sky-Fairy fakery? Well, prayers got answered – 'in Muth*f*ckin' style, Muth*f*ckas!' as Pontif Franco tweeted right after the game, before deleting it… Trust me.
A resoundingly magical night, starting with a grim sense of deja-vu and culminating in a blistering, blinding glorious M*-TH*-F*CKIN! Finale!
We jousted in the Colisseum, took on their finest warroirs, and diving pussies, looked like being slaughtered, then turned the thumbs-down 180 degrees.
Just like the Fat-Dictator Hog's reign, it began with assumed triumph and ended with a bullet to the heart from a RIGHTEOUS Muth*f*cka!
Ha-Ha, Lazio Ultras fannies – the wolves of Roma will dine out on you pigs. However,
one concern – does anybody know if the Lazio fans found their missing mate? They were wandering around Glasgow city centre the other week waving and shouting, 'Seen Kyle! Seen Kyle? Seen Kyle!?"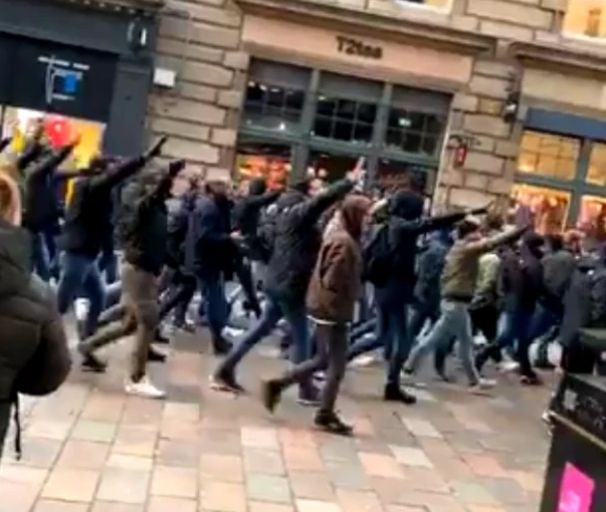 Hope Kyle got home relatively okay…
Go Away Now.
Sandman. Qualified.
@CelticFC party🍀🍀🍀🍀 #CelticFC #LAZCEL #RomeConquered pic.twitter.com/RR85pfxy9J

— The Italian Celts CSC (@ItalianCeltsCSC) November 7, 2019