SATURDAY 9 APRIL 1892 and "Our Bhoys Have The Cup!" is the cry throughout the east end of Glasgow.
This was Celtic's first time winning Scottish Cup and they did it in some style beating Queen's Park 5-1 at Ibrox. Johnny Campbell and Sandy McMahon score two goals each and there is an own goal as well in front of about 26,000 – considerably fewer than there had been a month earlier when the game had to be declared a friendly because of repeated crowd encroachment.
The Celtic View editor Paul Cuddihy has written an excellent review of this match on the official site today and it is well worth a read HERE.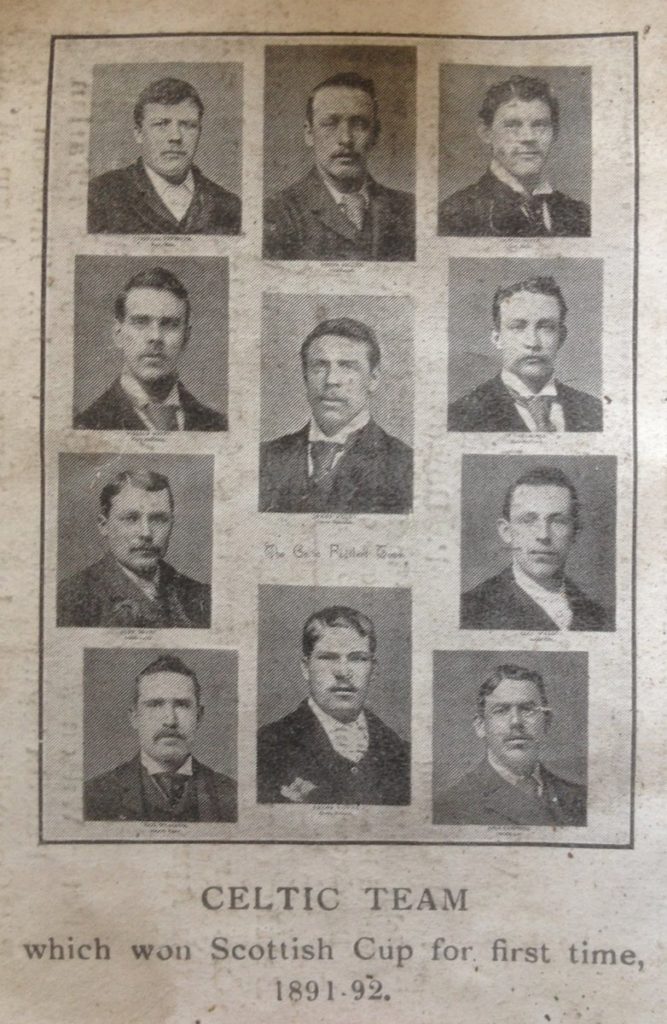 SANDY McMAHON – THE CELTIC STAR
Glory be to Cullen, Reynolds and Doyle; Gallacher, Kelly and Maley; Campbell, Dowds, McCallum, McMahon and Brady.
And can we ever begin to imagine what that meant to our supporters in 1892?
Not until 1967 when the team returned with an even bigger and even more prestigious trophy would the East End see such a night. But by 1967, the Welfare State had broken through, in 1892 there was nothing but grim, unrelenting poverty made all the worse by discrimination and ignorance. In such circumstances, there was all the more need for a hero.
Such a hero was Sandy McMahon.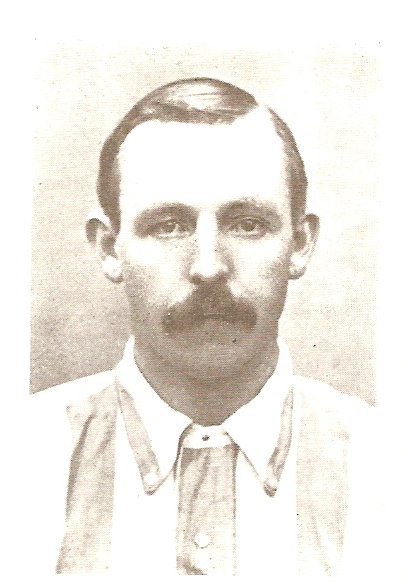 Sandy scored two goals that day in 1892 and if you read The Scotsman, you might think he scored three but the balance of evidence says two – one a glorious headed goal a la McGrory and McNeill in subsequent years, and other brilliant described by Willie Maley as "indulging in one of those mazy runs – head down, arms outstretched, simply walked through the Amateurs' defence to register the 3rd goal".
Sandy would win a total of three Scottish Cup medals, four Scottish League medals, three Glasgow Cup medals, four Glasgow Charity Cup medals, six Scotland caps and eight Scottish League caps – but that is only half the story. He was a personality goalscorer, something that Celtic will always need – Jimmy Quinn, Jimmy McGrory, Joe Cassidy, Dixie Deans, Bobby Lennox, Steve Chalmers, Henrik Larsson, Leigh Griffiths and so many others – and in Sandy's case, the hero of the community – and Sandy was the first!
And let us hear what Willie Maley said about him. "A marvellous header of a ball", "tall, almost ungainly in appearance, "great footwork" "deceptive swerve" "judgement marvellous of flight of the ball" but the only negative thing being "of speed he had little". Perhaps he didn't need it. He scored 171 goals in 217 games with or without speed.
Little wonder he earned names like "The Duke" and "The Prince of Dribblers". You do not get those names for nothing, and how sad it is that DVDs were not invented in the 1890s. But children can tell how their forefathers saw – and in my case, my grandfather who died in 1950 went to his grave raving about Sandy McMahon!
Off the field, an intelligent well-read man who could recite his Burns and his Shakespeare, and pictures tend to indicate a kind, gentle, loving man of whom anyone could be proud. He married Annie Devine in 1896, his best man being his outside left partner Johnny Campbell, sadly Annie died in 1908 and Sandy after suffering from years of nephritis, a chronic kidney complaint died on 25 January 1916, a happening which even in the dreadful years of the Great War causes distress to Celtic supporters everywhere – and that is hardly surprising for Sandy McMahon is one of the greatest Celts of them all.
David Potter