Chris Sutton has announced that he is being prevented from working on the Celtic game against Real Betis in Seville from a studio at Ibrox by the Rangers CEO Stewart Robertson.
Real Betis v Celtic is the early kick-off and shortly after our Europa League Group stages opener concludes theRangers will kick-off in their game against Lyon at Ibrox. BT Sport, who pay UEFA a huge sum of money for the broadcasting rights, are now being prevented from their usual broadcasting schedule because theRangers CEO cannot guarantee the safety of the pundits, Sutton and his former Celtic team -mate and ex-Celtic manager Neil Lennon.
"I'm not allowed to work on the Celtic game tonight from a studio at Ibrox along with Neil Lennon as Stewart Robertson theRangers CEO says we are a security risk. Good to see (the)Rangers ground breaking diversity and inclusion campaign 'Everyone Anyone' is working well…" Sutton has told his social media followers in a post that is bound to further embarrass the Ibrox board.
Whether UEFA and/or BT Sport will take this matter further remains to be seem. Robertson clearly cannot trust his own fans to behave and to be fair to him, you can hardly blame him for reaching this conclusion.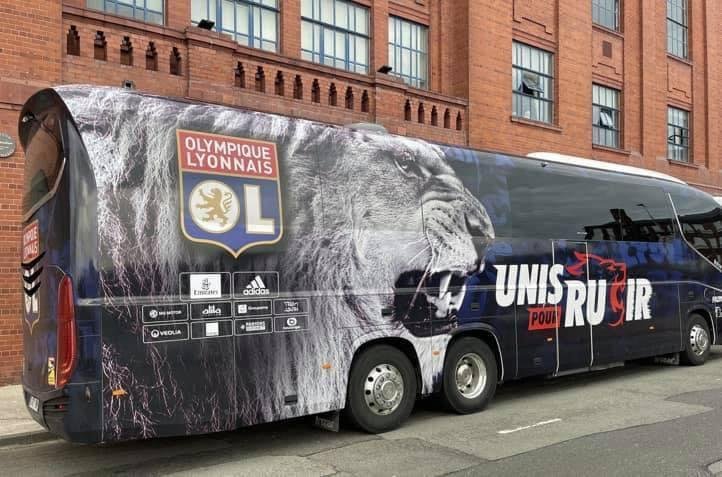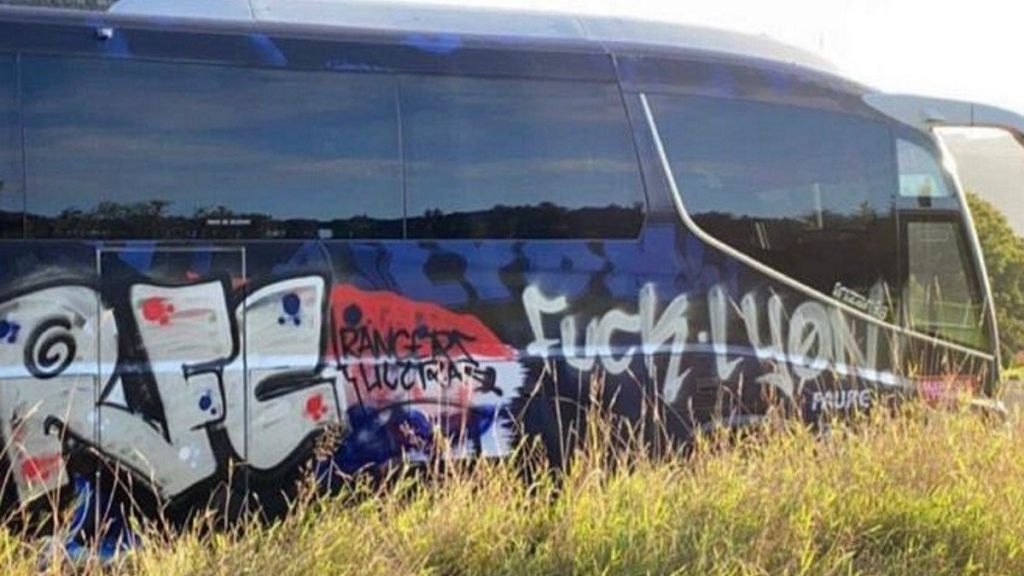 The absolute state of these "Union bear" 😂 children. If the authorities care to find them, the club usually have them in the dressing room for pre "fenian blood wading" photos 👍

— Paulo 🏴󠁧󠁢󠁳󠁣󠁴󠁿🇵🇸🇮🇪 (@labour_lies) September 16, 2021
Last night the official Lyon team-bus was vandalised allegedly by theRangers ultras outside the French side's hotel base at Langbank with vile language and and their own branding spray-painted on the side of the team-bus. Lyon officials reported the matter to Police Scotland this morning and surely Lyon will raise the matter with UEFA?
At the weekend the seats at McDiarmid Park that were occupied by these Ultras – with tickets supplied by Stewart Robertson's ticket office – were vandalised and threatening, offensive and racially motivated stickers were plastered on seats at St Johnstone's ground. The same group at the end of last month marched through the streets of Glasgow chanting the disgraceful Famine Song with around 8 arrests already having been made.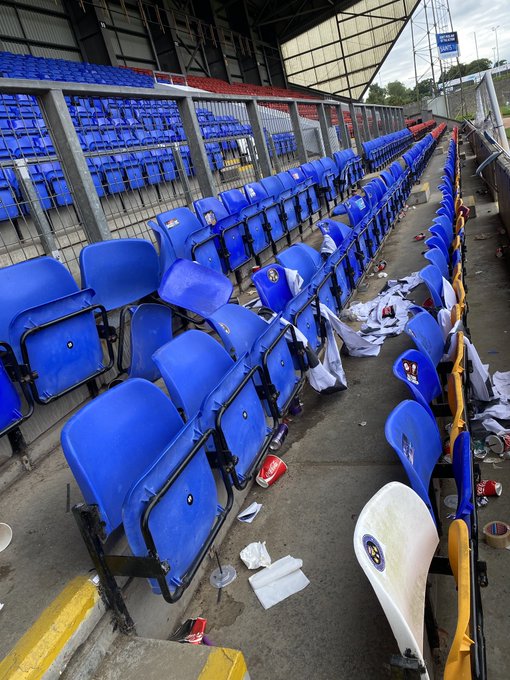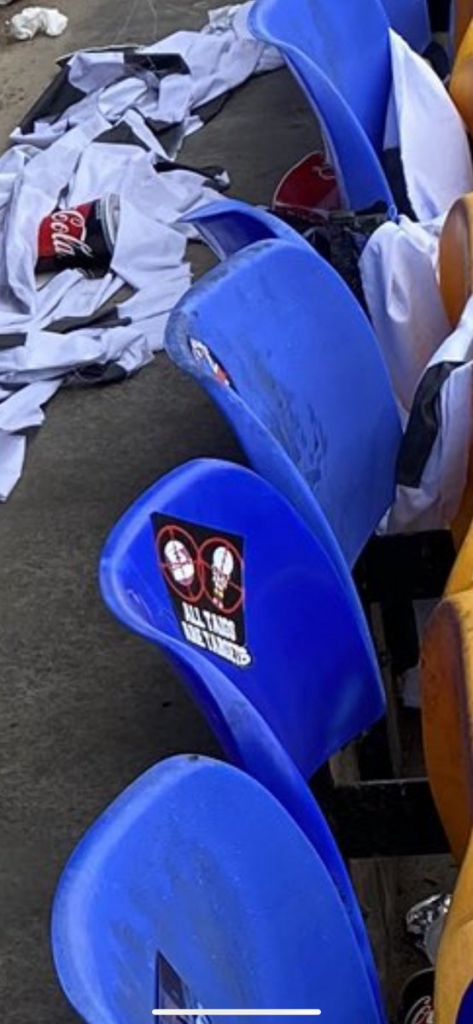 Hi @murdo_fraser Seeing as my last tweet had 60♥️ and 27 retweets then maybe you just didn't see it….so I'll try again. Would you kindly give us your opinion please on @RangersFC supporters stickers saying "all taigs are targets". I'm a taig by the way. https://t.co/D2XJptJqYy

— Glasgow Bargain Centre (@GBC88110427) September 15, 2021
Meanwhile one of Robertson's official media partners found themselves on the from page of the Daily Record for a series of tweets that were offensive, racist, sectarian and disgraceful. Whether they will be asking questions at Ibrox this evening remains to be seen but what we know from Chris Sutton's update this afternoon is that BT Sport will not be able to have a studio discussing the Celtic game at Ibrox this evening because according to the former Celtic striker theRangers CEO cannot guarantee their safety.
I'm not allowed to work on the Celtic game tonight from a studio at Ibrox along with Neil Lennon as Stewart Robertson the Rangers CEO says we are a security risk. Good to see Rangers ground breaking diversity and inclusion campaign 'Everyone Anyone' is working well…

— Chris Sutton (@chris_sutton73) September 16, 2021
Exporting their hatred to new markets #scotlandsshame https://t.co/AyKZDTEVGB

— Joe McHugh (@videocelts) September 16, 2021
While Ian Archer was right, Sevco, the tribute act are just as bad. "As a Scottish football club, Rangers are a permanent embarrassment and an occasional disgrace. This country would be a better place if Rangers did not exist" HH pic.twitter.com/jJSVA6vAP4

— Celtic Gossip (@CelticGossip) September 16, 2021