The 3-1 home defeat to AC Milan last week does not signal any thoughts of Celtic failing to get out of the Group H and into the knock-out rounds post Christmas. Not according to the Celtic captain anyway.
Scott Brown was in a defiant mood as he looked ahead to Celtic next game, away to big spending French side Lille. Celtic will be looking to end this mini slump that has seen the side lose to both theRangers and Milan before dropping two points in the closing stage at Pittodrie yesterday.
One way to look at it is that as last week progressed the performance of the team gradually improved. Awful turned to not bad to half decent but against Lille Celtic will have to be much better than that if they are to get anything in the north of France.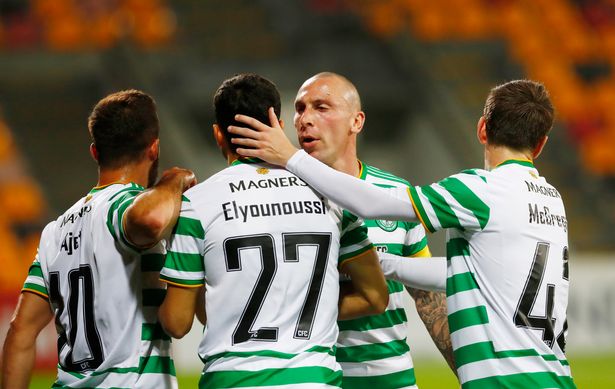 When Celtic were going down 3-1 to AC Milan, Lille got off to an even better start, winning 4-1 away in Prague. Sparta did get a man sent off midway through the first half so hopefully that was a freakish result. However the skipper reckons that Celtic can come away with the three points this Thursday to set them up nicely for the double header against the Czech side whose domestic league is currently suspended due to the coronavirus.
"Europe is important for the club and we still need to believe we can qualify from the group," Brown said to the media, as reported by Glasgow Times. "This game in Lille is going to be huge for us and it won't be easy, but we have a good away record in recent seasons.
"Lille are top of the French league just now and that shows this wasn't the easiest group draw we could have got. "What is good for the club is that we want to be playing against the top teams and making it as competitive as we can.
"We want to go through in this group and we believe we can," the Celtic captain added.
One major plus in what was a miserable week for the Celtic support was the re-emergence of Tom Rogic in the Number 10 role. Rogic is perhaps the most gifted footballer at the club but has had to endure a frustrating period on the treatment table with both knee and then ankle problems.
Indeed it looked like he would be leaving Celtic in the summer window – that ran through to early October this year – when Celtic accepted a bid from a Middle East side. The player opted to stay in Glasgow and got his chance in the second half against AC Milan.
By Pittodrie Rogic was looking sharper and it really is a major boost if the Australian is now match fit and ready to contribute significantly to this all important season. Scott Brown is also a big fan of The Wizard of Oz.
"It's been hard for the likes of Tom Rogic and Griff as they were injured and then we were winning games," the captain said. "The players in the team were doing well but we have a lot of fixtures coming up so we will need everyone available.
"The likes of Tom coming back is a huge boost for us because everyone knows he is a genius on the ball. Hopefully we can get him as fit as we possibly can because his absence has been overlooked a bit.
"Anyone who has watched Tom over the years will know that is a top player. He rarely gives the ball away, he takes it under pressure in any situation and he makes things happen.
"Tom creates a lot of chances for us and has scored some really big goals for this club in the last seven years. He's also a great lad about the club and we have missed him but people maybe overlook that as he's had a few injuries.
"Tom is one of the best players in Scotland and is one of the best I have ever played with," Scott Brown added.
"He produces big moments in big matches and we want him to be here for the remaining two and a half years on his contract. It's great for us that he is still here and we just need to get him up to speed."