Scott Brown will know better than most people what it means for Celtic to lose in a Glasgow Derby against the Rangers. After their 2-0 win at Ibrox earlier this season, the Hoops could not be blamed for feeling that they would cakewalk to a ninth straight league title. Those illusions have been shattered over the last two games against Steven Gerrard's side though.
It is safe to say that they were clearly outplayed by the Rangers in the Scottish League Cup final at Hampden Park earlier this month. And it took an inspired Fraser Forster in goal to steal victory from the jaws of defeat on that day. Sunday was a repeat of that performance except that the Englishman could not save them this time around. Goals from Kent and Katic were enough to hand the Rangers a rare win at Celtic Park. And the gap in quality between the two sides was far wider than the 2-1 scoreline suggests.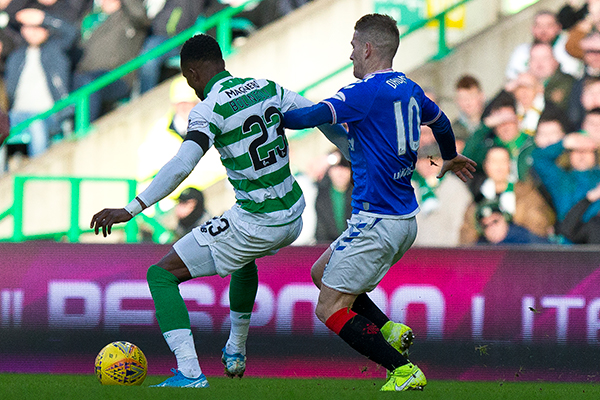 Now we go into a break and the team have a few weeks in Dubai to brood over the loss. And no one will be reflecting more than Broony, who will be looking for a way to bring the train back on track. Speaking with Daily Record after the game, the Celtic captain said:
"It's always tough to take a defeat. We're in the same situation we were in last year when we lost the game at Ibrox.

"I think everyone will have it in the back of their minds.

"We were sitting in that dressing room devastated so you have to make sure you remember how you felt after those defeats.

"There hasn't been that many but sometimes you need that little kick to spark you into life again.

"We need to learn now, as that's two games in a row now where they've probably outplayed us.

"It's all about how we come back now because the last time this happened we were over in Dubai and got a proper pre-season and it's going to be similar to that.

"The main thing was we won the Final, we're still top of the league. They've got a game in hand but we're not in too bad a place.

"It's the performances against Rangers we need to make sure we improve on. For us we know what we need to do and what we need to improve on."
The defeat should not come as a huge surprise though. The danger signs were there at Hampden Park but we chose to ignore them by putting that performance down to an off-day. But now there is no hiding from the fact that the Rangers are much better this season than we had expected. And Celtic will have to considerably strengthen in the January transfer window if they intend to secure nine-in-a-row.