The release of Luca Connell from Celtic probably came as no surprise, after all when you've been out at loan to Queens Park twice the writing was probably on the wall in terms of any long-term future with Celtic.
Yet Connell is definitely a talented footballer, and just because you don't quite make the grade at Celtic where the demands are so high, it doesn't mean a successful football career doesn't still await you.
And it looks like Luca Connell has an admirer of his talents in the shape of former Celtic legend Scott Brown, who Scottish Sun is reporting holds an interest in bringing Connell to Fleetwood Town, as Broony looks to strengthen his squad ahead of his first season in football management.
🇮🇪 | Luca Connell

Celtic have released Ireland U21 international Luca Connell after 3 three years at the club.

Connell joined as an 18yo who became a regular in the Championship with Bolton however failed to make a single competitive appearance at Celtic.

All the best Luca 🍀 pic.twitter.com/1BMnHvMoS9

— Everything Celtic (@aboutceltic) June 3, 2022
Brown has already made a cross border raid to sign Shaun Rooney from St Johnstone and now it could well be Luca Connell's time without a club should be minimal with a chance to link up with his former captain now a possibility.
Connell signed for Celtic in a £350k compensation deal from Bolton Wanderers, and after an impressive showing in a friendly game with Hibs at Celtic Park he certainly looked like a player with good technical ability who would likely kick on and make an impact at Celtic.
The fact he and the likes of Karamoko Dembele – another player expected to make a first team breakthrough, but was also released this week – haven't made the grade, should be enough for Celtic to examine the pathway plans for these young players and ask why such obvious footballing talent doesn't make the next step.
There will no doubt be reasons why both players were deemed surplus to requirements, but in the case of Connell who was already playing first team football in the Championship with Bolton at 17, and being considered for selection by the Irish national team, some of the reasons for the failure of these players to progress will likely lie with Celtic as much as it does with the individual players attitudes or abilities.
A shame to hear that Celtic loanee Luca Connell will be released this summer

Ultimately, it never worked out at Celtic. But, an extremely talented player, who I have no doubt will go on to be a success elsewhere

Wish him all the best for the future 🙌 pic.twitter.com/0y3kK2THQb

— Lewis Laird (@LewisLaird01) June 3, 2022
The releasing of players like Connell and Dembele should mean Celtic have a look at their own processes behind the scenes and ask ourselves if we truly are giving them everything they need when it comes to maximising their potential – and whether any flaws were fully examined prior to signing the players in the first place.
With Ange Postecoglou seemingly receiving a great deal of autonomy over footballing affairs, it seems a great deal of change is happening behind the scenes at Celtic now. That may well be occurring too late for the likes of Luca Connell and Karamoke Dembele, but hopefully it will make for better career development pathways for those they leave behind or are due to join the club this summer.
Meanwhile Celtic's young players chances of playing Lowland League football next season hang in the balance.
With a vote occurring tomorrow, we'll hear if Celtic's decision to issue an ultimatum alongside theRangers and Hearts will result in the Lowland League closing the door on Celtic's B-Team getting competitive league football next season, or whether Lowland League clubs will bow to threats, in exchange for £40k from each of the three top fight clubs, and allow Celtic's youngsters to have a league to play and develop in next season.
Niall J
GET YOUR INVINCIBLE AND TWICE AS GOOD T-SHIRTS NOW FREE WITH MATT CORR'S BRILLIANT CELTIC BOOKS
You want one of these? It's completely FREE when you purchase INVINCIBLE or TWICE AS GOOD* from Celtic Star Books website, just click on the relevant link below to order your copy and when you do select the BOOK you want then add the T-SHIRT SIZE you require from Small, large, XL or XXL, adding that after your name so we'll know which size to send you…(please note that all medium Invincible t-shirts are now sold out).
*£1 from every copy of Twice as Good will be donated to Marie Curie in memory of Harry Hood and in line with the wishes of the Hood family.
Order Invincible here…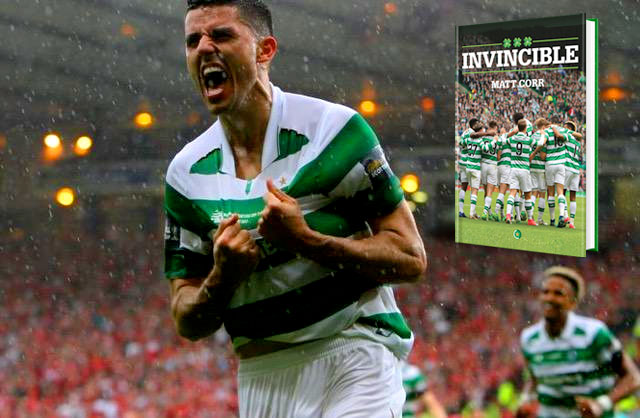 And order Harry Hood – Twice as Good here…