Scott McTominay scored another brace for his country against Spain before admitting that he and his comrades were sick of the gamesmanship from the visitors, leading to Scotland playing them at their own game. It was a terrific win for a nation that is growing in stature under Steve Clarke, who recently signed a contract extension on his current Scotland deal.
Clarke took over a team and country that was in the doldrums after successive disappointments when it came to qualifying for major tournaments. Not since 1998 had we played with the big boys and a generation of football supporters never saw the country line-up alongside the great and the good at a summer tourney.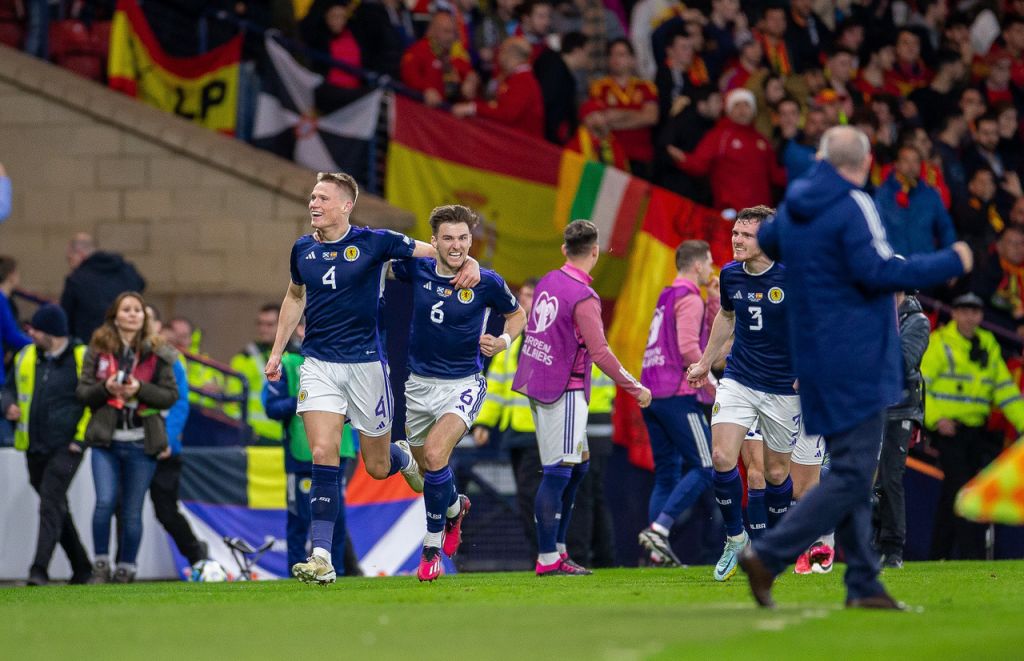 The former Chelsea player put an end to that however, as we mustered up the moxy and courage to take on – and beat- seasoned campaigners Sebria in their own backyard to end years of heartache on the big stage. It was Clarke's genesis for his career as Scotland's national team boss and he has went from strength-to-strength with his players – culminating in last night's heroic effort.
McTominay, who is rumoured to be moving on from Manchester United, with Newcastle sweet on him along with ex-Celt Kieran Tierney, went into this latest batch of international fixtures with one goal for his country, which came against Israel in dramatic fashion too. He has since last weekend added a remarkable four goals to his tally in what is quite astounding.
His two goals against Cyprus would have been a great boost, but the brace against the Spanish will have sent confidence sky-high, both for him personally and within the Scottish camp. After the game, the midfielder revealed that it was a scrappy game at times, but that Spain were the ones who started the nonsense by play-acting and looking for the ref's attention. He said: "I feel like everyone on the pitch was at it, diving around and making the game slow. It wasn't really a clean game in terms of everyone getting up and getting on with little fouls.
He added: "It was a difficult night for the referee because everyone was making the most of everything. It's difficult but sometimes but that's the way it's got to be when you're winning, you've got to do stuff like that when you want to hold onto a lead."
When asked about his form in front of goal lately, the big man replied: "As a kid I was an attacking midfield player and I stretched a bit and got a bit too big for one of the little ones between the lines. Then I was more of a sitting midfield player but I like to do both, I like to get in the box and help my teammates defend as well. But for me I've got to keep doing that. I know I can add more goals and assists to my game and I feel like the last two games are examples of that."
Watch Scott's interview below…
🏴󠁧󠁢󠁳󠁣󠁴󠁿 @ScotlandNT's Scott McTominay reacts to a famous 2-0 win over Spain and his two goal night

"Look at this place! I've never seen anything like it!" 🗣️#EURO2024 | #SCOESP pic.twitter.com/NJV4zddpUH

— Viaplay Sports UK (@ViaplaySportsUK) March 28, 2023
Paul Gillespie