To be involved in the Scottish Cup Final is an exciting event whether you are a manager, player or supporter, but for those who have to pick the team and set out a tactical masterplan the pressure must be huge.
As Celtic face Glasgow City at Tynecastle today, both Celtic manager Fran Alonso and Glasgow City boss Eileen Gleeson will be feeling the wight of expectation, but for Gleeson it is probably more acute.
Glasgow City have been the dominant team in Scottish football for over nearly 20 years. Whilst Celtic have won three trophies, the last when they defeated this Glasgow City team to lift the League Cup in December, Glasgow City have won 30.
Yet if Celtic win today, City will end the season trophyless – for the first time in 19 years. As such when it comes to pressure Alonso must feel for the first time possibly that his opponent in the opposite dug-out is under more pressure than him.
And for Gleeson that may well mean an attacking approach and utilising City's pace on the wings to try and get in behind Celtic's back-three will be the order of the day. For Celtic that could well play into Fran Alonso's hands.
City have some excellent players. Priscila Chinchilla is a Costa Rican international and Scotland's player of the year, she can be a thorn in any side if given space to exploit and her pace and ability to travel with the ball is impressive to watch. Hayley Lauder controls everything from midfield and is one of the most consistent performers in Scottish football, meanwhile in attack South African international Ode Fulutudilu is a player who needs no invitation to pull the trigger in front of goal. Meanwhile in between the sticks Lee Alexander is just as adept at keeping the ball out the net as Fulutudilu is finding it.
It's been a magic path to the FINAL… thanks to all the Celts that has supported us all the way!
One last push…. let's try too make history together!
🏆🏆

We hope to see you in Edinburgh or cheering from home
🍀🍀🍀🍀🍀🍀🍀

MON THE HOOPS !! HH#COYGIG | @CelticFC pic.twitter.com/Ce2ngjlxcv

— Fran Alonso (@FranAlonsoFA) May 29, 2022
For Fran Alonso however, frustrating Glasgow City and playing on the counter attack, rather than forcing the play, may well be the order of the day.
Celtic's back three are strong defensive players. Kelly Clark is an excellent organiser, Cheyenne Shorts a graceful defender who doesn't mind mixing it either, meanwhile Caitlin Hayes is a strong defender of her penalty area and a threat in the oppositions, as we saw with that incredible headed winner in the League Cup Final.
But it's the wing backs for Celtic who will be key for Celtic today. Celtic often play both wing backs as attacking options, on occasion often as out and out wingers, particularly when Tegan Bowies and Maria Olafsdottir-Gros get the nod to start. But today it may well be deeper lying wing-backs in the shape of Chloe Craig and Jodie Bartle may be utilised.
With City's pace and danger coming from wide areas, Bartle and Craig playing deeper and closer to their central defensive colleagues could well negate the threat of the City side, if Celtic operate as a back five out of possession and focus on breaking centrally when they have the ball.
If Celtic can stop City from advancing into the gaps between central defence and the wing backs City will be forced to play in front of Celtic's defensive line and Celtic have the players to snuff out the danger – meanwhile on the break, we can be deadly.
Liv Chance and Sarah Harkes can both carry the ball and pick out passes, and they can force free kicks as well as gaining territory from open play, and winning free kicks and getting bodies into the box for set piece deliveries from the boots of Sarah Harkes is where Celtic can win this game.
From open play on the counter Celtic are still a threat. Jacynta's ability to carry the ball and her relationship with Charlie Wellings can bring some success, meanwhile Clarissa Larisey's endeavour and threat in front of goal could well see the Canadian start today. But the threat of Celtic's big defenders in the City box is likely to be where Celtic can hurt Glasgow City, and playing a counter attacking approach and looking to force City into giving away free kicks is where Celtic can gain the upper hand.
City and Gleeson will be feeling the pressure today, after all who wants to be the group of players or manager responsible for the first barren season since 2003? And that pressure will surely see City be as offensive as possible, and that can play into Celtic's hands.
Fran Alonso and this Celtic team have already produced a tactical masterclass to defeat Glasgow City once in a Cup Final already this season, and they have the players to choose from to take a patient approach today, blunt Glasgow City's attacking intent, and win this game on the counter attack.
The pressure in this final is predominately on Glasgow City, Celtic can and will use that to their advantage today. And if they do so, Celtic can not only win our first ever Scottish Cup Final, they can also lift the domestic cup double, and at the same time leave Glasgow City trophyless. That would signify a major changing of the guard in Scottish Football.
So, whilst the pressure that comes with playing and managing Celtic will be as present as it ever is, it's nothing to what City and Eileen Gleeson will be experiencing today. If Celtic set out to frustrate and hit on the counter, the Scottish Cup may well be about to join the League Cup in the Parkhead Trophy room.
If you're heading through to Tynecastle you should be in for a real treat, as part of a large Celtic crowd cheering on the Ghirls. The match is also available on Pass to Paradise and is live on BBC Alba, with Celtic TV also showing it for supporters outside of Britain and Ireland.
COYGIG!
Niall J
Everything to gain and nothing to lose…it's Scottish Cup Final Day!🏆

🏆 Scottish Women's Cup Final
🆚 Glasgow City
🏟 Tynecastle
🕓 4:10pm
📺 @bbcalba/@celtictv/@CelticFCPass
🎟 https://t.co/xLk5gE0DyK#ScottishWCupFinal | #CELCITY | #COYGIG pic.twitter.com/ieg8OjB07f

— Celtic FC Women (@CelticFCWomen) May 29, 2022
GET YOUR INVINCIBLE AND TWICE AS GOOD T-SHIRTS NOW FREE WITH MATT CORR'S BRILLIANT CELTIC BOOKS
You want one of these? It's completely FREE when you purchase INVINCIBLE or TWICE AS GOOD* from Celtic Star Books website, just click on the relevant link below to order your copy and when you do select the BOOK you want then add the T-SHIRT SIZE you require from small, medium, large, XL or XXL, adding that after your name so we'll know which size to send you…
*£1 from every copy of Twice as Good will be donated to Marie Curie in memory of Harry Hood and in line with the wishes of the Hood family.
Order Invincible here…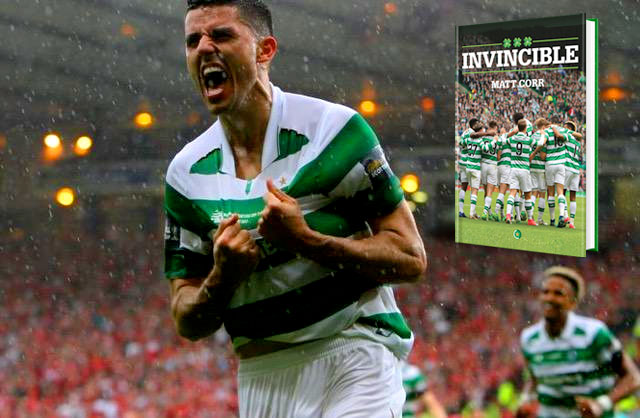 And order Harry Hood – Twice as Good here…