TWO GAMES IN A DAY – WHY IS THIS A PROBLEM? WINNING THE LEAGUE ONE WEEK, THE EASTER RISING THE NEXT…
The war intensified in 1915/16 and so did Celtic's domination of Scottish football. A new dynamic which entered the equation in early 1916 was the introduction of conscription, something that was not perhaps resisted as fiercely, or as universally, as one would have expected. There were exemptions and deferments, of course, and tribunals were set up to decide who had to go and who didn't. Football players, of course, like everyone else, were likely to be called up, and so too were the fans.
Two areas where conscription impacted on the Celtic community were on Glasgow's Clyde where labour unrest was common, and of course, Ireland. The government had, wisely, not yet introduced conscription in Ireland, but the clear impression that it was being contemplated was definitely a catalyst for the events of Easter 1916.
Over the summer of 1915 there had been a distinct diminution of Scottish football. The Second Division of the Scottish League had folded, with most of the smaller teams unable to field a credible team or having serious problems with the logistics of war time transport. In England, the English League and the English Cup had been suspended and replaced with local competitions to cut down on the travelling, but the Scottish League, to its credit, refused to give in to emotional blackmail and continued in spite of the obvious problems.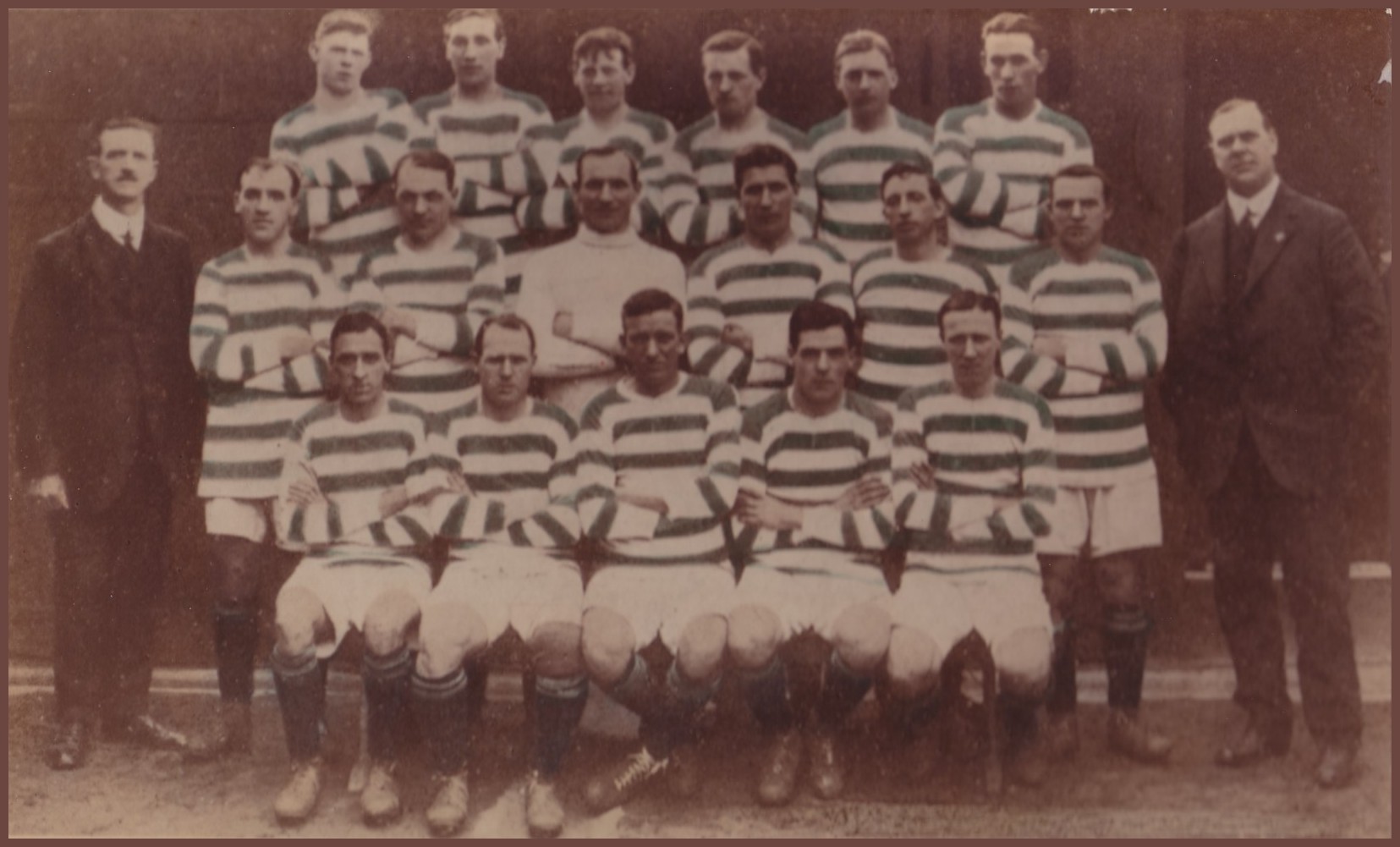 The argument put forward by Maley and others was that football was an entertainment, and that soldiers home on leave and the workers in the munitions industries (which were sometimes no less dangerous than the life of a soldier or a sailor) deserved something to cheer them up for morale reasons. The infant cinema was enjoying a boost in war time circumstances as well, as indeed were the Music Hall and the theatre. If Celtic's main plank for their existence in war time was to boost morale, in this they certainly succeeded, for Patsy Gallacher and Jimmy McMenemy were enough to assuage any broken heart or worried brow!
Celtic began the 1915/16 season with ten straight wins. They included the Glasgow Cup won at Hampden Park before 70,000 and there were several remarkable features of this game. One was that although the score was only 2-1, Rangers supporters left early en masse, so dominant were the Patsy Gallacher inspired Celts, and another was that Joe Dodds and Jimmy McMenemy both played that day, even though each of them had had a brother recently killed in the ongoing battle of Loos.
League form had been consistently good. Airdrie and Clyde were both beaten 5-0, Hibs 4-0 and possibly the best game of the early part of the season was the one played at Dens Park, Dundee on September 18, where the home side put up a plucky fight, but goals by Johnny Browning and Patsy Gallacher saw Celtic through. The crowd was close to 20,000, and they were mightily impressed.
But as often happens with even the best of teams, a bad patch was hit. In late October to early November, three games out of four were lost. One was a shocker to St Mirren at home – irrational and inexplicable, the other two were slightly more predictable reverses at Tynecastle and Ibrox, Rangers thereby getting some sort of revenge for their Glasgow Cup defeat. The St Mirren game was lost by two defensive errors – Eck McNair making one of his rare mistakes and passing the ball across the field to Joe Dodds and having the ball intercepted, and the other goal came in the last minute when Charlie Shaw came out of his goal in a desperate attempt to launch the ball for an equaliser but was dispossessed.
The 0-3 reverse at Ibrox was not as one-sided as it sounded – Patsy Gallacher hit the post with a penalty kick, for example, and the defeat at Hearts, also narrow and even unfair, was the last defeat that Celtic would see for some time – April 21 1917, in fact, 63 games in the future, would be the next time they lost. Sunny Jim was missing for this game at Tynecastle and his absence was a significant one. All this meant that Celtic now had the same points as Rangers, but had played two more games.
A sign of a good side however, whether in peace or in war, is how quickly they can recover from a bad spell. This side had very few problems. By the end of 1915, they had lost only another two goals (and that was in a 6-2 thrashing of Queen's Park) as they beat Kilmarnock, Raith Rovers, Queen's Park, Ayr United and Partick Thistle before the hammering of Airdrie 6-0 at Celtic Park on Christmas Day.
There may have been a game or two of football against the Germans in some parts of the Front that day, but most Scottish soldiers were talking about Patsy Gallacher's hat trick. The Daily Record says that Celtic went through the Airdrie defence like "water through a riddle" and singles out the magnificent half back play of Young, Johnstone and McMaster and, in a strange and somewhat illogical phrase "no wonder the forwards had a picnic, they gave a perfect waltzing lesson".
All this meant that Celtic were now top of the League, although Rangers with games in hand could equal them. The New Year's Day clash saw 60,000 at Celtic Park and the consensus of opinion was that, on the heavy pitch, Celtic were by far the better team with good goals from McAtee and McColl and Rangers indebted to an own goal spinning viciously off Eck McNair's foot for a draw. It meant however that Celtic and Rangers entered 1916 neck and neck.
But Rangers now imploded, as they often do when they realise that Celtic have a better side. As early as January 3, the Holiday Monday, while Celtic, even without the injured McMenemy, beat Clyde comfortably 3-1 at Shawfield, Rangers lost 0-1 to Partick Thistle and by the end of January, Rangers had lost at Dundee and drawn at Motherwell while Celtic were sweeping all before them with Patsy Gallacher "supplying the ammunition to the Sniper" (Jimmy McColl) in the military imagery of the day. McColl scored four against Hamilton, and right winger Andy McAtee, another boy from Croy, the home of Jimmy Quinn, was also in great form scoring a hat-trick against Dumbarton.
The Kaiser, they say, only once saw him play

And remarked, it is said "Dearie me"

My German artillery's only fit for the pillory

They can't shoot like young McAtee!"
It was scintillating stuff, but the manner in which the Scottish League was won that year was totally remarkable. Bad weather on March 25 saw the inevitable postponement of the game at Motherwell, something that raised an immediate problem about when the game could be played. DORA (the Defence of the Realm Act) seemed to preclude midweek games, the season had to finish by April 30 and the Holiday Monday of April 24 was already taken up with the game against Third Lanark.
Sunday football, even in the exceptional circumstances of the war, could not be countenanced – although Celtic, less obsessed with Calvinism than most, apparently suggested it – and the only thing that could be done was to play two games on the one day! Thus Celtic would play Raith Rovers in the afternoon of Saturday April 15 and then travel by charabanc to Motherwell for an early evening kick off. Both teams would be exhausted (Motherwell were due to play Ayr United that afternoon as well), but if Celtic got their four points, they would be League Champions.
This was no problem to the Celtic side who first beat a severely depleted Raith Rovers 6-0, (a hat-trick for Patsy Gallacher!) then won 3-1 at Motherwell with goals from McMenemy, Browning and a penalty from Joe Dodds. There was only one change with Joe Cassidy replacing Joe O'Kane. The other ten played both games with a relish emanating from the inspirational captaincy of Sunny Jim, who according to legend, spent the Saturday evening looking for a third team to play!
The Daily Record is extremely impressed. The game finished in "the pale moonlight" for the "magnetic presence of the Celtic put life and mettle into the heels of Motherwell" (who had lost to Ayr in the afternoon) and a great game ensued, but Celtic were the better side throughout, and duly earned the plaudits even of the august Glasgow Herald.
The rest of 1916 was not great for Great Britain with the Dublin Rising the week after Celtic's great feat, then the Battle of Jutland and the Battle of the Somme, both of them, no matter how they were disguised, unmitigated disasters involving much unnecessary loss of life. Football almost seems irrelevant in such a context, but it was such a vital component in the life of those who lived through such desperate days.
David Potter