THE GREEN BRIGADE today issued an update and a thank you message after Saturday's hugely successful Food Drive event before the game against Livingston. And they announced that the sums raised at the weekend means that they have now raised an incredible £250,000 for various charities.
Who doesn't think that Brother Walfrid would not be proud of each and every one of them?
Just before 2pm on Saturday, myself and my boy got off our supporters bus parked up behind the Jock Stein stand and walked over to the nearby Tescos. It was wet and miserable. On the way over we saw plenty of these young fellas out with their collection buckets doing some good for the poorest in our communities in and around Glasgow. Further on there were a few vans parked up, just where the buses swing in towards the ground. There were around ten young Green Brigade Bhoys there busy collecting shopping bags from fellow Celtic supporters and loading into the two vans they had parked on some waste ground. Both vans looked jam packed with the much needed donations.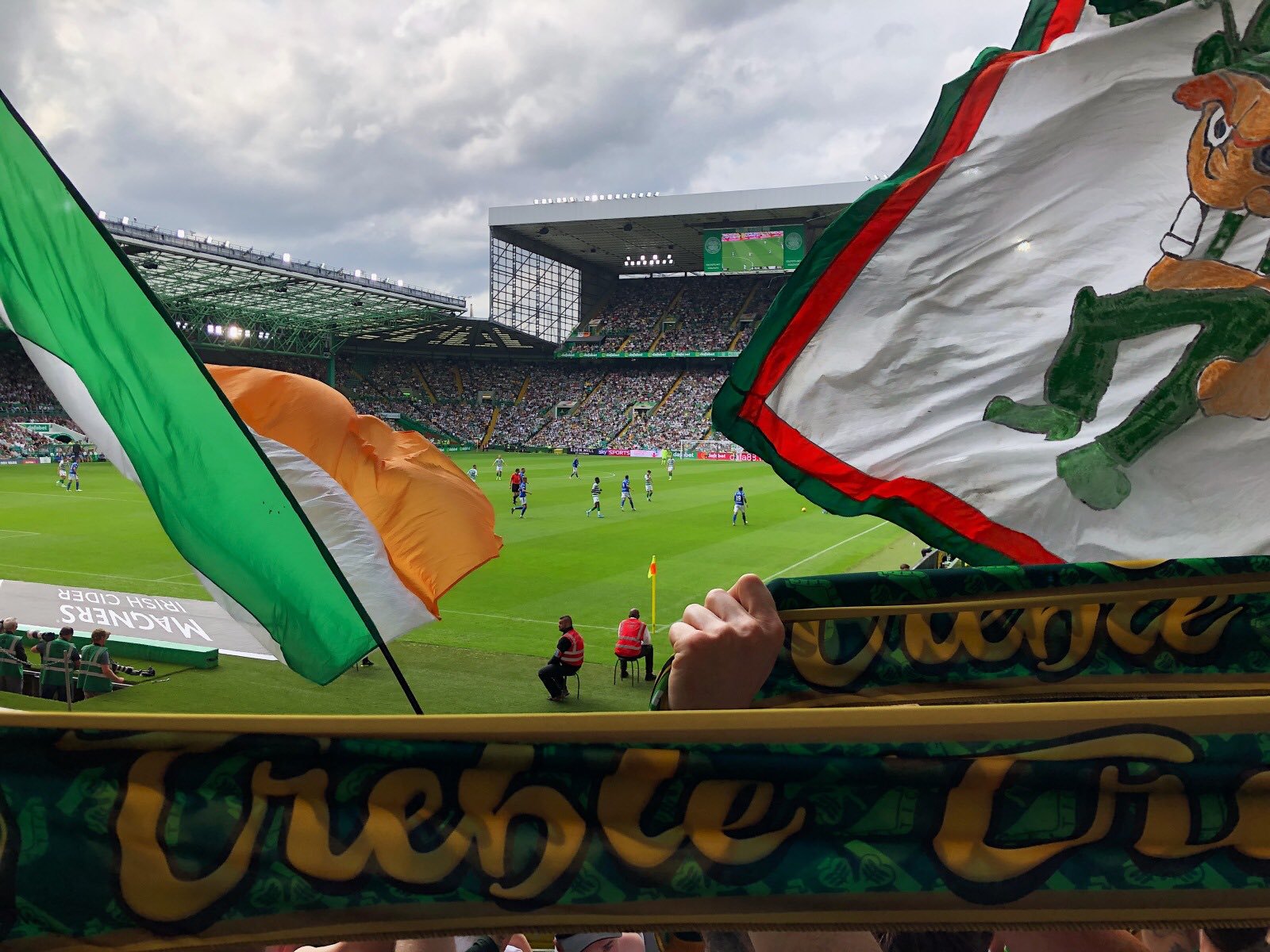 We got to Tescos, filled up two plastic bags worth with recommended items and a few treats for the weans, and headed back over to hand these bags to the Green Brigade. The teenager who took the bags was grateful. polite and a little shy. He and his pals were out doing this in miserable weather before going to cheer on our team. It's a very Celtic thing to do.
As we walked round to the North Stand the other young guys were still there will their buckets and I thought at the time, given their age, what a credit they are to the wider Celtic support.
Now we can all you what they achieved at the weekend and indeed what the Grenn Brigade have achieved over the past five incredible years.
Today's update from North Curve Celtic lets us know that the Green Brigade Food Drive 2019 held on Saturday had total donations of 8 vans of food (and the ones we saw were jam-packed if you pardon the pun) and also raised £17,897.60 in cash.
Their statement reads as follows: "This year's annual Green Brigade Food Drive raised an outstanding £17,987.60. On top of this 8 van full of food and toiletries made their way to various food banks on Saturday evening.
"Not only was this the most successful collection to date, it also means that we have now surpassed the £250,000 mark raised for charities over the last 5 years. It is a huge achievement and one we're incredibly proud of.
"Thank you to each and every one of you who have donated over the years – the difference you all have made can't be underestimated and has helped the lives of many.
"We will release a final update when all money has been distributed over the coming few days."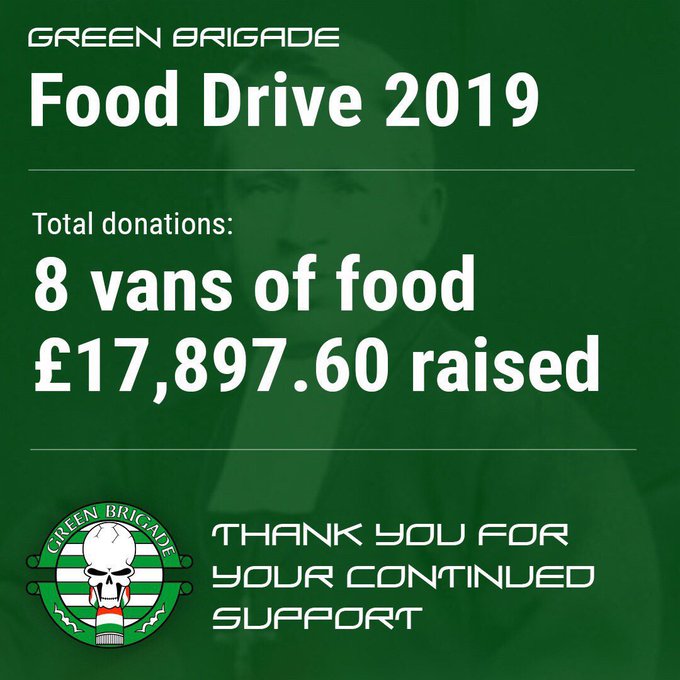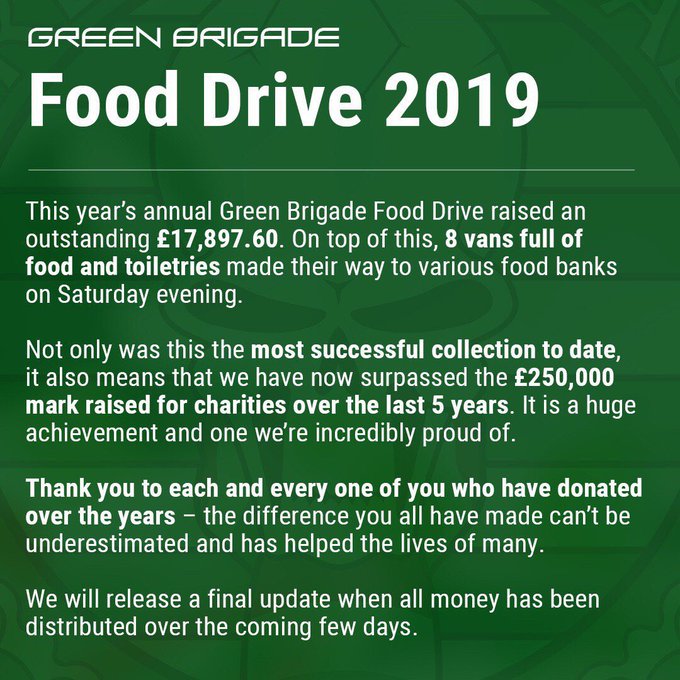 Green Brigade Food Drive 2019

Thank you all for your continued support pic.twitter.com/zPj3SDvCXw

— North Curve Celtic (@NCCeltic) November 26, 2019
Some feedback to this statement…
"Well done all involved"…"Thank you to you guys for organising"…"Well done everyone"…"Keep up the good work lads"…"Brilliant, well done lads"…"Well done everyone"…"Fantastic. Well done all involved"…"Fantastic result. Well done guys, you do brilliant to help people, fans and the club. Massive applause to you all"…"Well done to all involved. Makes Celtic's decision even more embarrassing"…"A fantastic effort by the GB and hopefully they will continue to raise funds to help the most needy in society. I'm sure it's there presence at Celtic Park that allows so much to be raised"…"Great work. Well done all who organised, gave their time, or donated goods and cash…"That's fantastic, well done to the organisers and of course everyone who donated items"…Well done to the Green Brigade"…and on and on it goes.