CELTIC historian David Potter has been entertaining us over the weekend with his Magnificently Random Celtic Stories series. The intention was to alleviate the boredom that sets in during the latter stages of these dreadful international breaks.
David started on Saturday with this one and if you haven't been following it's well worth cashing up.
The Celtic historian followed that up yesterday with another Seven Magnificently Random Celtic stories, and if you missed that then you'll find it HERE.
So here are another Seven Magnificently Random Celtic stories for you to enjoy on a Monday morning from Celtic's Historian David Potter…
1.BAIRD'S BAR
This was by no means the only Celtic bar in the Gallowgate but it was the most famous, not least because Kenny Dalglish, when interim-manager in 2000, once decided to hold his Friday Press Conference there.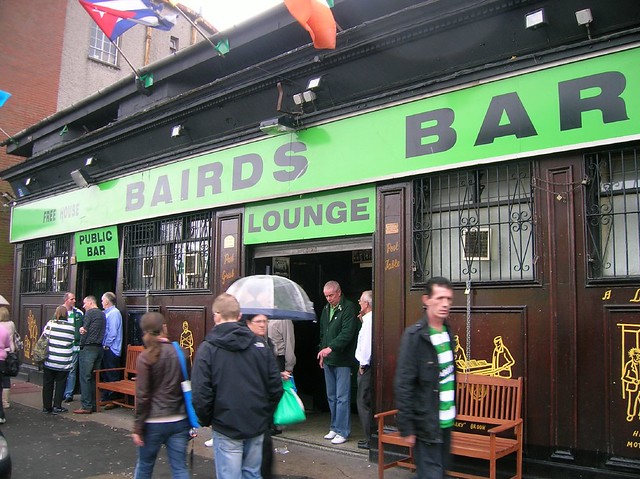 It is the only bar that the author has ever been showered with champagne in when he walked in the door. This was the night that Celtic won the League Cup in March 2009. It had loads of Celtic memorabilia on the walls and it was always well worth a visit. It closed it's doors in 2014, the Herald told the story around that HERE but there has been some talk recently of it returning.
2.THE GREATEST OF THEM ALL?
Although an Irishman born in Ramelton, County Donegal, Patsy Gallacher lived most of his life in Scotland and was, in the opinion of most who were alive at the time, the greatest player of them all. He joined Celtic from Clydebank Juniors and made his debut for Celtic in December 1911 and played for them until 1926, when he joined Falkirk, for whom he played until 1932.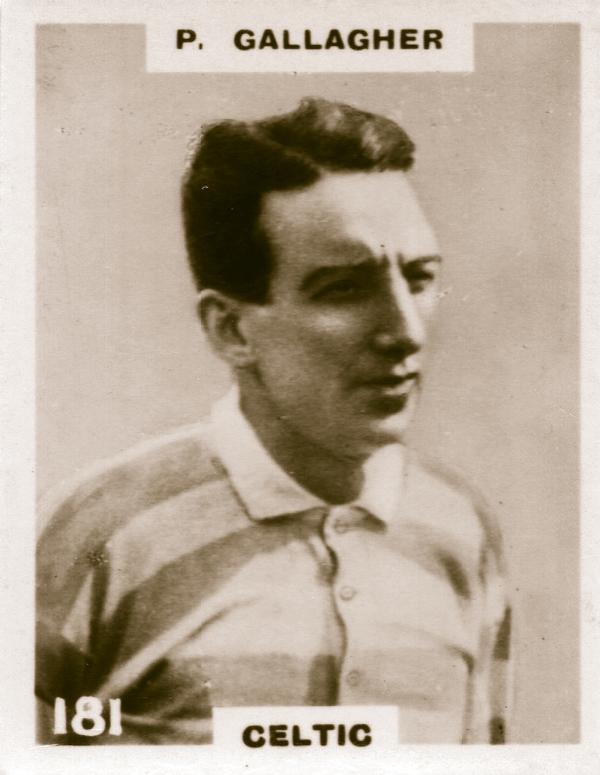 Less than six months after his debut, Patsy had won a Scottish Cup medal, scoring in the 1912 final against Clyde, and by 1914 he was the inspirational mainstay of the great team which won the Scottish League and Cup double. The Great War meant that Patsy had to get a job in John Brown's Shipyard where he was once fined and suspended from playing for Celtic for "bad-timekeeping", but this did not stop playing phenomenal football and becoming "the most talked about man in the trenches".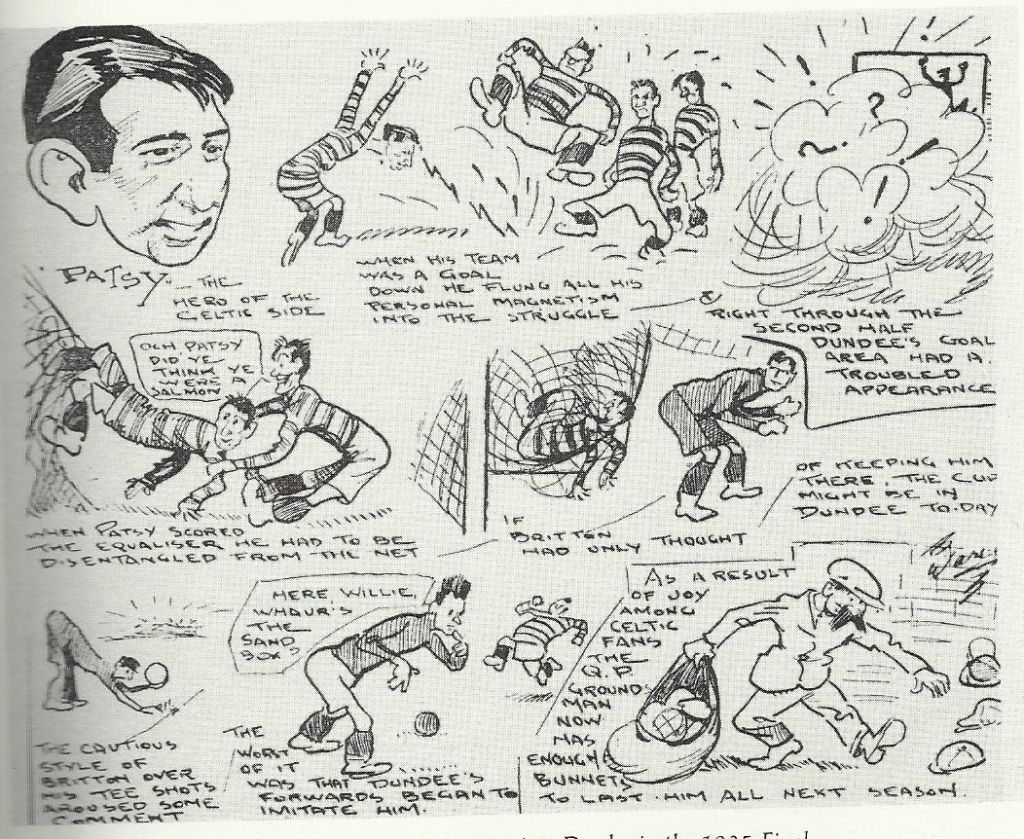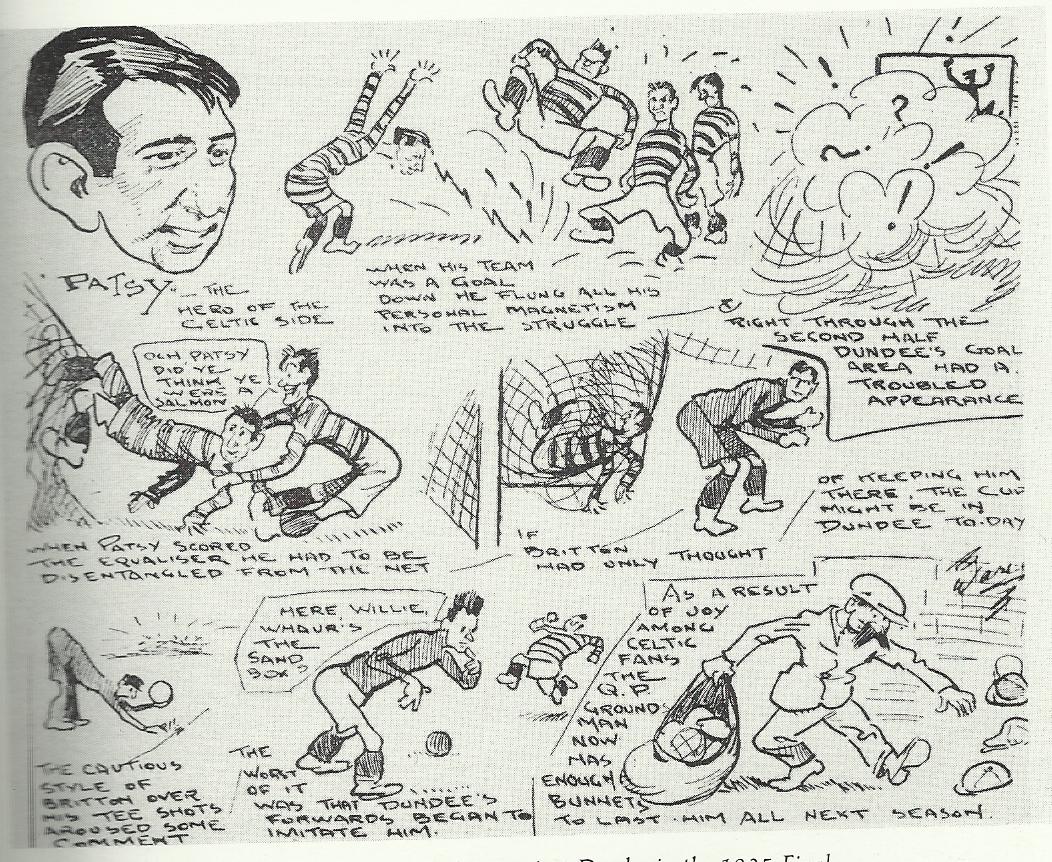 He is best remembered for the famous goal that he scored (he somersaulted into the net with the ball wedged between his legs) in the Scottish Cup final against Dundee in 1925, and the goal that he scored against Hibs at Easter Road in September 1921 when he ran all the way from the centre after Hibs had scored, to score without any other player touching the ball.
He played eleven times for Ireland, including once for the Irish Free State.
He was also involved in the licensing trade and ran the International Bar in Clydebank. His son Willie played for Celtic and his other son Tommy played for Dundee, and his grandson Kevin played for a number of clubs and earned caps for Scotland.
3.DAVIE McLEAN
This man actually scored more goals than Jimmy McGrory, but as a great deal of them were scored for Forfar Athletic in the second division, they are not considered as important. He played for Celtic for a brief spell between 1907 and 1909, but suffered for two reasons.
One was that he was a centre forward at the same time as Jimmy Quinn, and the other was that he was less prepared than some to put up with the bullying of Maley.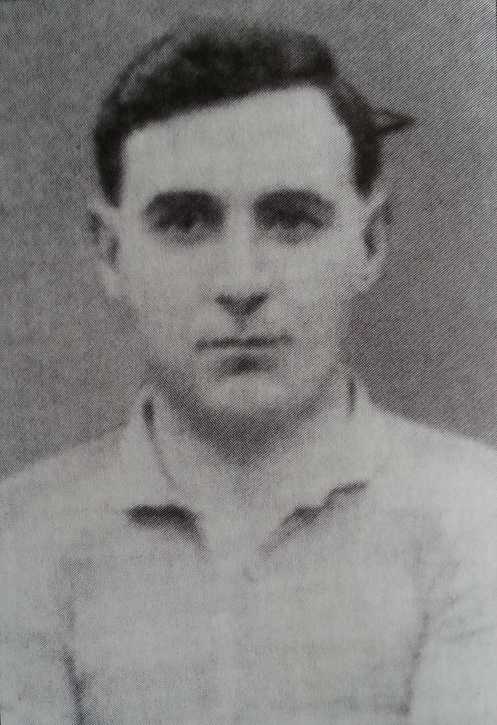 But he had two great moments for Celtic – one was when, as a 17 year old, he scored the goal which won the Glasgow Cup final replay of 1907 with a "well-judged shot of power" after which he was "smothered by the congratulations of his team mates", and the other time was when Celtic needed to play 12 games in 8 days to win the Scottish League in 1909. Injuries compelled the use of fringe players and McLean was heavily employed in that glorious fortnight.
But he had not played enough games to win a League medal, and the following autumn he was on his way to play for Preston North End, Sheffield Wednesday, Forfar Athletic, Third Lanark, Rangers, Bradford Park Avenue, Dundee and Forfar Athletic again.
He won a Scotland cap in 1912 in a 1-1 draw against England, and on two occasions he returned to haunt Celtic – one was when he scored a hat-trick for Third Lanark against Celtic in 1918 in a game which effectively cost Celtic the Scottish League Championship, and the other was when he scored for Dundee in the 1925 Scottish Cup final – but on this occasion Patsy Gallacher and Jimmy McGrory famously repaired the damage.
In latter years he retained his love for the club, having made his peace with Maley, and until his death in 1967 was a frequent guest of the club on big occasions, often with his brother George who had also played professional football and his great friend Jimmy McMenemy.
4.CELTIC'S WAR HEROES
Celtic won the Scottish League four years in a row between 1914 and 1917. As a result, they were often the butt of sneers of "war-dodging" in that manager Willie Maley was able to find war-related jobs for his excellent side, so that they were always available to play for Celtic.
This charge was unfair, for the men concerned did valuable jobs in the shipyards and the mines, and in any case takes no account of the Celtic players who were killed – Peter Johnstone, Leigh Roose, Donnie McLeod, Patrick Slavin, Archie McMillan, Robert Craig and John McLaughlin nor indeed Willie Angus who won the Victoria Cross.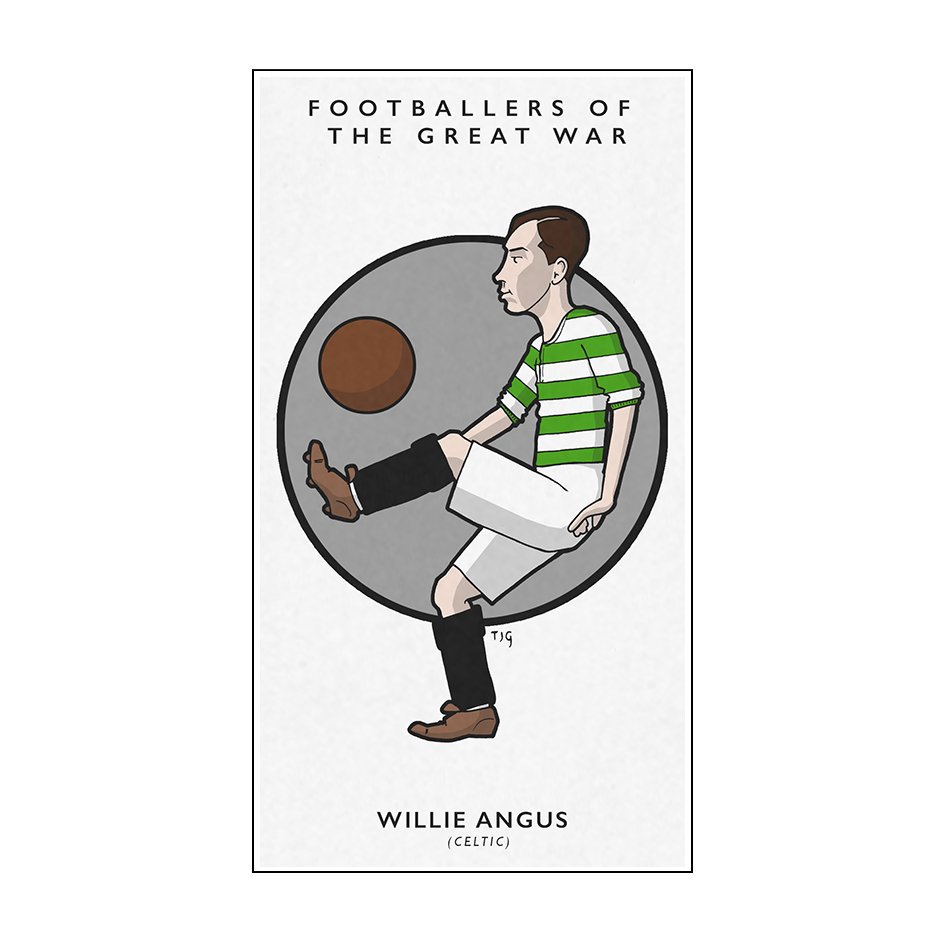 5.INVERNESS CALEDONIAN THISTLE
Celtic Park on 8 February 2000 is a night which is like a stake driven through the heart of every Celtic supporter, but it was only the beginning, as it were, for Celtic also managed to throw away the Scottish Cup up there in 2003, the SPL in 2011 and the chance of a Treble for Ronny Deila in 2015 at Hampden in the Scottish Cup semi-final.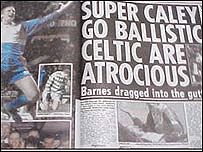 But the events of 2000 led to the "Super Caley go ballistic, Celtic are atrocious" headline and the departure of John Barnes from his ill-fated tenure of the Celtic job.
It might have been all different if the game had been played on its original date of 29 January but the game was postponed because of high winds and the fear of bits being blown off the Parkhead stands. As it was, Celtic had a shocking game against Hearts at Parkhead on 5 February in which they were two goals up but managed to lose 2-3, and protests were heard against John Barnes, for Celtic were now ten points behind Rangers and virtually out of contention for the SPL.
Celtic then went into this Scottish Cup game against Inverness with several players clearly unhappy with their manager and their team mates, and the traditional Celtic team-spirit conspicuous by its absence. The 1-3 defeat was totally deserved. Reports of fisticuffs in the dressing room were not denied, and it was one of the worst nights of Celtic's history.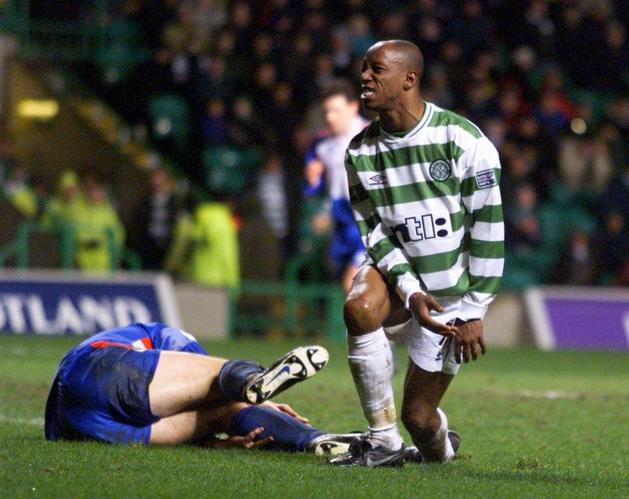 John Barnes was dismissed soon afterwards.
Inverness are having financial difficulties at the moment, despite owning their own ground and having no debt. The Celtic Star covered this story recently and it is well worth a READ, and despite the traumatic moments that they have caused Celtic this century, the Celtic support will want to wish them all the best and hope that they recover from their current difficulties.
6.DIRECT FROM A CORNER KICK -TWICE!
A goal can be scored direct from a corner kick, but it is not usual, for it is a difficult feat. On 21 February 1953 at Brockville, Falkirk, with Celtic behind in a Scottish Cup-tie, Charlie Tully scored direct form a corner kick – or so he thought.
The linesman, however, flagged for an infringement in that the ball had not been placed properly in the arc. The crowd were furious, but Charlie calmly took the ball for the retake and politely asked the linesman to place the ball for him. The official did so, and Tully swung the ball in and scored again!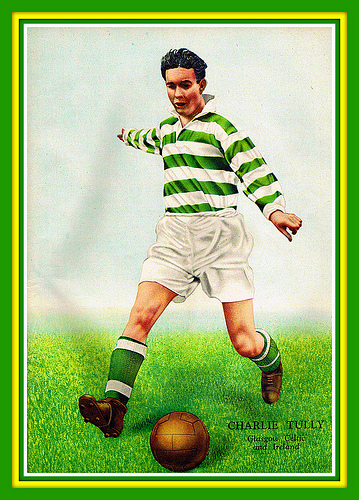 This time the goal was allowed and crush barriers collapsed under the pressure of the crowd surging forward.
Celtic would eventually win the game 3-2.
7.DUN
James "Dun" Hay was one of Celtic's greatest ever players. His record as captain of the great six League Championships in a row team from 1905 – 1910 speaks for itself, as well as the very fact that he was part of the immortal troika of Young, Loney and Hay who are still talked about over a century after their apogee.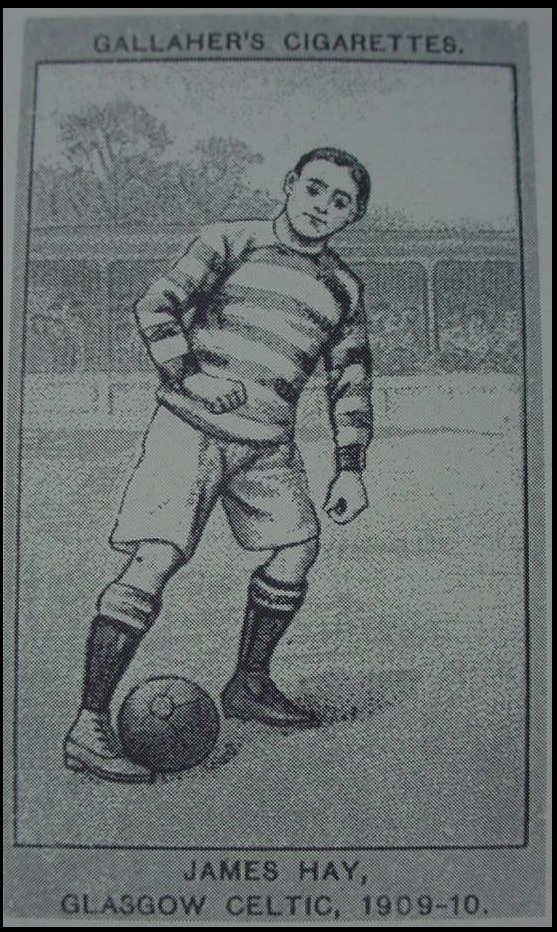 Not a tall man, but with broad shoulders and totally courageous and committed, James Hay was a visionary player in a team which was, without much doubt, the best team in the world at the time.
David Potter
We'll be running this series of Seven Magnificently Random Celtic Stories from David Potter all week only on The Celtic Star.