1.THE GREEN BRIGADE
A phenomenon of recent years, the Green Brigade often proved some welcome atmosphere in dull days. At Celtic Park they sit (or stand) in the north-east corner of the ground singing songs which are not always approved of, but their support is real and total and are surely to be encouraged. Sit back and watch their Best Bits…
2.THE SHAMROCK
This was the first-ever Celtic fanzine. It was produced in the bad old days of 1963 and 1964 from an Edinburgh base, edited by a man called Dougan from Gilmerton Dykes and sold on match-days by a man with a shabby coat and down-at-the-heel shoes ( "long down-trodden man", he was called).
The paper was poor and the typing amateurish, but it was very much the voice of the people at a time when their voice needed to be heard.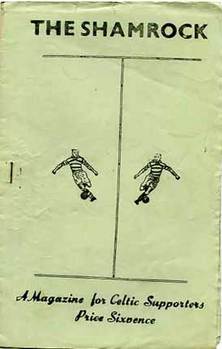 It did not hold back from criticism of the players and management when necessary. Among other things, it said that Bobby Murdoch, at that time an inferior inside forward would be a better right-half, and this was long before Stein came and implemented that.
It seemed to disappear just about the time in 1965 when the corner was turned, and it is to be hoped that the "long down-trodden man" lived long enough to enjoy Lisbon.