FOLLOWING the anniversary of Celtic's UEFA Cup final appearance in Seville, The Celtic Star asked for your memories of the pilgrimage of 80,000 supporters to the South of Spain back in 2003.
We have Mark's VIP experience courtesy of his Rangers supporting pal, delaying his flight from taking off and severe chaffing.
Like most people I arrived in Seville on a charter flight from Glasgow with my pal, Shieldsy, and a few other folk. In our group Shieldsy and I were the only two without tickets. One of my other pals was living in Spain (still is). I told him we were going to the game. He said we should meet up in Seville.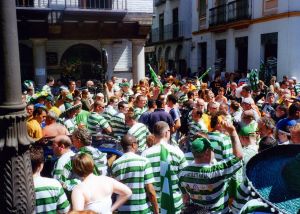 I thought this was strange as we know him as John 'the rangers fan'. He said he had a meeting that week in Seville. So the day got going and was unforgettable in the bars and squares of Seville. I had arranged to meet John around 3pm at his hotel.
When I got there, with Shields, John was in the hotel bar with a group of Spanish business folks, beaming from side to side. As I approached him he greeted me with words I'll never forget "do you fancy going to the game?"……
John then tells me his company has a box and both myself and shields can get in. Jackpot!
We got to the box, perfect view, limitless tapas and beer. I quickly got ahead of myself with the catering and went outside the box for some air. Outside I bumped in to Alan Hansen and Hazel Irvine as the box next door was being used as the BBC studios.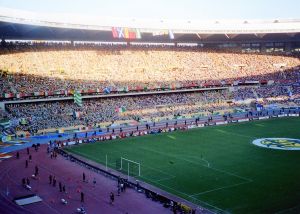 I got both to sign my tap. Clearly the heat was getting to me.
After the game we missed our bus to the airport. We finally managed to hitch a lift, expecting to have missed our flights. On arrival at the airport we soon realised that all flights were delayed.
So we made ourselves comfortable on the concourse floor and fell fast asleep. One of the boys shook us all awake as he heard our names being called out on the tannoy. The flight was leaving. They must have been calling us for a while. So we started legging it through the airport. That wasn't easy as a few of us had severe chaffing with the heat and kilt combination.
We expected a complete roasting when we got on board the flight as folk at that point were just desperate to get home. I think it was about 4am at that point.
So we agreed to just smile and get to our seats quickly, no matter what the reception was.
Luckily they held the flight long enough for us by the time we got on board the whole full flight was sound asleep. Another good result from that day.
Sent to The Celtic Star by Mark.
WE want to hear your Celtic Stories – please email them over to editor@thecelticstar.co.uk and we'll publish them on the site for other Celts to enjoy.