SHANE DUFFY finally got the chance to pull on a Celtic shirt today as a Celtic player. The Celtic supporter from Derry thought that his chance was going to come back in the summer of 2016. Brendan Rodgers had taken over at Celtic that May and had identified Duffy, then at Blackburn Rovers, as a key signing target. However no real progress was made on the deal and instead of heading North to Glasgow Duffy took the south-bound M6 to begin his journey to newly promoted Brighton.
Keeping them in the Premier League must rank as a significant achievement for the Irish international skipper and he'll be looking to match that impact now that he's finally got himself a move to Celtic by contributing to the pursuit of the four domestic trophies that Celtic are chasing this season and of course some European redemption in the Europa League after last month's shambles.
Here's Shane Duffy speaking about the Brendan Rodgers interest in signing him for Celtic back in 2016.
🔊LISTEN: Shane Duffy says he feared the chance to join Celtic had already passed him by after talks broke down with Brendan Rodgers two years ago.

The defender also hopes his 'never give up' attitude will lead the the first winners medals of his career. pic.twitter.com/EDxx2COhbi

— Clyde 1 Superscoreboard (@ClydeSSB) September 8, 2020
Celtic have just released the full media conference and we feature the video below . And the official Celtic website has a preview of what the new Celtic signing has had to say today.
"You could say there's more pressure on me given I'm also a fan, but I'm a believer in my own ability and where I am in my career," Shane Duffy told Celtic TV. "I'm at a good age, I'm coming into my prime and, hopefully, Celtic fans will get to see me in my peak. I'm at a good stage now, I need some games to get up and running, but I'm just excited.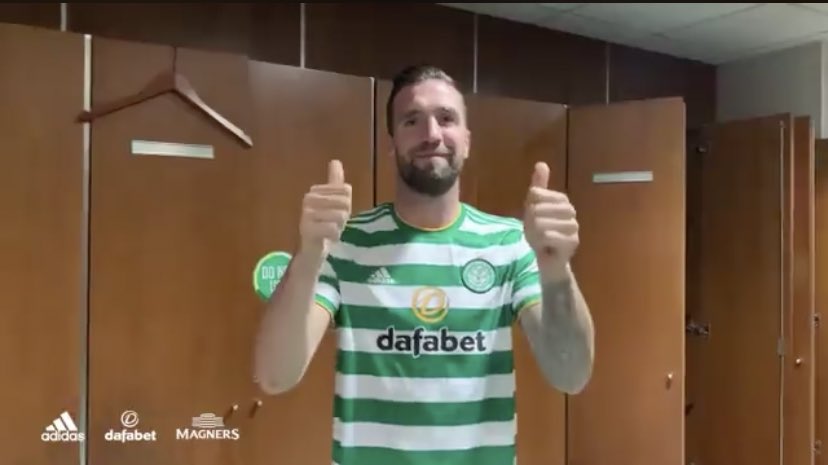 "I just need to be me and for the team and the manager. I'm a solid defender who simply wants to keep the ball out of my net, and do anything to win at all costs. That's a mentality I grew up with and I'll never change.
"I'll give everything for the club, for my team-mates and for me, and that's always been my attitude towards football and life. If I can bring that to the team, then hopefully that can be good for everyone," Shane Duffy said.
"It feels great to finally be here. It's been a really busy week for me, getting it done and not being here was difficult, I had a lot of things on my mind, but I landed in Glasgow last night and I'm just buzzing now to get going.
"It's been crazy so far. Obviously with social media these days, you get to see quite a bit of it, and it was quite overwhelming.
"I know what the fans are and what they mean, and while I gathered how they'd feel about an Irish man, coming from where I'm from in Derry, I had no idea that it'd be as big as it's been so far. That's incredible and I just can't wait to get down to business now and do it on the pitch for them."
WATCH SHANE DUFFY'S FULL MEDIA CONFERENCE BELOW…
Duffy, also according to the official Celtic site, will train with his new Celtic teammates this week and will go straight into the squad for the match in Dingwall on Saturday, which incidentally will have 300 home fans in attendance – the first time supporters have been allowed into a ground in Scotland since early March.
And in an emotional moment today Shane Duffy revealed how he'd dedicate playing for Celtic to his late father who always wanted his boy to play for the club.
"I lost my dad recently who was a proud Irish man. He always dreamed about me playing for Celtic. My dad will be in the back of mind when I go out onto the pitch," Duffy said at today's media conference.
💚 A Bhoyhood dream come true!@shaneduffy in the Hoops 😍 pic.twitter.com/tJShuDlID7

— Celtic Football Club (@CelticFC) September 8, 2020
Inevitably the conversation turned to the quest for Ten-in-a-Row and Duffy was ducking out of nothing.
"It's a huge (season) and I don't need a reason to go to Celtic but If I ever needed one it is this year to make history. It is something I have been following it closely over the years anyway and hoping they would do it every year and now to be a part of it is a huge honour.
"But there is a lot of work to do and hard work to get that Ten-in-a-Row. I know the fans are optimistic and I am as well going there so we've got to do the hard work and hopefully the rewards at the end," he stated.
🗣️ SD: "I lost my dad recently who was a proud Irish man. He always dreamed about me playing for Celtic. My dad will be in the back of mind when I go out onto the pitch."

— Celtic Football Club (@CelticFC) September 8, 2020
"People will know the connection with Derry and Ireland and Celtic and it was all we knew growing up really. The older I've got I have been lucky enough to get to a few games and experience the atmosphere.
"Obviously, boyhood club and literally it is like a dream when you are a kid to play for Celtic. I've had all the tops through the years and stuff like that and now to get to experience it and go to Celtic Park and go and play for the club you love is a huge honour.
"Hopefully I can do them proud.
"I spoke to Paddy (McCourt) a couple of weeks ago when it was all happening."
🍀 New Bhoy @shaneduffy spoke to @CelticTV's Gerry McCulloch after finally arriving at Paradise

"It feels great to finally be here. It's been a really busy week for me, getting it done and not being here was difficult, but I'm just buzzing now to get going and I can't wait." 💬 pic.twitter.com/yhquwsANTK

— Celtic Football Club (@CelticFC) September 8, 2020