Shaun Maloney, the Belgium Assistant Manager has spoken of the journey that has taken him from a youth coach at Celtic to working with some of the world's best under Roberto Martinez.
Maloney, 36, traded Lennoxtown for Belgium in September 2018 after the World Cup saw the Belgians claim third place. In the following months, the Belgians would climb to the top of the FIFA rankings and Maloney would become assistant manager to his former manager, Roberto Martinez.
Speaking to BBC Scotland, the attacker, who played 215 times for Celtic – scoring 52 times, spoke about his change from being a player to being a coach, especially with one of the world's top teams. Maloney's intelligence sets him apart and has been the basis for his rapid progress as a coach and he believes that comes from taking an interest in the history of the game.
"I really enjoyed the history of the game even when I was a younger player – different eras of the game. At Celtic, you are brought up with the Lisbon Lions and their European Cup win in 1967.
"It was just fascinating watching some of the footage of that, then going through into the Busby teams, Ajax teams of the 70s, Barcelona under Cruyff and that led to Guardiola. That is the same philosophy – Roberto has grown up with that."
Maloney, who won 11 major trophies with Celtic, had his interest in coaching spiked when he joined Roberto Martinez at Wigan. It was the relationship that the pair developed that led to Martinez calling Maloney following Thierry Henry's departure as assistant manager. When Maloney eventually decided to call a day on his playing career, he spent a year in the Celtic Academy getting his foot on the coaching ladder.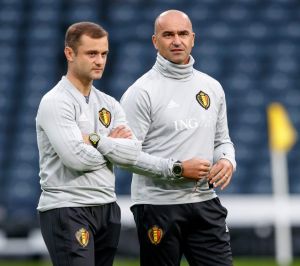 "When I spent the year at Celtic at the academy, I had an idea and path where I wanted to go and how I was going to get there. And then, within 12 months, Roberto had phoned me and asked me to join him. So that path was not something I expected.
"I'm very happy in the role I'm in now and very motivated to do the best I can at that and I've committed to Belgium for two years. After that, I can't plan for anything specific."
With global superstars under his command like Eden Hazard, Romelu Lukaku, Kevin De Bruyne and Dries Mertens, there is always expectation on Maloney to deliver success with Martinez; however, his education as a footballer with Celtic will stand him in good stead when dealing with the winning mentality that these players have – considering he came through at a time that players like Larsson, Sutton, Lambert and Moravcik played for Celtic.
Maloney is highly thought of in the game, when he left Celtic, Brendan Rodgers was very complimentary of Maloney and the impact he had on the reserve side in his year at the club.
"He has done a fantastic job already at Celtic working alongside Tommy McIntyre and made a real contribution to the Club."
Maloney is constantly learning the game, touring the world watching Belgium's superstars in action, keeping up to date with the ever-changing football scene and studying at the Cruyff Institute in the Netherlands.
"The course I'm doing means you are learning from different sports and it has opened my mind to the coaching process. It is a huge learning curve.
"It is a masters in coaching and it's been an amazing experience. I started it in February and hopefully I'll finish that in May. The professors there are from different sports with different ideas on coaching and it's been eye-opening."
Maloney will be eyeing a managerial job in the future and it is interesting to speculate that one day the ex-Celt could continue his affinity with Celtic by managing the club.