TOMMY SHERIDAN has had his say on the Boli Bolingoli scandal that has rocked Scottish football in general and Celtic in particular and has come to the conclusion that the wealthy Belgian defender should be sacked by the Scottish Champions for his irresponsible actions in travelling to Spain for a sleepover, failing to advise the club of his movements and disregarding the quarantine rules put in place by the Scottish Government.
"Celtic football club have a big decision to make, and on behalf of the hundreds of thousands within the NHS and social care sector who have risked their lives to care for others during the four months of the deadly Covid19 pandemic, they must get it right," Sheridan wrote in his Sputnik News column this morning.
Hi Folks,

Give this a read by @citizentommy speaking the truth as always.https://t.co/VPV8GrTmni

— Colin Burnett (@ColinBurnett16) August 12, 2020
Bolingoli, who "flagrantly and selfishly disobeyed the club's instructions and the law" has issued an apology but according to the political activist that is nowhere near good enough.
"Bolingoli isn't a politician and therefore shares no blame for the fact our nurses and NHS workers have been treated so badly by the Tory government but he is a very privileged young man who makes a fantastic living kicking a ball around a football park. It is a profession most young men dream of as the rewards, especially at top clubs like Celtic, are incredible," Sheridan noted.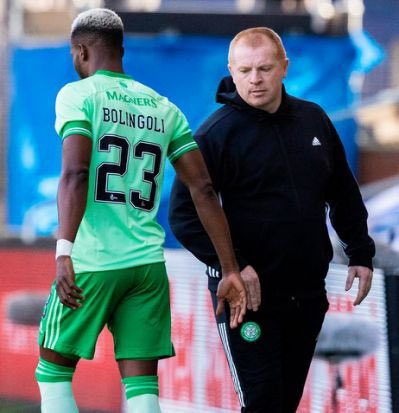 "What Bolingoli earns in a week is likely the equivalent of a year's income for many of the NHS workers who protested in Glasgow on Saturday. These men and women are the frontline of the battle against Covid19. Hundreds of their colleagues have literally died in the line of duty."
Sheridan continues: "If low paid NHS workers, nurses and social carers are willing to risk their lives to care and treat others during this pandemic then privileged and pampered footballers who ignore the law and their club instructions deserve to have their lucrative contracts terminated. An issue like this is not just about football and the individual player it is about societal responsibility and standing up to be counted at times of crisis."
Tommy makes many other very valid points, that few could disagree with, before concluding that Celtic must do the right thing and sack the player.
"Football is important to fans like me but some issues transcend the game and this Boli Bolingoli-Mbombo incident is about more than football, it is about respect for the NHS, the sacrifice of frontline care workers and the laws designed to protect society as a whole.
"It is uncomfortable to say it as a Celtic fan but I'm afraid Boli Bolingoli-Mbombo's mistake here is not forgivable to me. His sacking is justified and would send a message to society that all of us are obliged to obey the lockdown measures and temporary legal restrictions on our freedom of movement for the good of everyone. No one is above the rules or the law. Even a Celtic star."
ALSO ON THE CELTIC STAR…
Celtic's Covid Crisis – The seniority of the castigator called for our Chief Executive to respond | The Celtic Star https://t.co/GacGayuYW9

— The Celtic Star Editor – INVINCIBLE (@CelticStarMag) August 12, 2020
August is Celtic's Traumatic Month – From McGinn, AEK Athens, Boyata, Dembele, then Cluj and Bolingoli | The Celtic Star https://t.co/hjsX4198GD

— The Celtic Star Editor – INVINCIBLE (@CelticStarMag) August 12, 2020