Last night was an entertaining and ultimately frustrating evening of Europa League football as Celtic narrowly lost out to Bayer Leverkusen in the closing stages of the match.
After going behind, the Hoops drew level through a penalty kick after Kyogo Furuhashi was wiped out in the box. Officials initially failed to spot the infringement but VAR intervened and the referee duly pointed to the sport after watching a replay at pitch side. However, the big question is 'should the referee have sent off Lukáš Hrádecký for dangerous play?'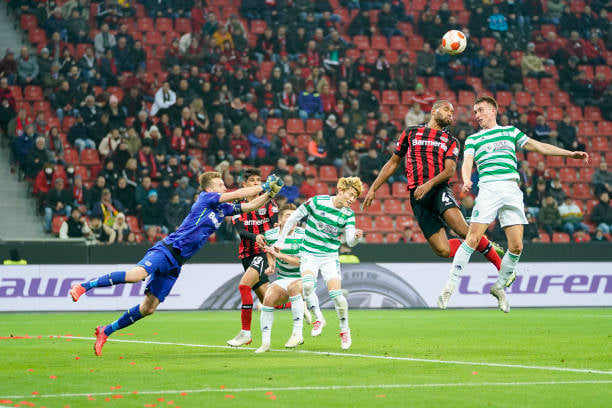 in FIFA's laws of the game, dangerous play is described in the following way: "Playing in a dangerous manner is any action that, while trying to play the ball, threatens injury to someone (including the player themselves) and includes preventing a nearby opponent from playing the ball for fear of injury."
Moreover, the laws state that a red card should be produced for an incident of serious foul play, which is defined as follows: "A tackle or challenge that endangers the safety of an opponent or uses excessive force or brutality must be sanctioned as serious foul play. Any player who lunges at an opponent in challenging for the ball from the front, from the side or from behind with excessive force or endangers the safety of an opponent is guilty of serious foul play."
Footage of the incident can be seen from exactly two minutes into this video:
Make up your own mind. Does that punch to the head merit dangerous/serious foul play?