LOVELY story today about how Rod Stewart discovered a great song and helped put a band back together by giving them a support role on his tour, all through watching Celtic TV and hearing a particularly impressive piece of music.
Rod already has taken Grace from the the Celtic support and put it onto his latest album, bringing the Irish love song about events on Easter Monday 1916 and the dreadful aftermath – devastating for young Grace Gifford as we all know – to a much wider audience.
On a different subject, but still music related, earlier this week the Beatle Ringo Starr was in the news for giving a political view on Brexit to the BBC – he is in favour in case you missed it.
As a family we went down to Liverpool last year to do the Beatles tour, highly recommended by the way. You can hire a Beatles tour taxi who can take you around all the various places, Strawberry Fields, Penny Lane, where the Fab Four lived and so on, and our guide was in no doubt that Ringo is not held in anywhere near as high regard in the city as the other three John, Paul and George and that's to do with the man not the music.
Anyway while the BBC were busy interviewing the 'worst Beatle' about Brexit – which seems to be in checkmate due to the Irish backstop situation, they could reflect on how another Beatle – Sir Paul McCartney – actually provided them with the solution in song almost 50 years ago but they actually BANNED McCartney from their television and radio channels – a ban that stands to this day.
There was no bad language or anything offensive in what Paul McCartney was singing about – it was just political. Wait you are saying, what Ringo has been saying is political. Can you remember or have you ever heard the Paul McCartney song I'm referring to?
Maybe the BBC should dig it out, lift the ban and play it as the solution to their Brexit backstop problem. Here it Sir Paul McCartney rehearsing the song back in 1972…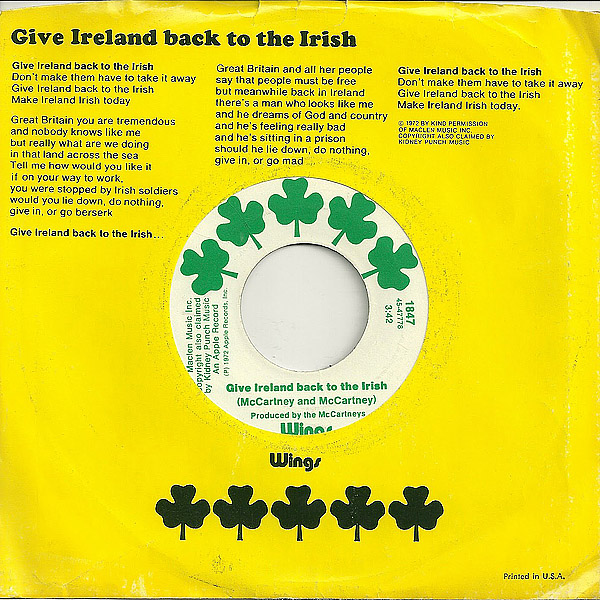 Back to Sir Rod, he heard an instrumental track on Celtic TV a year or so ago and wanted to find out who wrote the music so set about trying to find out. And that led the 74 rock legend to Glasgow musician John McLaughlin and his band Johnny Mac and the Faithful.
Rod told Celtic TV as reported by the Daily Record what happened. "I was watching the boys coming out to train on Celtic television. There was a backing track, no vocal, just an instrumental. I was looking for who wrote it. I turned it into a song called Julia on the last album.
"We searched for a year. It turned out to be Johnny Mac and a friendship was born. He said he had a band and he'd like to do more gigs.
"I said, 'Right, you're on the tour. You're going to be playing to 30,000 a night'. He's been magnificent – best opening act I've ever had."
Johnny picked up the story in the Record. "I chucked playing in bands when I was 23 after supporting Wet Wet Wet because I realised I wouldn't get a record deal. I decided to start writing songs for other people."
And Johnny explained how the Celtic TV connection led him to this tremendous opportunity to tour with Sir Rod and how the two Celtic supporters have become a good friends.
"One day he heard me singing along to songs in the car and told me I was a great singer and that I was going on tour to get the crowd going.
"I didn't believe it until the contracts turned up six weeks before the tour. I thought, 'F***, I'll have to get a band together and write some songs'.
"It's incredible to be playing to 30,000 people each night. Rod did everything for us. He introduces us at every show. Rod has become a best pal. He invites me to his house and I've had dinner at his home in Essex with Penny.
"He's been great to me and the rest of the band. I'm 54, boy band age 37, and never thought I'd be doing this at this stage in my career."
Incidentally Rod Stewart was also banned from playing the beautiful love song Grace on the BBC.
And here's the Celtic support singing Grace at the packed Free Broomloan at Ibrox in September 2017…
ALSO ON THE CELTIC STAR TODAY…
New Deal for Edouard as Broony reveals how French striker Spooked the Rangers…see HERE.