WILLIE WALLACE signed for Celtic from Hearts on this day in 1966 and while no-one knew it at the time, Jock Stein had just completed the final piece in the jigsaw that would take his team all the way to the glory of winning the European Cup in Lisbon just under six months later.
🗓 Lisbon Lion, Willie Wallace, signed for the Hoops #OnThisDay in 1966. 🍀🦁 pic.twitter.com/dPcDWVDWJe

— Celtic Football Club (@CelticFC) December 6, 2019
Below is an interview I did with Willie a few years ago. Hope you enjoy….
What was it like to play against Celtic?
I played against Celtic on many occasions before joining the Club and after I was transferred. In the time spent with Raith Rovers and Hearts, I played against Celtic over seven seasons. I did have a few memorable games against Celtic with Raith Rovers but cannot recall any victories for Raith.
On 2 May 1961 at Celtic Park against the Celtic team that had just lost the Scottish Cup Final to Dunfermline three days before, I scored my first goal for Hearts in the 15th minute and Hearts finished winning 3 – 1. I remember the centre-half for Celtic that day was John Kurila and John Divers scored for Celtic.
I had many good games against Celtic and I scored two goals at Tynecastle in a League match, which was another victory for Hearts. Celtic had had a problem travelling back from a European Cup tie in Kiev as the bad weather had held up all the flights.
I believe they trained immediately after the flight before travelling through to Edinburgh for this game but Hearts had also played in Europe that week and had only arrived back into Scotland late on the Thursday before the Saturday match. Celtic did not play Billy McNeill that day at centre half but played John Cushley instead. I believe Billy may have played at Right Back. I had a good game that day and I think my performance may have interested Mr Stein!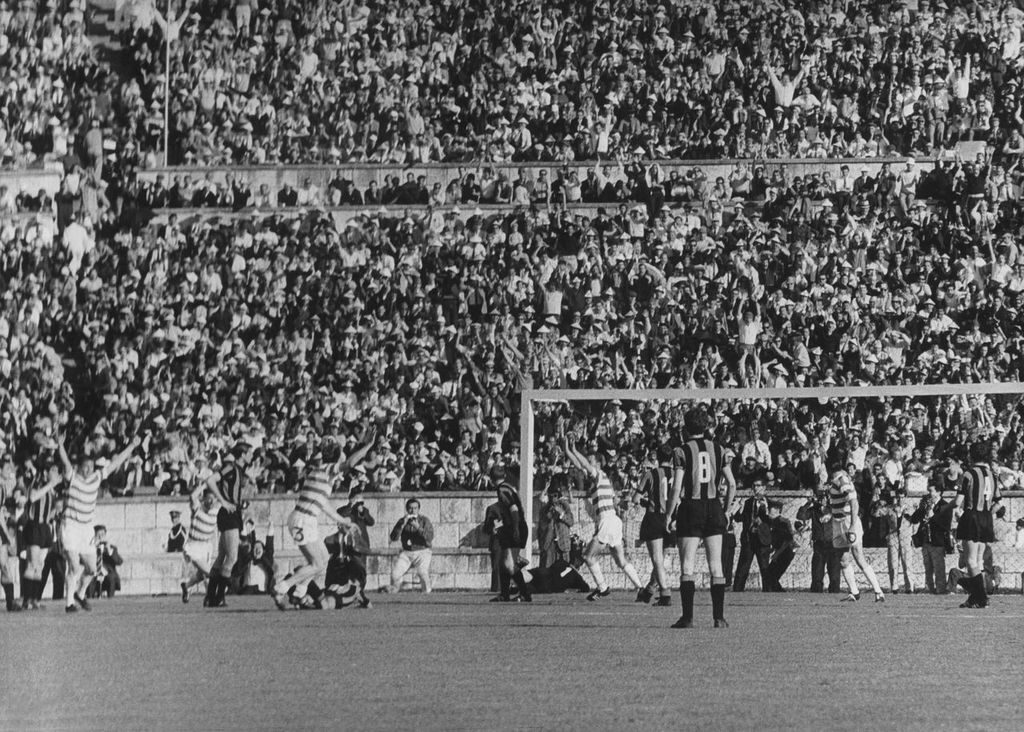 Can you tell us about your arrival at Paradise?
I signed for Celtic on Tuesday 6 December, 1966 and four days later I made my debut with a Celtic team that had not been beaten in 30 competitive matches up to that time in the season. The game was against Motherwell at Celtic Park.
I played inside right, number eight, and that day the team, all but one, became the Lisbon Lions. Willie O'Neill played at left back and Tommy Gemmell was right back. Willie did not go on to play in the final. I had a quiet but a sound match. Steve Chalmers had a hat trick that day and I recall making a good pass to Bobby Lennox who hit the post with his close range effort, and the ball rebounded to Steve for his second goal. After the final whistle I was relieved that we had won 4 – 2 on the day and I fitted in to the team and performed well.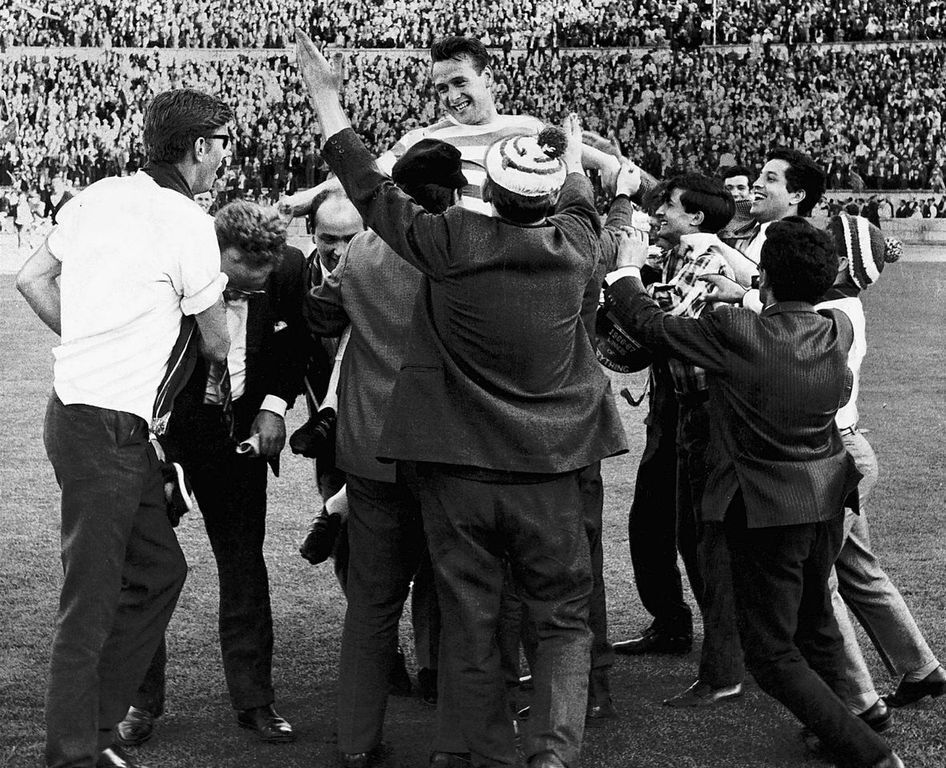 And about your greatest memory as a Celtic player?
My greatest memory and achievement as a Celtic player was of course winning the European Cup in 1967 in Lisbon against Inter-Milan. Before the game sitting in the dressing room, there was an air of calm and confidence. There was quiet chat and a few jokes going around. The boys knew this was a huge football occasion that meant so much to not only Celtic but also to Scotland and the whole of the British Isles; therefore, we kept our emotions under control.
The game was treated like any other fixture, the preparation had been good, and we were as fit as we could ever be, I think we all believed in our ability as a team so once on the field buoyed by the tremendous reception of Celtic fans we played our hearts out.
At full-time the fans streamed onto the field, a mixture of Celtic fans and Portuguese fans and it soon turned into a frightening experience. Mainly, the Portuguese were trying to remove strips and shorts for souvenirs and I was surrounded by a crowd when some Celtic supporters rescued me and escorted me to the tunnel.
In the dressing room most of the players had come through the same turmoil and were quite stunned but soon we realised what we had achieved the atmosphere changed to that of sheer joy. The dressing room became a thoroughfare with people coming and going to congratulate us and we all remember Bill Shankly being as proud and pleased as we were.
Billy McNeill had to go and pick up the cup and medals on his own. This was the only disappointment to us all as we would have liked to have had a victory parade on the field for all the Celtic fans who had travelled so far to see us win the European Cup.
How much did you earn for bringing the European Cup back to Scotland?
The exact amount of the bonus for winning the European Cup was £900 after tax. The wages paid of £250,000 per week to players in the English Premier League shows, in my opinion, how much things have got out of hand.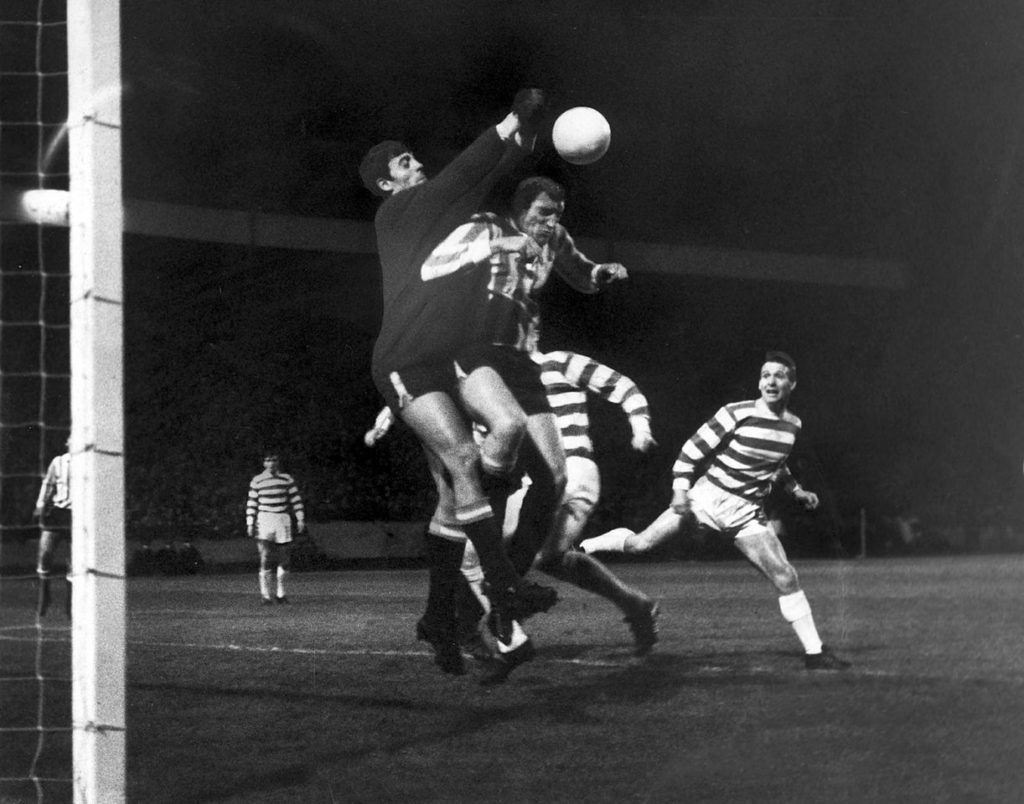 Apart from Lisbon, what were your other highlights wearing the green and white hoops?
There were many highlights playing with Celtic, one was the privilege of playing in Alfredo de Stefano's benefit match in Madrid in front of an 110,000 crowd. Alfredo had always been one of my heroes and even today, I think he would more than match the Messi's of this world.
Celtic won 1-0 that night with Bobby Lennox scoring the only goal and Jimmy Johnstone gave a display of a lifetime.
Another highlight was playing against Penarol FC at Parkhead. This was the first South American club that I had played against. The Boss played a very attacking formation that night, it worked perfectly well and to my delight, I scored the only two goals of the match.
I always enjoyed playing in the games against Rangers, either home or away and always managed to get my fair share of goals against them. To be honest I did not really worry about playing Rangers as I believed, as the Boss did, all you gained was two points, the same as beating any other team.
What was the abuse like while playing in those Glasgow derby matches back in the 60s and 70s?
Players of both Celtic and Rangers have always received abuse from the terracing. I had received abuse from both Rangers and Celtic fans when I played with Raith Rovers and Hearts. A few times remarks if playing Rangers were that my Mother was this or that or playing Celtic "my Father did ride a white horse". These were comments you would hear if you were near the touchlines but most of the time you could not make out what was being said in the din – but perhaps this was just as well. Off the field, I never encountered any problems, as I knew where to go and where not to go socially.
What was your favourite away ground?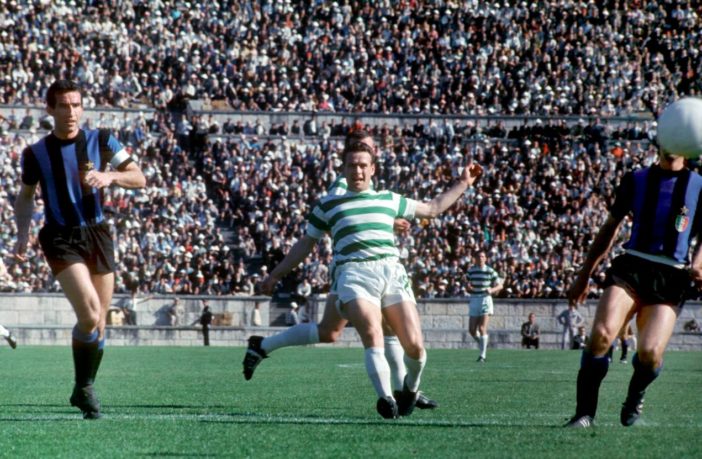 My favourite ground was Tynecastle, Hearts' ground, which was compact, and when full, a great atmosphere. The playing surface was always in A1 condition, even going back to Tynecastle with Celtic was an enjoyable experience.
And who was the finest player you played with?
The finest player I ever played with was Jimmy Johnstone. I can thank Jimmy for many of the goals I scored during my time with Celtic. I played with Jim Baxter, Denis Law, and Billy Bremner in the Scottish team all great players. The finest defender I came up against was Bobby Moore of West Ham and England. One defender who never had a bad game against me was the Aberdeen centre-half whose surname is McMillan, I never played well against him.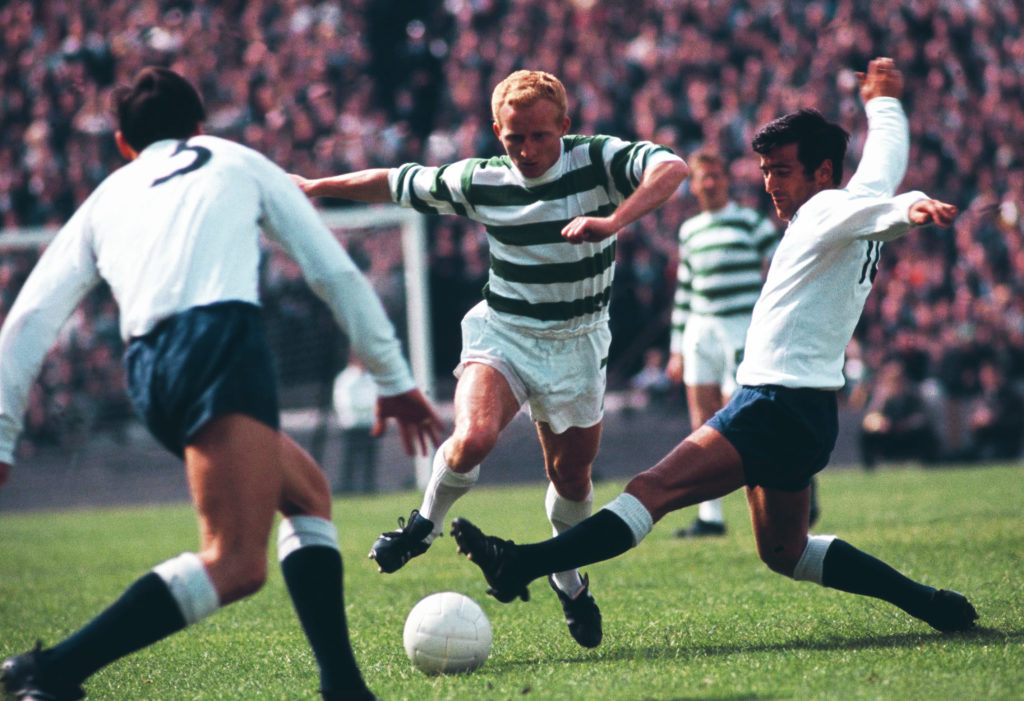 Can you tell us about your international career?
International Caps – Most publications have recorded that I won four caps. (incorrect!) I played three times against England, twice against Ireland, I played against Holland, Russia and I played for Scotland in the John White Testimonial game in London and played at Leicester in Alex Dowdall's Testimonial. I was also selected while at Hearts in the World Cup Squad when Jock Stein was Manager and travelled to Poland and Finland and was on the bench against Italy at Hampden in Scotland's famous 1-0 victory.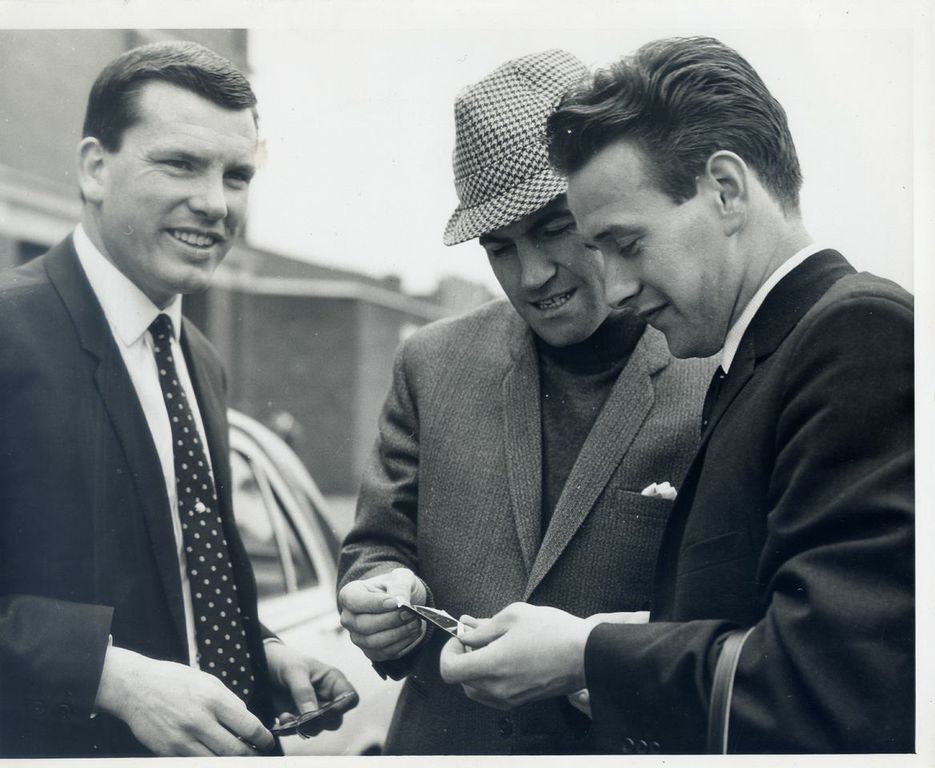 Celtic players in your era won surprisingly few caps – why was this?
I think it is understood in Scotland that if you played for Rangers you had a much better chance of being selected for the Scotland team. Not only Celtic players missed out on caps that they should have earned, to name a few players at Raith Rovers and Hearts, Willie McNaught, John Cummings, Willie Bauld all great players but did not seem to fit the criteria for the SFA. As I understand at that time back in the 60's there was a panel of 22 selectors so each of the 22 would have their own favourites.
Were you surprised that Jock Stein was never knighted, despite being the first British manager to win the European Cup?
Yes, I was surprised when Jock Stein was not knighted after the European Cup win as the year before Alf Ramsey became Sir Alf overnight for winning the World Cup. I do not think that Jock was concerned about this, as we only became a "British" club after winning the European Cup.