So just who were the Class of '55?…
Yesterday's article in The Celtic Star featuring photos provided by Peter Goldie, Celtic's oldest-living player, provoked a lot of interest and discussion. One photo in particular generated quite a few queries.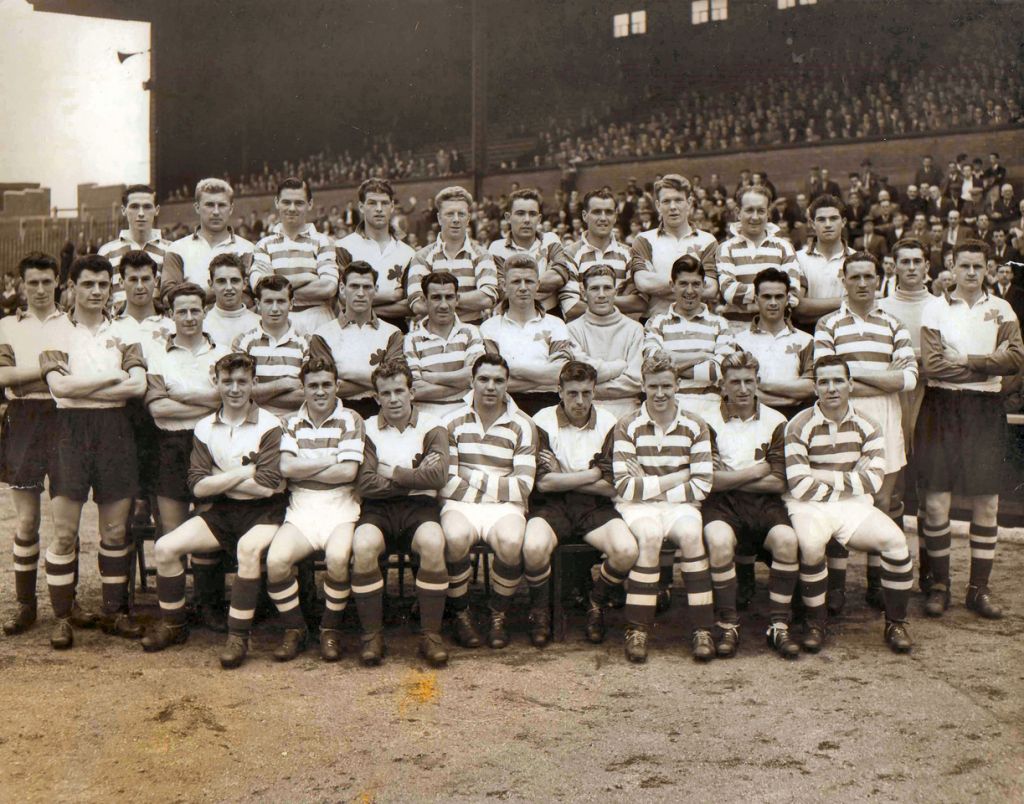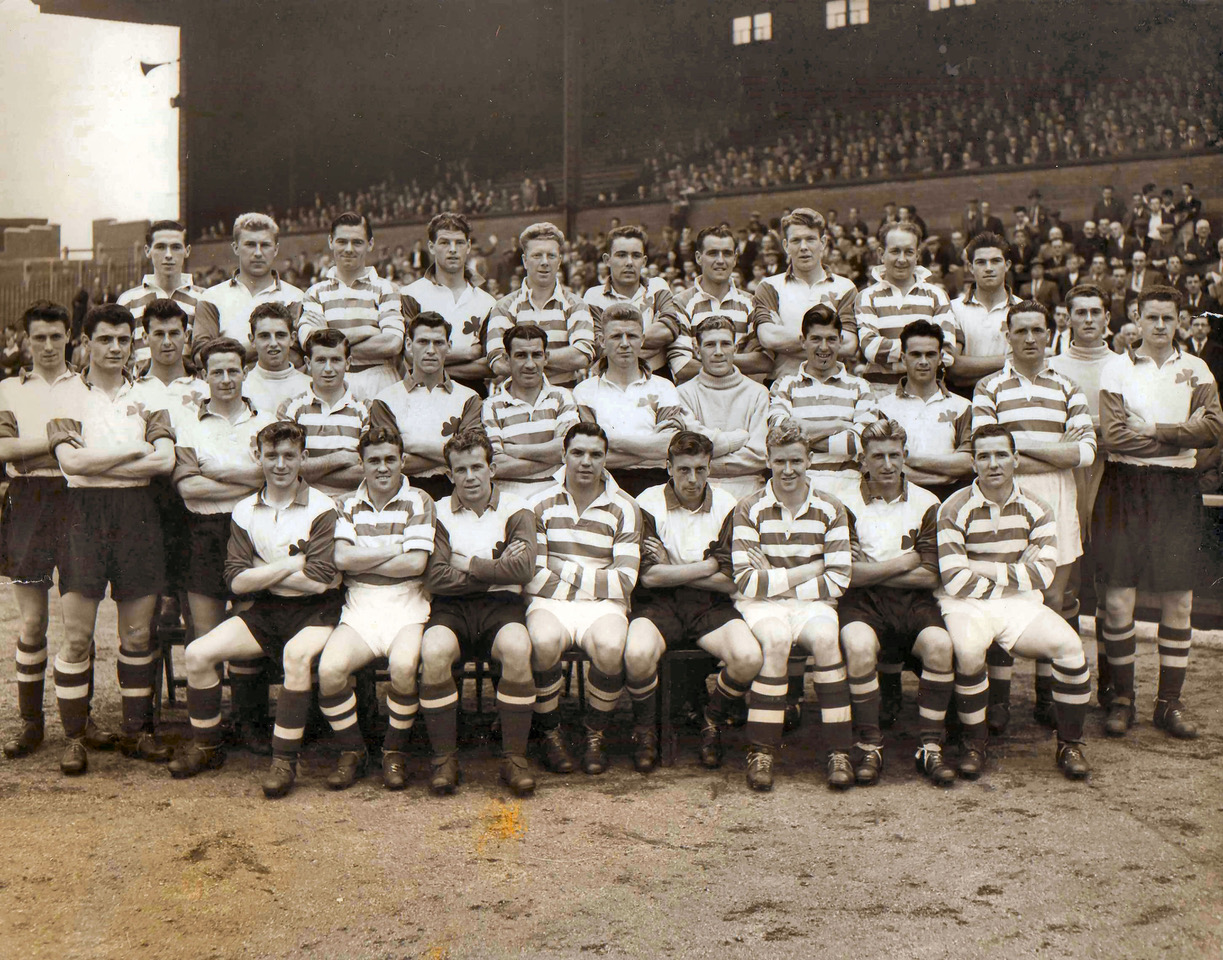 It was a photoshoot taken at the annual trial match played at Celtic Park on Tuesday, 9 August 1955. Some of the players of course are instantly recognisable as Celtic legends, whilst most of the others are familiar to those who know their history but a few of the faces presented some challenges in terms of identification.
Here at The Celtic Star, we like to acknowledge every Celt who lived the dream and could proudly tell their family and friends "I played for Celtic," so we thought we'd make sure we had a full cast list to publish. That's when the fun started.
There was a report on the match in the following day's Evening Times which listed the teams as follows:
Green and Whites (Hoops)

McCreadie; Haughney & Fallon; Evans, Stein & McPhail;

Docherty, Collins, McAlindon, Walsh & Mochan.

White and Greens (Shamrocks)

Beattie; Ryan & Meechan; McKay, Jack & Conroy;

Craig, McVittie, White, Sharkey & Auld.
Celtic's oldest living player's trip down memory lane https://t.co/rlfc7t0Ad1 @Boola_vogue @Celticcurio @cfcliamk96

— The Celtic Star Editor (@CelticStarMag) July 27, 2022
Not all of the players in the photo featured in the match, as some were nursing or recovering from injuries. And an obvious absentee from the photoshoot was Bertie Peacock, who was in Belfast representing a Great Britain XI against The Rest of Europe in a match to commemorate the 75th anniversary of the six-county Irish Football Association. The Evening Times report also mentioned that a number of changes to the initial line-ups occurred at half-time – by which time the Hoops were leading 5-0 – as follows.
Goalkeepers McCreadie and Beattie switched sides.
Docherty and White switched sides.
Goldie replaced Ryan for the Shamrocks.
Duffy replaced Conroy for the Shamrocks.
Rowan replaced Craig for the Shamrocks.
Smith replaced Sharkey for the Shamrocks.
That allowed us to do a bit of cross-checking with the photograph, starting with goalkeepers. Dick Beattie is towards the left of the middle row and Benny McCreadie, a school teammate of Peter Goldie, is next to Jock Stein at the other end of that row. Coronation Cup final hero John Bonnar is the third keeper in the photo.
Eighteen-year-old goalkeeper Bernard McCreadie joined Celtic from Renfrew Juniors in May 1955, but he would need to be patient for a first-team opportunity, with John Bonnar and Dick Beattie ahead of him in the pecking order. He finally made his debut two years later, on Easter Monday, 22 April 1957, against Aberdeen at Pittodrie in the following line-up.
Benny McCreadie; Mike Haughney & Sean Fallon; Bobby Evans, John Jack & Neil Mochan;

John Higgins, Willie Fernie, Vincent Ryan, Bobby Collins & Charlie Tully.
Celtic were nearing the end of a disappointing League campaign in which they would finish in fifth place behind Rangers, Hearts, Kilmarnock and Raith Rovers. They had won the League Cup for the first time back in the autumn against Partick Thistle but had lost out to Killie in a replayed Scottish Cup semi-final at Hampden in March, thus ensuring there would be no fourth successive appearance in the final showpiece.
The only goal of the match was scored by John Higgins with just five minutes remaining, McCreadie thus enjoying a clean sheet on his maiden appearance. Sadly, that would be his only first-team match, Benny joining Rochdale the following month. Benny died in March 2013.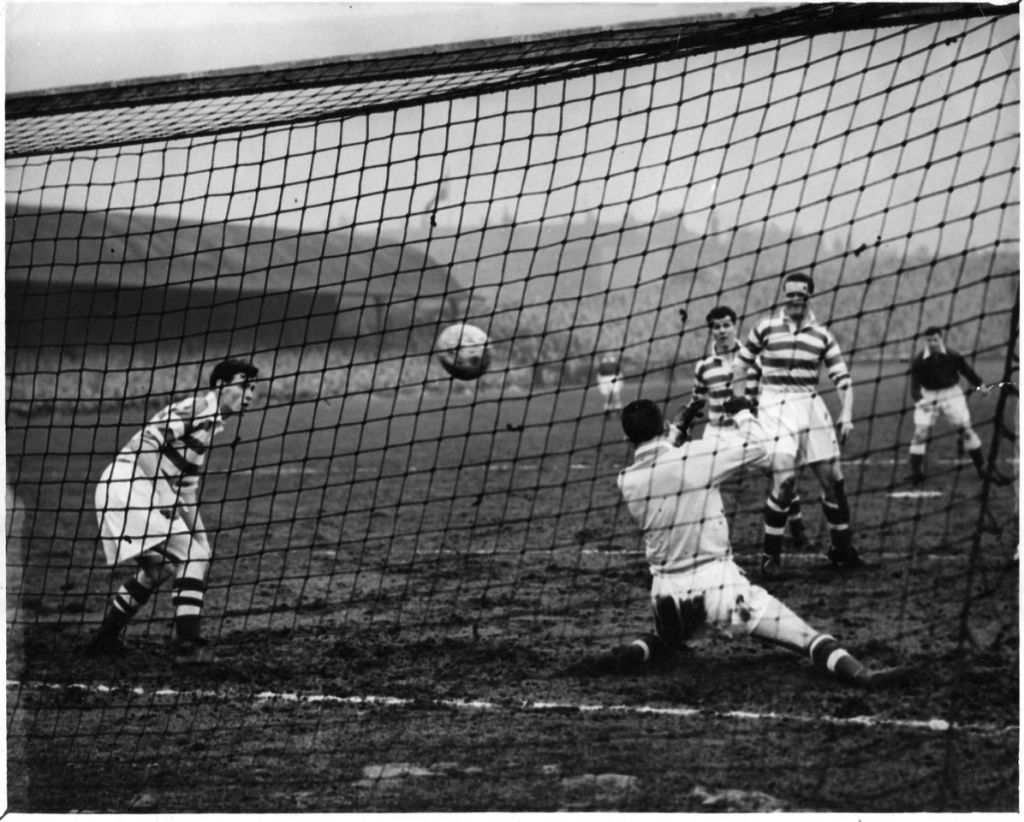 Peter Goldie on Benny McCreadie
One of the goalkeepers is the late Benny McCreadie, who played with me in St. Patrick's High school team in 1952.
Most of the other names in the Hoops team were easily identifiable with the possible exception of Jimmy 'Peam' Docherty. By a quick process of elimination, Peam was identified as the player standing next to Peter Goldie in the middle row. Like Peter, Peam signed from Duntocher Hibs, in his case following his demob in January 1955, aged 20.
He made three first-team appearances for Celtic, all within a three-week period in September and in different competitions. He made his debut in a League Cup tie against Falkirk at Brockville on Saturday, 3 September 1955, one of five changes as the Celtic board reacted to a 4-0 midweek home defeat by Rangers, just four days after consistently inconsistent Celts had won 4-1 at Ibrox! Jock Stein's injury in that midweek defeat effectively ended his career, the Celtic skipper subsequently out for four months and playing just seven more games in the Hoops before retiring.
Dick Beattie – another recruit from Duntocher Hibs – also made his Celtic debut at Brockville in place of the injured John Bonnar in the following Hoops team.
Dick Beattie; Mike Haughney & Frank Meechan; Eric Smith, Bobby Evans & Bertie Peacock;

Bobby Collins, Willie Fernie, Jimmy Docherty, Charlie Tully & Neil Mochan.
Celtic started this final League Cup sectional game just one goal worse off than Rangers but they would exit the competition after a 1-1 draw as Queen of the South shipped six goals at Ibrox. The match was bad-tempered on and off the pitch, Falkirk full-back Rae ordered off for a challenge on Charlie Tully just moments after the home keeper Hamilton was struck by a bottle thrown from the terracing with the hosts 1-0 up. Neil Mochan equalised midway through the second half but it was too little too late.
Six days later, Peam made his home debut, this time on the right wing in a 2-0 win over holders Partick Thistle in the semi-final of the Glasgow Cup. Celtic's two changes from Brockville saw fellow youngsters Frank Whyte and Matt McVittie replace Eric Smith and Willie Fernie.
Charlie Tully opened the scoring midway through the first half and Neil Mochan sealed a place in the Hampden final against Rangers seven minutes from time. The Celtic Wiki notes that Peam left for National Service training after the game. He was thus missing from the Celtic team which returned to Brockville the following day for a League match, Billy Craig making his debut as Falkirk won 3-1, with local man Mochan once again on target.
Peam made his third and final first-team appearance in a goalless draw at Ibrox on Saturday, 24 September 1955. He then joined Alloa Athletic on loan in December and was released by Celtic at the end of that season. He joined the Wasps permanently that summer. Peam passed away in August 2007.
Peter Goldie on Jimmy 'Peam Docherty
By the way, in one of your e-mails you mentioned a James Docherty. His nickname was Peam and nobody ever called him anything else. He also came from Duntocher Hibs. There were a good, few players who graduated from them to Celtic at that time, Dick Beattie, Jimmy McElroy, Jim (President) Kennedy, Peam Docherty, Paddy Crerand and myself.
Tomorrow, we will look at some of the players wearing the iconic shamrock kits.
Hail Hail,
Matt Corr
Follow Matt on Twitter @Boola_vogue