BIG RAB DOUGLAS has told hapless Celtic keeper Dorus De Vries that he's not buying his excuses after he jumped out of the way of the "knuckle ball" to present Zenit with their second goal in the 3-0 defeat against Zenit.
Douglas, who was in goals for Celtic in the UEFA Cup Final in Seville in 2003 dismissed the claims by the Dutch goalie that the goal was caused by a 'Knuckle ball,' – the former Celt stated: "Sorry but never heard the term "knuckle ball."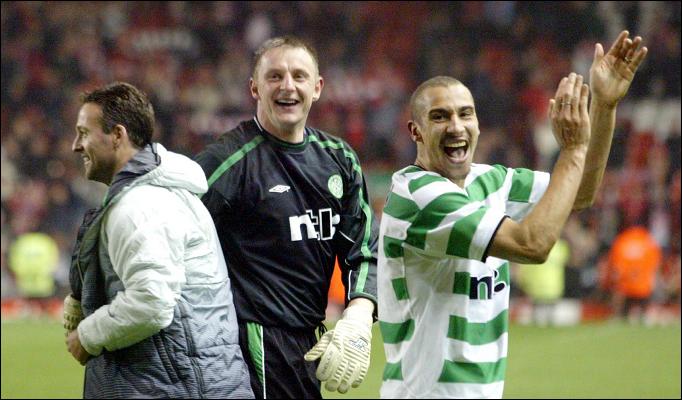 De Vries tried to explain the error and blamed the ball rather than himself:
"'I have seen it back and it is called a knuckle ball," De Vries said.
"There is no spin on the ball and a couple of those guys have the ability to do that.
"It moves to my right which is why I am stepping to my right, but it doesn't keep on the original path, a couple of yards before that it shifts to the left and those are so difficult for a goalkeeper to adjust to.
"Unfortunately, it happened last night which is really disappointing because you are hoping you can get a full hand on it.
"If the knuckle ball stays in the direction you are moving you can adjust, but once it goes the opposite way there is almost no chance. It was disappointing. We gave ourselves a good chance to progress in the first leg and in the end we didn't."
Rob Douglas isn't buying that Dorus and you'd be mad to think that many of the supporter will either.
Here is a snapshot of the reaction to last night's horror show in St Petersburg, including the tweet from Rab Douglas…
Let's start with some advice for the way forward…
From today forward @CelticFC need to do the following. Play our best players & have a consistent first 11. Increase the tempo our slow build up has been sussed in Europe and SPL. Play the players with no fear and plan to use the resources we have in the summer HH

— Celtic Gossip (@CelticGossip) February 23, 2018
Now a post match comment from Paul the Tim who as always traveled to the game so saw first hand and with his own eyes what's wrong…
Need big changes in summer too many players not good enough for Europe or chucked it massive game on Sunday need to pick ourselfs up

— paul the tim (@paulthetim) February 22, 2018
A wee reminder of our inability to see out the early period on European football…can't we just park the bus like everyone else?
Zenit. Concede 8th min.
PSG. Concede 9th min.
Bayern. Concede 17th min.
Astana. Concede 26th min.
Man City. Concede 8th min.
Gladbach. Concede 32nd min.
Barcelona. Concede 3rd min.
Beer Sheva. Concede 21st min.
Astana. Concede 19th min.

That's just aways going back to 2016.

— CelticLisboa (@CelticLisboa) February 22, 2018
Dorus De Vries blamed the ball, former Celtic goalkeeper Rab Douglas wasn't buying that one…
Sorry but never heard the term "knuckle ball…." ????????‍♂️????‍♂️????
Sadly no hiding place being a goalkeeper ????????????????????????

— Robert Douglas (@Robert__Douglas) February 23, 2018
A close friend of the Celtic board, realises that Zenit have a bigger budget so more quality on the pitch but reckons Celtic failed to do the basics…
The biggest disappointment tonight was that we lost by being poor on the basics

When you play against teams with a bigger budget / better players you need to force them to produce the extra 5% that they have . Force them to beat you by showing their quality

We didn't do that

— Barcabhoy (@Barcabhoy1) February 22, 2018
One of the many more vivid images from Twitter on the goalkeeper's performance…
Brendan Rodgers's bhoy Dorus de Vries shat himself. Do not sugar coat it he chocked. Now what?

— The Kaiser (@DBestseventy2) February 23, 2018
And the last word to the Bhoys at CeltsAreHere who might just be right…
Starting to think we won't win the Europa League

— CeltsAreHere (@CeltsAreHere) February 22, 2018