We had what is becoming our usual Cup Final arrangements today when our bus parked up at the Ivory at Shawlands Cross, which is of course right in the middle of the Aberdeen 'Beach' End.
Most of our Bhoys and Ghirls from the Tommy Gemmell CSC bus head into the conservatory area which was reserved for the Hoops – and made their way through an absolute packed sea of red and white inside the bar. The second goal for the visitors at Tynecastle had just been scored as we arrived and the Dons supporters were less than impressed with referee Bobby Madden.
We are out numbered ten to one – it wasn't like this when we beat Motherwell (twice). Talking of Motherwell we had to leave The Ivory early to meet up with the lovely Anne who handles the tickets for the Affiliation. I first met Anne A good few years ago when I brought Big Yogi over to the Irish Celtic Supporters Annual dinner just outside Dublin. Jim Craig was there but he went to his bed early. Anne sat up with myself and my wife Karen and a young boy from Dublin as Yogi told us all some brilliant old Celtic tales into the wee small hours.
A romance blossomed from that night between Anne and the Dublin Bhoy, it's a real Celtic love story. Big Yogi would be proud.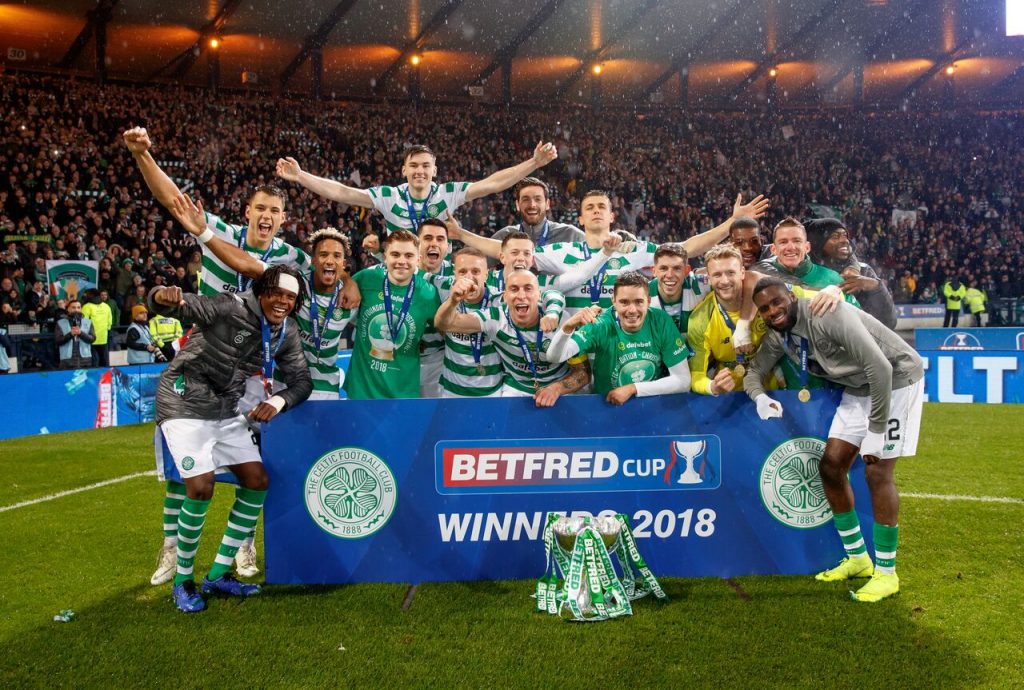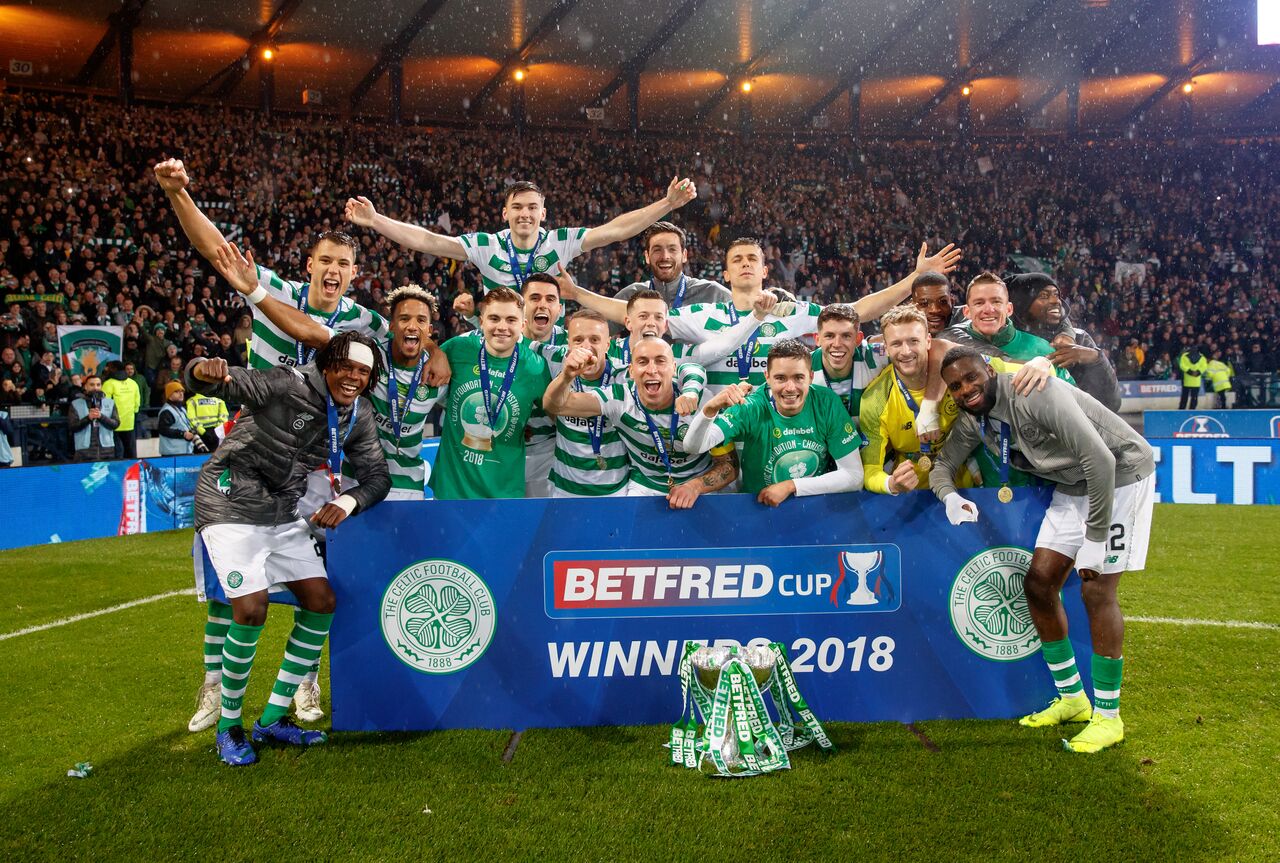 Anyway we left the Ivory to meet Anne to pick up our tickets for Wednesday night's trip to Fir Park. After today's result at Tynecastle when Madden's decision propelled The Rangers to the top of the table, this game is important. Very important.
On the way we were abused by a group of Aberdeen neds. Apparently we were F****n B*****ds but they missed out Unrepentant. It was going to be that kind of day.
Twenty tickets were collected for Wednesday night trip to Fir Park, so the Tommy Gemmell CSC will be there, as we always are but before that we had a cup to win and win it we did.
Easy? Not quite. We made it hard for ourselves but just as on Thursday against Rosenborg, 1-0 did nicely and looking back on it, it was probably more comfortable than it seemed earlier today at Hampden.
Scotty Sinclair kept it interesting missing a debatable penalty – surely the handball was outside the area? – and another very good chance to put things beyond Derek McInnes' side.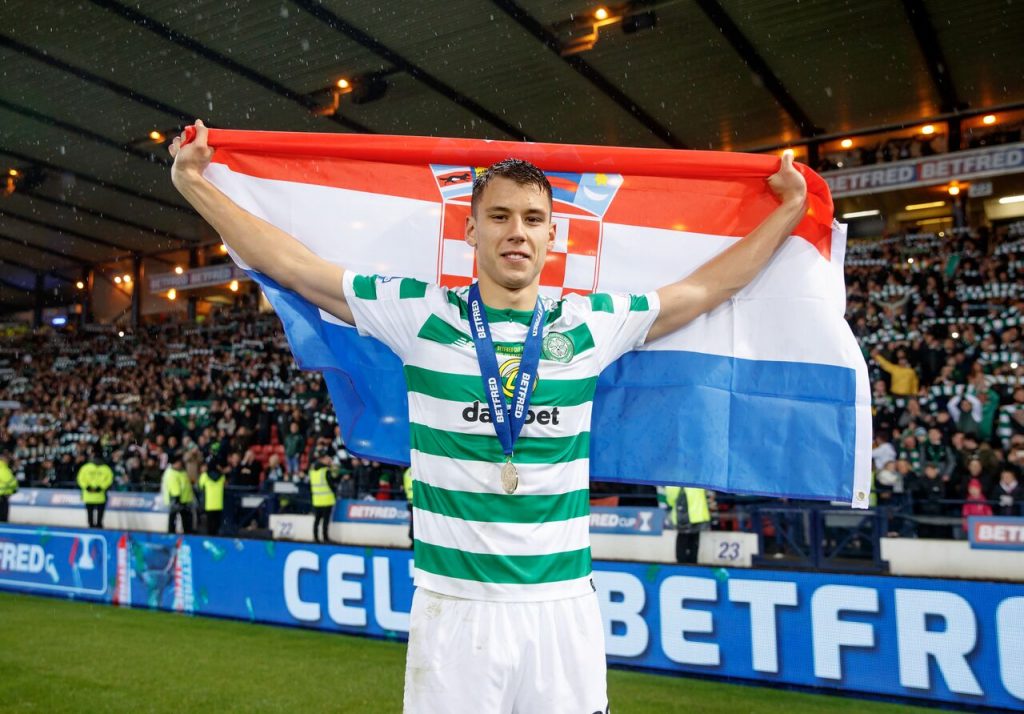 McInnes too was the subject of abuse from our support, with that dreadful 'Unnish cheer up chant.
There is no place for that, please!
The Aberdeen manager, with modest means at his disposal set his team up to make things difficult for Celtic and this resulted in an interesting match. Ryan Christie, who had spent 18 months improving under McInnes' guidance, got the only goal of the game after a wonderful pass from Dedryck Boyata ( please stay) and a fine initial save from Joe Lewis. He could do nothing about the rebound which the Highlander fairly blasted into the roof of the net.
Brendan respects McInnes and so should we.
The Aberdeen resistance in the second half principally came from a roaster of a supporter who led a one man pitch invasion and riot and managed to hold his own in a square go with about five stewards and two polis for about five minutes. The commotion was made even more colourful when the Dons fans launched a flair into the rammy.
Those Aberdeen fans displayed a banner at start of the final proclaiming that Mount Florida was now their end and frankly their Saville song was as Unnish as its former occupants.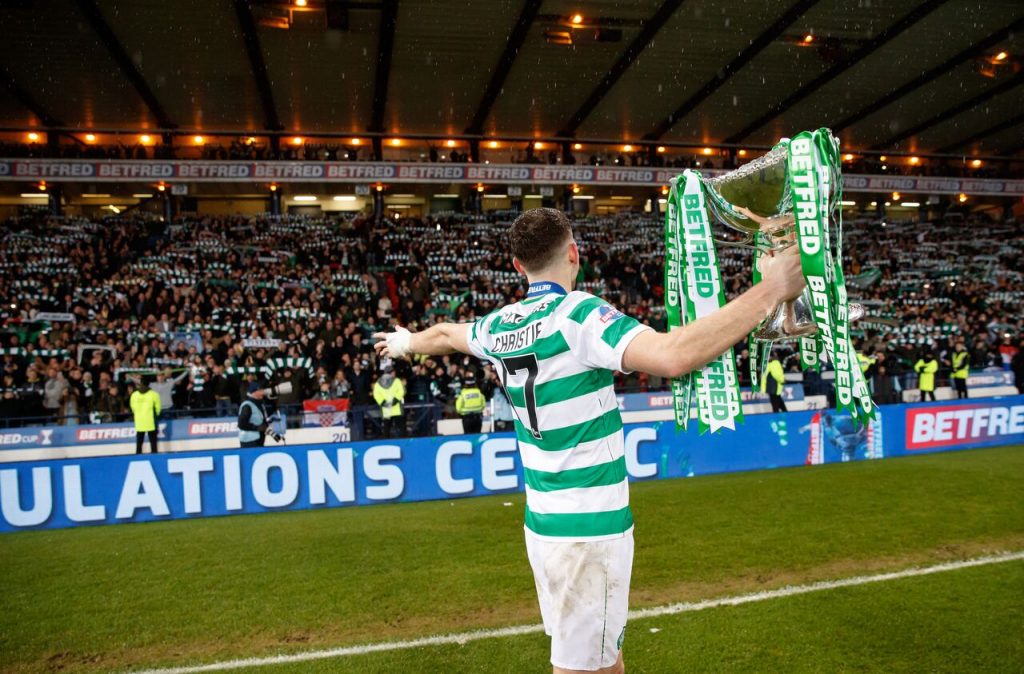 Brendan Rodgers celebrated more than he usually does on these occasions – made me wonder why – and Kieran Tierney May make more money elsewhere but by staying at Celtic he'll be talked about in 100 years from now.
He is in danger of becoming an all-time Celtic great. Give him what it takes to be a one club man, Mr Lawwell.
Callum was sensational, Tom Rogic excellent in the first half and both Filip Benkovic and Dedryck were excellent. Concussed, Boyata made THAT pass. It occurred to me when he eventually had to go off the today could be the last major honour of his career if he heads as expected to somewhere like Fulham.
Well done Brendan, Celtic and our support. We headed back to the Ivory, had a few pints with the decent Dons fans, wished them well for Wednesday and boarded the Tommy Gemmell CSC for the drive back to Dunblane via Bannockburn and Stirling. Roadworks meant that there was a huge traffic jam for the defeated heading back to the North East with tails between their legs.
Special, special times to be a Celtic supporter. Enjoy every minute of it.