Albert Kidd Day – Thousands of emotionally devastated Jambos all over the place…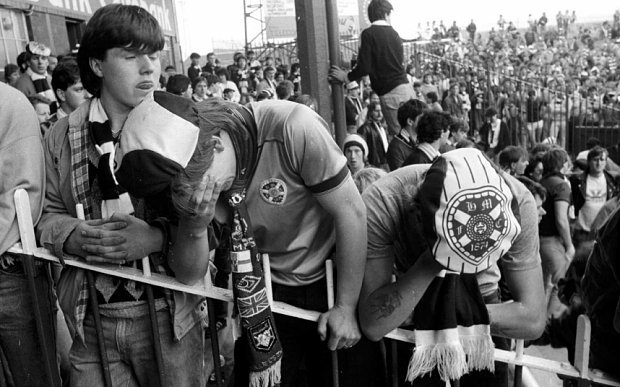 News of Albert Kidd's goal reaches Carrow Road, Norwich
I was in my 2nd year at the University of East Anglia in Norwich. My housemate was a mad Leeds fan and they were due to play Norwich at Carrow Road on the same day. Norwich had won the old 1st Division, Leeds were in the doldrums and finishing 14th.
Mind this was the mid 80s and Leeds had a bit of a reputation and there had been a little aggro in the town before the game. Not to worry my mate Chris wore his Leeds top and I wore the Hoops as we took our place among the Norwich fans behind the goal, 4000 Leeds fans behind the Opposite one! About six thousand home fans gave us a little space as they had obviously deduced one was a mad Leeds fan and the other a crazy Glaswegian.
I was aware that Celtic were 4 up early on as I had a small pocket radio with me and there was an audible murmer in the crowd at the half time scores as even the locals knew what the situation in Scotland was.
Chris and I made so much noise in the 2nd half that the Leeds goalkeeper kept on looking round at us, Norwich fans were never the noisiest.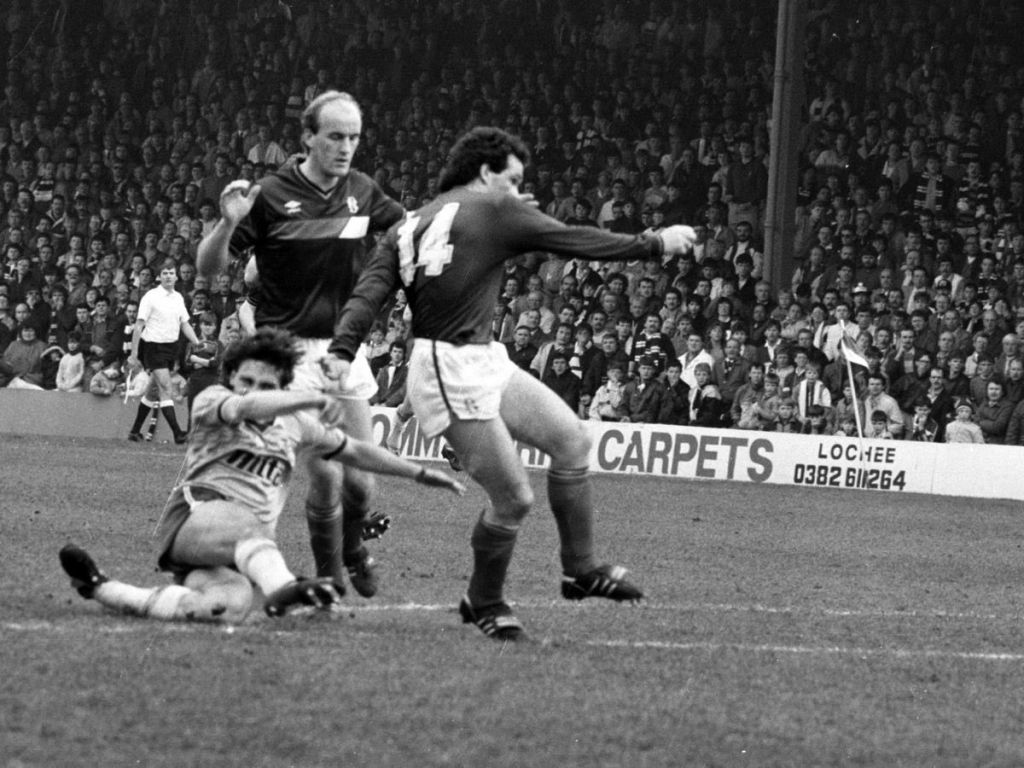 Till my last breath I will remember the voice on the radio…We have sensational news coming in from Scotland..Dundee have taken the lead against Hearts…at that I fell to my knees in supplication as thousands looked on wondering what was going on. A supernatural roar came from my very soul which again caused the Leeds goalkeeper to turn around, shake his head and laugh.
Soon it was over, in Paisley and in Norwich, Leeds were spanked 4-0 though their fans never stopped singing, Meryvn Day, the Leeds goalie came behind the goal to applaud myself and Chris and I was rushing back to phone anyone I could who would have been at the game. Happy days!
John Love
I chucked 50p into a wishing well
I stayed in Aberdeen and travelled down the day before on the Stagecoach bus, just before getting on the bus I visited the museum chucked a 50p into a wishing well and just said you know what I want.
I spent the night at my parents house before getting the train from Glasgow central to Gilmore Street station, I just knew Celtic would do it.
Don't remember too much about the game but I did get a piece of the pitch but the best thing was the walk back to the train station thousands singing and I remember the echoes as we went under a tunnel, spine tingling.
Spent that evening in the Celtic club on London Road with my family a few drinks and a sing song.
What a weekend!
David Gillespie
Upstairs Downstairs, Hoops 'n' Hearts
I was at home in Livingston with my wife and six year old son Donald.  My wife, from Edinburgh, had her 75 year old grandad over visiting. A big Hearts fan, he was adamant it was their title.
No Radio Clyde, no live TV, looking back it was like the dark ages, kids today don't know they're living.
So, no Radio Clyde, but we had on Radio Forth based where else but Edinburgh. Old Jimmy and Margaret sat on the couch in the living room wishing for the Jam Tarts to score whilst l went upstairs to hear on Radio Scotland that Celtic were strolling it at rain swept Love Street.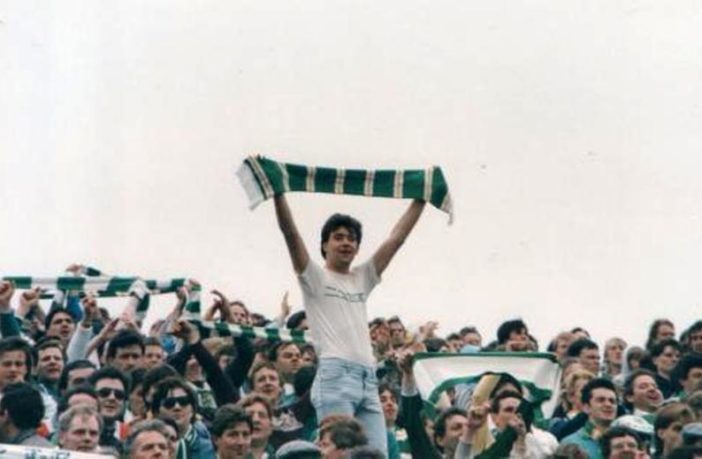 Then an almighty roar when Albert Kidd scored… total silence downstairs… then Albert did it again… Dundee 2 nil winners and both scored by a self confessed 'Tic man.
I was over the moon of course, but seeing poor old Jimmy sobbing and being comforted by Margaret l felt sorry for him (not them) just said hard lines Jimmy and left them to it and headed to my mates for a good old celebration. Jimmy wasn't a bigoted Hearts fan… if you know what l mean!
James Burns
Bolton to Dundee via Love Street
I'd moved to digs just outside Bolton a couple of weeks after my birthday in February, 1986. The truth is that I did feel a wee bit homesick, but I used this as an excuse to come up to Scotland for the weekend. Got the bus from Preston to Newcastle on the Friday night and stayed at my Uncle's in Gateshead overnight. He then drove me to Buchanan Street on the Saturday Morning and instead of getting the Dundee bus, I just headed to Paisley after putting my gear in a locker in Queen Street.
I just remembered the air of confidence before the game. Everyone thought that it was "on" even though the Jambos had gone nearly 30 games unbeaten. I hadn't long left Dundee and knew that a lot of their team at that time were die-hard Celtic fans. They also still had an outside shot at a European place and weren't a bad side either. I just couldn't see Hearts losing, I thought a draw was most likely where that old 'insitutional' thing might have just seen both teams play out a boring non-event and gift Hearts the title.
I also remember that in the days of poor telecommunications and no wall-to-wall football coverage, I sometimes had to wait till Mondays before I could get the Celtic results in the paper. Celtic went on a mad run right around March where they won week-after-week, but Hearts were keeping well enough clear as they only drew a few of their games. When they beat Dundee United 3-0 at Tannadice, I thought that that was Celtic's chance gone, but they then drew a couple of their last three or four games and Celtic just kept winning.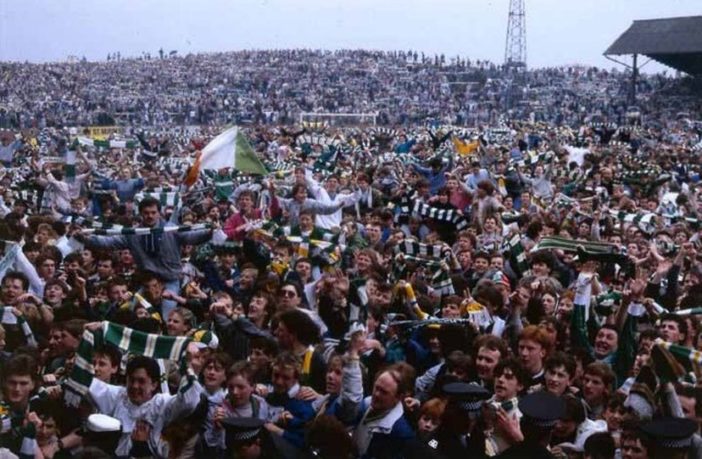 I still think the performance was one of the best I've seen live. The one-touch stuff throughout the whole game was outstanding and in spite of what was reported, St Mirren did turn up, they just got blown away by a team hitting peak performance on the day.
Even after everything though, I still didn't fully believe that Celtic had won the league though. I had seen something similar happen a few years earlier between Dundee, Hearts and Morton in the old first division and I was expecting to return home to Dundee that night and find out that Hearts had actually won.
I got the 8 o'clock bus back to Dundee and didn't get home till about 10.30pm. My Ma' and Da' stayed in Arklay Street at the time and when I got the number 18 bus, all I could see was human wreckage all the way up Victoria Road, Dens Road and Arklay Street………..thousands upon thousands of emotionally devastated Jambos all over the place!!! I've never been in a warzone before, but I'm assuming that the aftermath would look a lot like Dundee did that evening.
I'm still not sure if my Ma' and Da' were happy to see me, as both of them were completely blitzed and might have thought I was an hallucination. My brother (who is a Dundee fan) was out celebrating, but when I saw him the next day, it was the first time he put hands on me without inflicting some kind of pain.
Definitely one of the top ten days of my life.
I bumped into Graham Harvey a couple of years after that game and it wasn't long after he'd scored a hat-trick at Parkhead in a 3-2 win for Dundee. If you asked him about his greatest footballing memory, I'm pretty sure that that hat-trick would come a distant second. I'm also pretty sure that actually playing for Hibs would come an even further distant third. Without a doubt he'd tell you that playing in that game at Dens was his greatest footballing memory………he didn't much like the Jambos!
Spherical Planet – Celtic Noise
A kaleidoscopic series of images of jubilation and mayhem
I was visiting my pal in Edinburgh that weekend and drinking in Middleton's a boozer on Easter Road, what a party. My memory is of only one punter in the bar having a wee portable radio and any updates passed round.
I'm sure there was a bit of confusion when the goalscorer was named with some thinking Hearts had actually gone one up through Walter Kidd or the same had scored an og. but that memory might be completely false due to the fact that the amount of alcohol consumed over that day and several days after has left nowt but a kaleidoscopic series of images of jubilation and mayhem.
Lemon – The Celtic Noise
When the real cheer came, it was an eruption
I was at the game and I seem to recall a cheer going round part of the way through the second half but it never really took hold and only caused confusion. It was just an attempt to spur the team on for another goal or three. When the real cheer came, it was an eruption and there was no doubt Dundee had scored and the second cheer was the icing on the cake. In modern parlance, it was a jelly and ice cream day. Fantastic.
Happy Albert Kidd Day everyone.
Neil – Celtic Noise
A Dundee Hanky
Parents had just moved into a new house, so me and the auld Bhoy were painting it. Radio was on , auld man never a fitba fan, chatting away – I'm no listening ,lugs glued to what's going on.
Anyway heard Kidd had scored, heart on the ground…till I realised Albert not Walter! Jumping about like a madman! Ma Da looking like I was insane, second one went in ! That's it nae mair painting! Off to join the biggest street party in LEITH!
Never forget that day, till this day if you ever meet a Jambo just ask if they have a Dundee HANKY!
The Galway shawl – Celtic Noise
She never did get my love affair with Celtic
Despite having been to most games that season home and away, two things stopped me from attending Love Street. First of all I couldn't get time of work and although that had never stopped me in the past I had the previous year got married and had taken on a mortgage, so losing my job was a real no no according to my new wife, the other reason I never went was I couldn't for the life of me get a bloody ticket.
I was doing a split shift that day in a hotel in Dunoon just across the Clyde fae Paisley, so I managed to listen to the games live on my wee radio at home before starting my second shift of the day.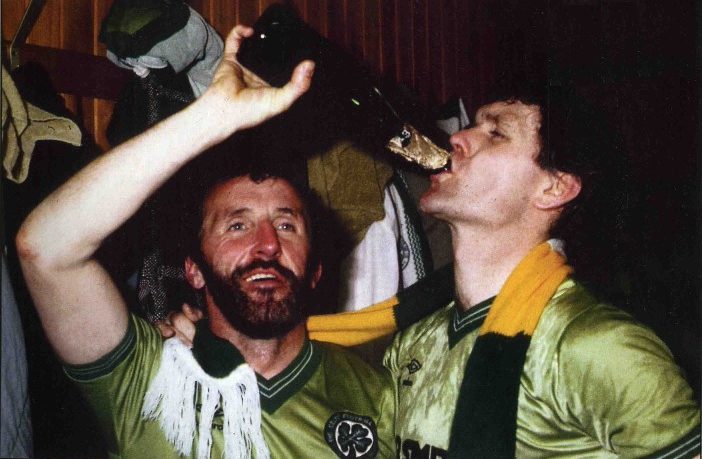 Now the day before we had travelled up to the Victoria hospital in the big city to basically say goodbye to my Grandfather who was given only a day or two to live.
Anyway back to the football, here I was lying on my couch in my little Dunoon flat switching channels like a mad man, when Chalkie made it 5 at Love Street I decided to stick with the game from Dundee, but with less than 10 minutes to go I was convinced that Hearts were going to achieve the draw they needed so I switched back to the Celtic game, only to hear the crowd going berserk in the background and the commentary team informing us that he thought Dundee might have scored, a quick channel change confirmed what I had all but given up on, then the bloody nerves kicked in again in case Hearts equalised.
Then it happened Albert Kidd broke their hearts and nearly bust ours, after going mental for a few minutes, I calmed myself down just before the final whistle went, so here I am sitting on the edge of my couch on my own and I started to get a wee bit emotional with all that had gone on, and right on cue my wife arrived home seen me with my eyes all glazed over, and right away says is it your grandfather has he passed?  No says I, Celtic have just won the league. Only for her to call me an idiot, she never did get my love affair with Celtic.
Anyhow I went to work with a skip in my step and never got a celebration drink till 11 o'clock that night, and a sweet one it was.
On the Monday we got the news that my Grandfather was finally at peace and no longer in pain.
So thank you Albert Kidd and God bless you Granda.
50 Shades of Green – Celtic Noise
I was at Dens Park – I had never seen grown men cry
I was at Dens for the Dundee v Hearts game. I went with a couple of mates who were Dundee supporters. Dundee was teaming with Hearts fans who travelled in their thousands for the title party.
I had never seen grown men cry at the match before. There was thousands on the pitch. Confused and distraught when the score came in fae Love Street. The Dundee fans were laughing at them.
The days when a tranny was a wee radio that people took to the match. I walked home to Kirkton with a big smile on my face. All the buses from Edinburgh had to pass us on their way home. We were noising them up  as the buses queued to get onto the Kingsway. Some angry minis on those buses. Threatening to get aff the bus and kill us. A great day and a great memory.
Richybhoy – Celtic Noise