So it is the Perth Saints in the quarter final! Bobby Murdoch always used to say that the team that gave Celtic the most consistent bother in the Jock Stein era was not Rangers, but St Johnstone. A team from a not particularly footballing area (rumour has it that some of their supporters actually vote Conservative!), and no great footballing history (although they did win the Scottish Cup in 2014 at Celtic Park), they have given Celtic a great deal of bother on may occasions and they will be no pushovers.
And do remember that there can be no "treble treble" if we don't win this game!
The thing that strikes the historian as he looks at clashes between Celtic and St Johnstone in the League Cup is how seldom the two of them have met. Only eight games have been played between the two of them in this competition, and even that is deceptive for they have only really met six times (as 1961/2 and 1981/2 were double-headed sectional games).
Both times they met in the Sectional format were disastrous for Celtic; on the other hand there has been one successful League Cup final, one very good Celtic performance, one very good and entertaining Cup-tie, and one dreadful and lucky victory.
The first time the two teams met in the League Cup was at Celtic Park on Wednesday 16 August 1961, the second game of the season. It was a poor game, played in a swirling wind – but that was no excuse – and Grant scored the only goal of the game for the Saints. That was bad, but the return game a fortnight later at Muirton Park (where St Johnstone used to play before moving to McDiarmid Park) was a disgrace for two reasons.
St Johnstone scored twice in the first half, and a dysfunctional Celtic team minus the suspended Pat Crerand failed to convert the chances that came their way in the second half. That was bad enough, but one hundred times worse was the thuggery on the way back to the railway station with innocent middle aged ladies having bottles thrown at them, wee boys with St Johnstone scarves having to hide in doorways, a lot of damage to the station itself and then the absolute wrecking of a train.
Scotland's Shame that day in 1961 was certainly the Celtic support – and only to a point could one use words like "frustration" to explain it away!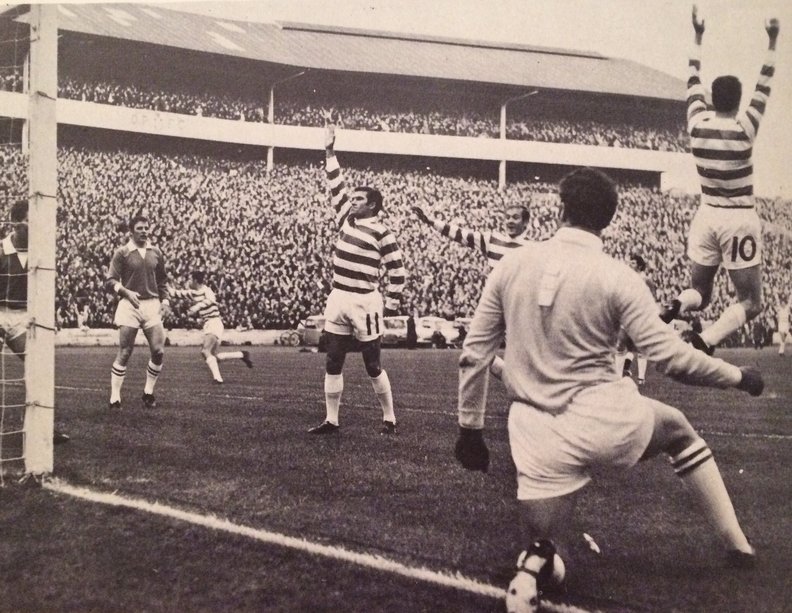 A far better day was 25 October 1969 when Celtic beat St Johnstone 1-0 in the final to win the League Cup. This was the day that Jock Stein dropped Tommy Gemmell for getting sent off in a Scotland game, but even so, Celtic eased through thanks to a Bertie Auld goal.
St Johnstone beat Celtic 2-0 on 12 August 1981. What was significant about this game was that St Johnstone's first goal came from a youngster called Ally McCoist who tore past Celtic's centre half Willie Garner as if he didn't exist. Garner disappeared after that but McCoist didn't!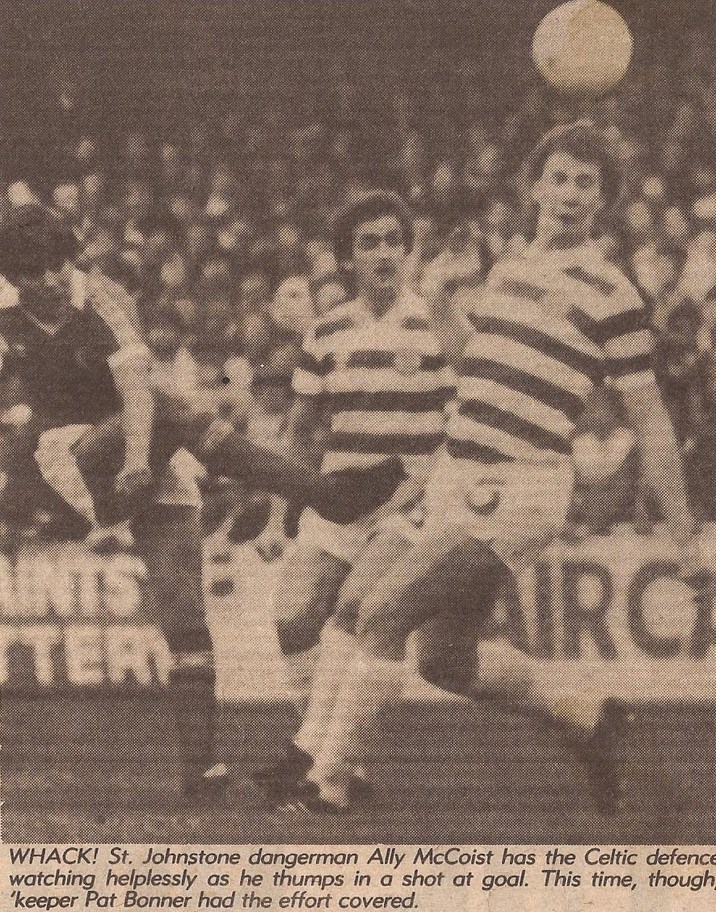 As Celtic had already lost to St Mirren on opening day, this result effectively meant that Celtic were out of the League Cup, even though they did beat Saints 4-1 at Parkhead the following week.
The next meeting was on 19 August 1997 at McDiarmid Park.
The tournament was now streamlined and the game was a one-off. Celtic, under the management of Wim Jansen for a few weeks now, were absolutely dreadful and only got through with an extra time penalty scored by Simon Donnelly. The penalty was soft and awarded by Hugh Dallas (he always favoured Celtic, that man, didn't he?) and St Johnstone were already down to 10 men!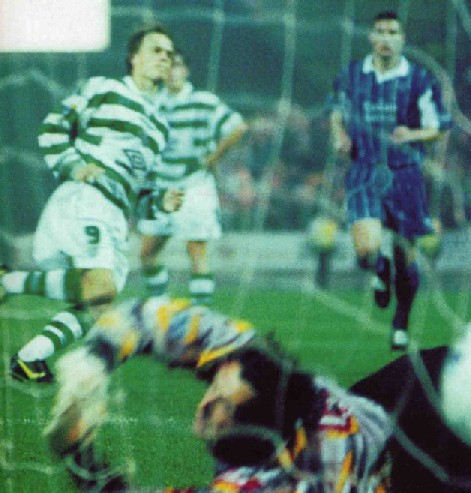 It was an awful game, and an awful performance, but thankfully things improved after that!
On 27 October 2010, McDiarmid Park and the TV audiences saw a very entertaining game with St Johnstone maybe unlucky not to take the game to extra time after the Celtic defence appeared to go to sleep. 3-1 up at half-time with two goals from Anthony Stokes and one from Niall McGinn, Celtic seemed in easy street, but made the mistake of lying back and not going for more goals.
St Johnstone scored early in the second half to make it 3-2, and the result was a somewhat uncomfortable second half.
But Celtic got through.
30 October 2012 saw a far better display in a 5-0 win at Celtic Park. Kris Commons scored a hat-trick with Gary Hooper and Charlie Mulgrew scoring the other goals. It was a grimly determined Celtic team with a point to prove after a particularly awful defeat to Kilmarnock on the previous Saturday, and St Johnstone were seldom in the game.
Total record is played 8, won 5 and lost 3.
David Potter
Did you try David Potter's League Cup quiz the other night.  Over 600 supporters tried their luck and only a handful managed to get all 17 questions correct. In fact most didn't get into double figures for correct answers.
Why not haver a go yourself? There are no trick questions, it's easy if you know your History…
See how you get on. Good luck!