Really enjoyable evening spent at Dalziel Park last night in the company of two of the stars from Gordon Strachan's remarkable first season as Celtic manager back in 2005/06. Hard to believe it's almost two decades.
Back then, Bulgarian captain Stiliyan Petrov was joined at Celtic Park by one of Gordon's early signings, Polish international goalkeeper Artur Boruc as a rollercoaster campaign ended in double silverware. As the two entertained a large Celtic support, it was clear to see the love and affection they both still held for the club and indeed the strong friendship which has endured between the pair since that first meeting back in the summer of 2005.
Both stars looked like they could still play at that level but last night was all about the memories, the duo recalling some of the characters they played with and against for the club. Top-class entertainment.
Earlier in the evening, they were both kind and patient enough to pose with two of my kids for photographs – my daughter in particular would have enjoyed that as Stan was her hero as a wee girl – and to sign my home jersey from that era – the first Nike Hoops top – together with a copy of a framed cover from my forthcoming book Majic, Stan and The King of Japan.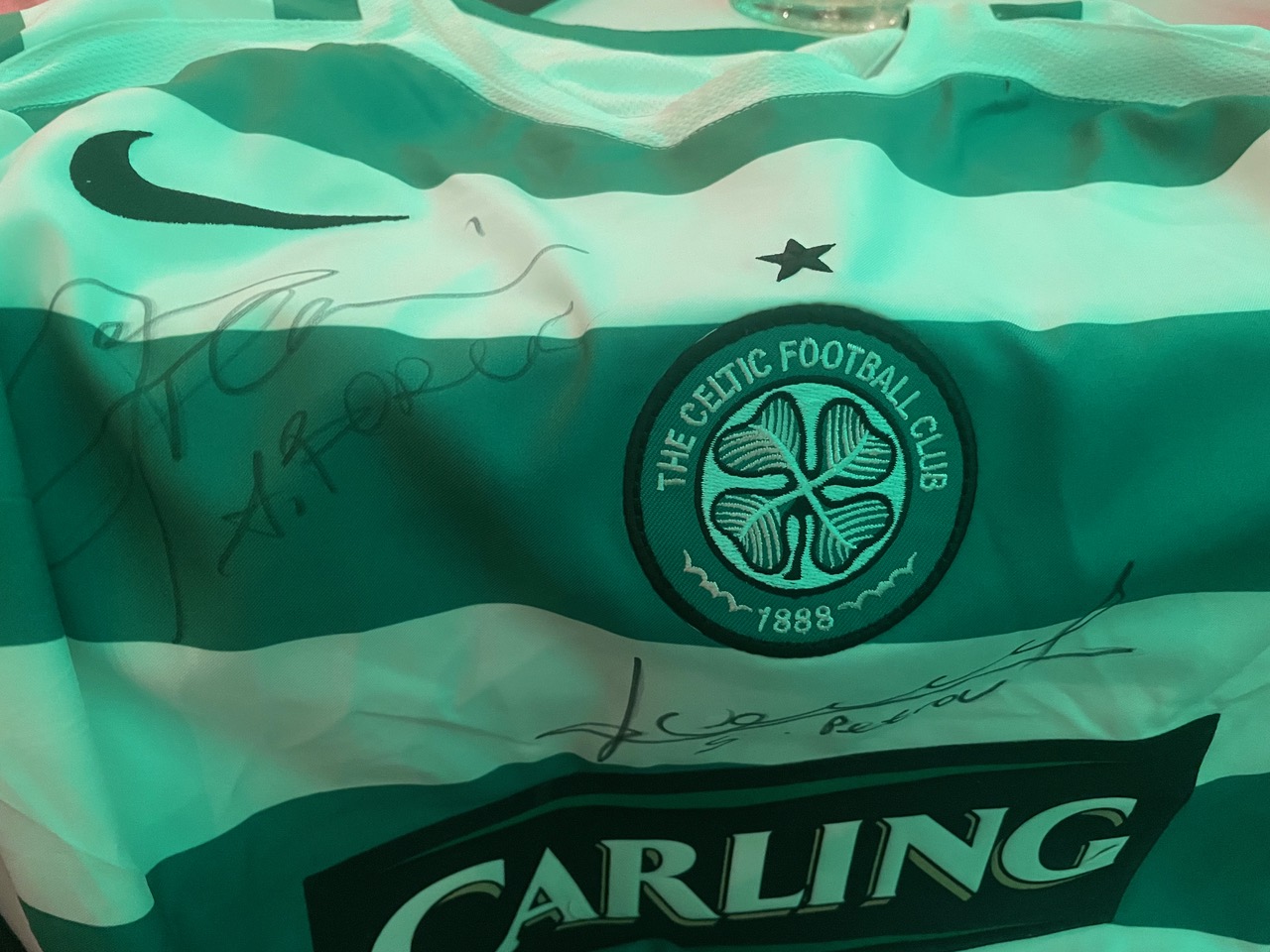 I left them both with a signed and dedicated copy of my debut book Invincible and promised to deliver a copy of the new book once we receive it from the printer next month. As a cover star, Stan seemed genuinely interested in what we were doing, so hopefully he will enjoy that when that arrives.
Personalised copies of the book can be pre-ordered now at celticstarbooks.com.
The early demand for my first book in two years has been heart-warming, with one gent interrupting his honeymoon in Alaska to secure his copy (I have his permission, honest!) and orders placed from as far apart as Canada and Tasmania. A global support indeed.
Thank you to everyone who has offered kind words and support. As always, it is hugely appreciated.
Hail Hail
Matt Corr
Follow Matt on Twitter @Boola_vogue
Great night with The Holy Goalie last night. @@ArturBoruc in great form and genuinely touched by the reception from the a Celtic support. 🍀⭐️🇵🇱

Oh and my son managed a photo at the end! pic.twitter.com/dOghhzjwlv

— Matt Corr (@Boola_vogue) September 15, 2023
It's only taken two decades but finally my jersey from Gordon Strachan's remarkable first season @CelticFC has the signatures of two of the heroes from that season.

Thank you @StanPetrov19 and @ArturBoruc 🇧🇬⭐️🍀⭐️🇵🇱@helenahood25 pic.twitter.com/lDrpkyXxF9

— Matt Corr (@Boola_vogue) September 15, 2023