STEVEN THOMPSON will have played many times at Rugby Park in his career so you would have thought that he'd have had better knowledge of the area around away technical area at Kilmarnock's stadium than for instance the Celtic support who are nearly always housed behind one or both of the goals so a long way from the centre of their main stand.
Yet the former Rangers player last night used his punditry platform on BBC Scotland's Sportscene, not to discuss the challenge on Jeremie Frimpong that saw the teenager carried off the plastic pitch on a stretcher – Scott Brown had earlier in the day pointed out that he'd have been sent off for that challenge and we reckon that whether the referee would have given Broony a red or not would have been immaterial to Sportscene because they would have analysed the hell out of a Broony tackle of that nature.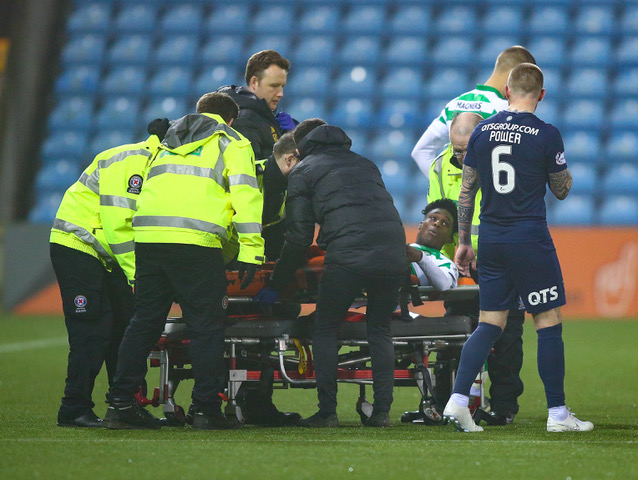 Power's two footed lunge on Frimpong? Not a mention. Instead the former Rangers striker – yes another one – who has become increasingly staunch in recent weeks – wanted to have a rant about Leigh Griffiths throwing what the Daily Record described as 'an object' and the Kilmarnock supporters.
We covered the Record's choice of words yesterday – Griffiths 'Appears to Throw Object,' Daily Record's stunning Dysphemism, 'Both feet are off the ground,' says Broony – see HERE and this morning want to comment on Thompson's remarks.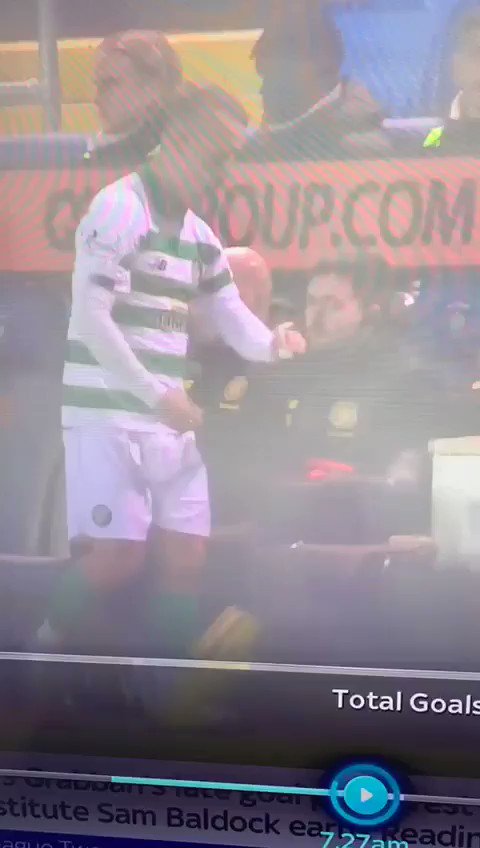 Griffiths threw sticky tape or sock tape as the players call it. He didn't throw it at Kilmarnock supporters as Thompson claimed last night and as the papers have gleefully alleged. He through the tape, that he removed after being substituted ('Game Over' anyone?) and instead of throwing it at Kilmarnock fans, the Celtic striker throw it in the bin. The 'Keep Britain Tidy' campaign (remember that?) would be delighted.
The bin is there, not something admittedly that Celtic Supporters – usually housed behind the goals would be too familiar with – but it's there alright and recently retired pro like Thompson would be well aware of this fact.
There is also video evidence if anyone needs convincing – in fact we included it in the article above yesterday. Have a look for yourselves…
If you look closely there is a black bin bag that Leigh seems to be aiming for. Old man just looking to be offended. pic.twitter.com/iO5xuuy8tj

— Michael McCahill (@MickMcCahill) January 23, 2020
Thompson stated that Griffiths' throw was "ill-advised" adding that players can't thrown things at fans in any circumstance, complete and utter GARBAGE.
Speaking on BBC Sportscene, the stanch former Rangers player said: "I'm not sure what the referee does because I don't think I've seen that situation before.
"But you absolutely cannot throw something at a supporter, regardless.
"And we know it's just a wee bit of tape, it's not going to hurt the supporter but I suppose in many ways that's irrelevant because we lambaste supporters for throwing things onto the pitch at players," Thompson continued, as reported by Scottish Sun.
"So it's very ill-advised from Leigh Griffiths to do that.
"I think especially just now when things are starting to turn the corner in terms of how he's doing on the pitch.
"I just can't condone throwing anything into the stands regardless of what it is or how it would hurt somebody.
"I think that's not the point, the point is don't do that."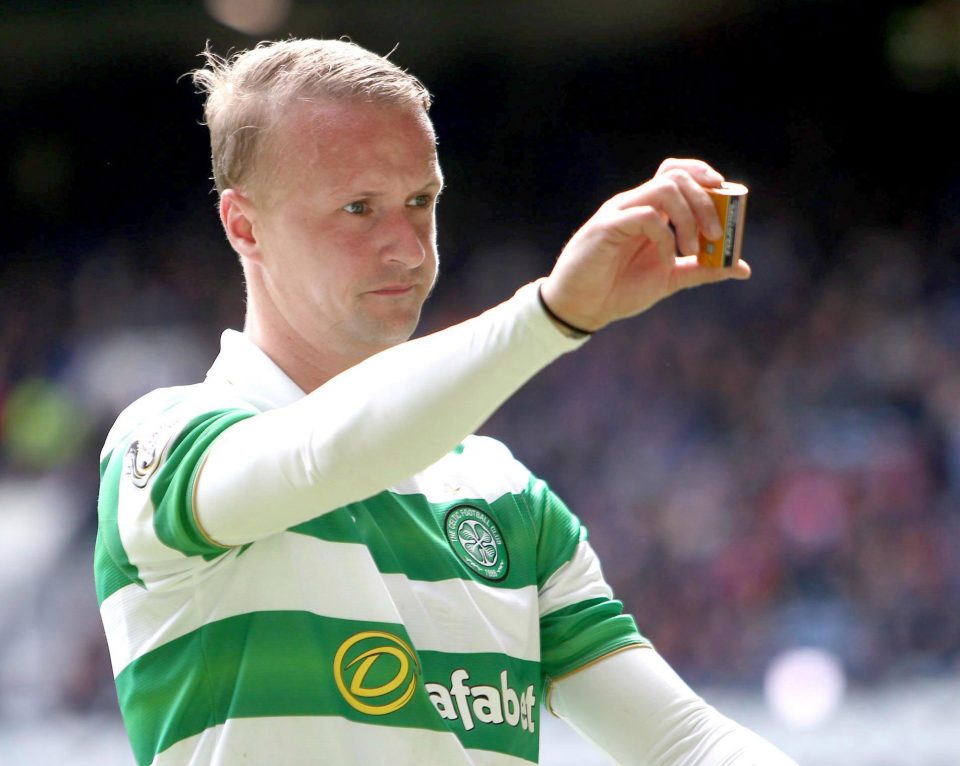 No Steven, the point is he didn't throw anything at anyone, no object, bottle, batteries (quick internet search for Leigh Griffiths holding a large battery thrown at him at Ibrox produces zero comments for Thompson or Sportscene), he threw the tape in a 'Game Over' gesture into the black bin bag that Kilmarnock had placed there presumably for players and supporters to use.
And why you ranted about this non-story, agenda driven of course to help the Colombian Throat Slitter, you totally failed to analysis the tackle by Power which Scott Brown has watched back and reckons should have been a red card.
Michael Stewart tried to add some balance to Thompson's ridiculous remarks, although he too missed the point – that there's a black bin bag in full view, in a bin that was the target of the 'object' (copyright Daily Record) that Griffiths threw. Not the angry, nasty Captain Birdseye character who Kilmarnock FC really need to have a word with.
"Look, we don't know what's been said, Stewart said. "The guys on the bench are obviously talking about a heavy volume of abuse towards Leigh Griffiths which you can't condone.
"But equally, he shouldn't be throwing anything back in. There isn't a great deal of force in it and I can understand why Neil Lennon doesn't want to make more of it but you can't condone throwing something into the crowd.
"But equally, there has to be an understanding of the mitigation here.
"Leigh Griffiths has got to keep proving himself because he's had this time out of the game and he understands that as well.
"He's doing that on the park and that's what he's got to focus on and his club have got to support him because he's a fragile character.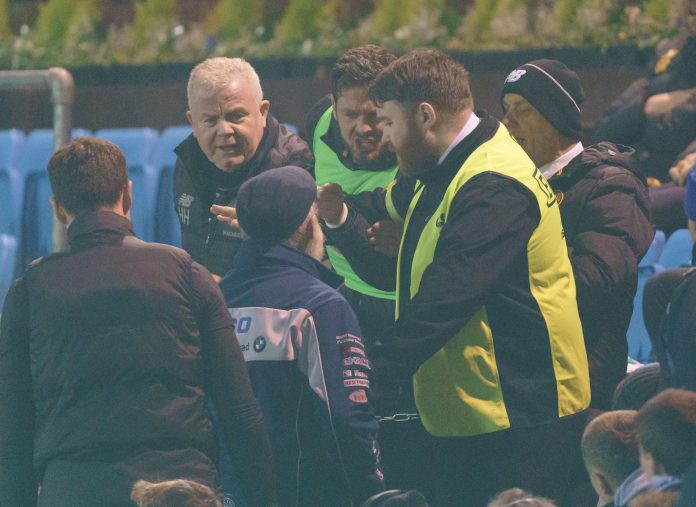 "I think if he focuses on the football and does as best as he can to ignore all the noise that goes on around it then Celtic and Scotland will have a very good player on their hands.
"You can't condone throwing something into the crowd but you've got to understand the mitigation that's around that as well."
He didn't Michael and hopefully you will have the good grace to concede this point on social media when you review the video above.
Here's Scott Brown's Media Conference from yesterday when he talks about Power's tackle on Jeremie Frimpong and condemns that horrible plastic pitch.
And if you watch Celtic TV's Access All Areas video (below) you will see Leigh Griffiths interacting with Kilmarnock supporters in that very same area of Rugby Park before the game – of all the Celtic players heading back up the tunnel after the warm up only one – Leigh Griffiths – stopped to sign autographs for Kilmarnock fans.
SUPPORT CELTIC, SUPPORT CELTIC POOLS
Help raise money for Celtic Youth Development by joining the £1 weekly lottery and you could win up to £25,000 – just click on any one of the photographs below to join.