Celtic went on another long unbeaten run – 11 games. For those of you used to 20 plus games unbeaten and the Invincibles, 11 games back then was monumental. We headed to Ibrox with 5 games to go with a 3 point lead. A meek 2-0 defeat with the returning Gough raising his hands to gesture 10, sent Rangers to the top on goal difference. All they had to do was match us in the final 4 games.
The pressure of what was at stake started to take its toll on the whole club.
Fortunately, Rangers were feeling the same pressure and what could have been an exciting run in turned into a war of attrition. The fans could see the strain on the players, especially the Scottish born Celtic fans in the team, were suffering from and this translated to the supporters.
My father? Well he was becoming more apoplectic by the week. My parents had split up a couple of years before and the record of his boyhood team was about to be broken by what he believed was a vastly inferior team to the Lions.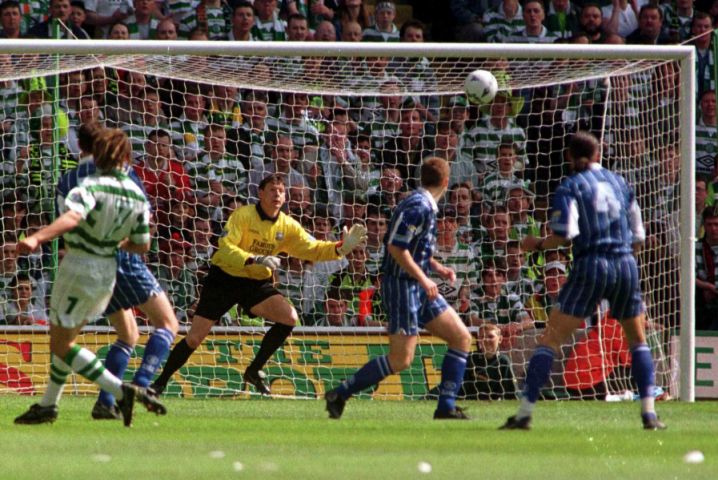 Anyone who has ever watched football with my dad will tell you he is never happy and there is always a chance we could let that 3 goal lead slip. The 4 and a bit months of 1998 were intolerable for him – and for all of us in section 111.
Rather than kick on, Rangers collapsed to defeat at Pittodrie while Celtic thrashed Motherwell 4-1 to go top again. A draw with Hibs again halted the momentum. The moment that should have helped us seal the title was wonderfully ironic and didn't involve Celtic.
As absurd as it sounds now in 2019, back in 1998 retiring referees were allowed to pick the venue and game they would like for their last. Bobby Tait, long suspected of being a die-hard Rangers fan duly selected Ibrox and was pencilled to referee their match with Kilmarnock.
With the game heading into injury time and Rangers needing a win to keep them in with a shout of the league, the bold Bobby added 5-minutes. It was this 5-minutes that sealed Rangers fate as Kilmarnock stole a winner.
This left Celtic needing to beat Dunfermline in their penultimate game to win the league. Easy, right?
I spent a nerve jangling 90 mins walking around a swimming pool lifeguarding while trying to hide the headphones in my ear as I listened to 5-live and Arsenal sealing the English championship with occasional updates from East End Park. I am so glad there were no incidents in the pool that afternoon as I barely looked at the water as the match ended 1-1. So, after nearly 10 years and an excruciating 9 months it would all come down to 90 minutes at Celtic Park against St Johnstone. A win was needed as goal difference was not in our favour.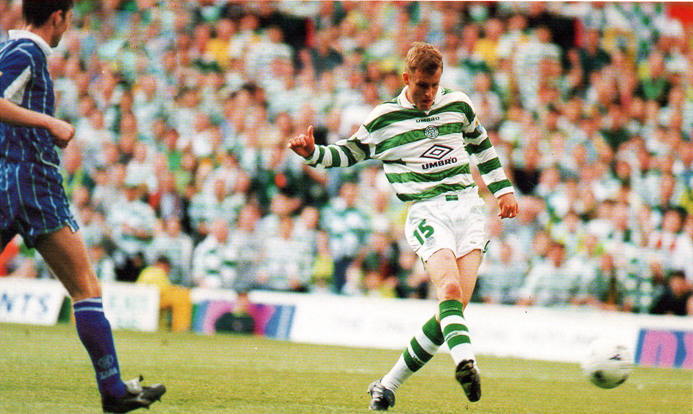 So here we are, the day of the game. I hadn't slept all week, my father was almost certifiable and the whole country waited with baited breath to see who would come out on top. My sister was working with BA and in the time before low cost air travel, was able to get me a staff discounted flight. The only drawback was the ticket was standby.
I duly arrived at Heathrow T1 at 7.30am for a 10am flight to be greeted by a sea of green and white. Hundreds and hundreds of fans waiting for flights, some with no tickets for the game but just wanted to be in the city.
There was a feeling of this being a momentous day.
My reverie was shattered by the check in girl who informed me that the flight was over booked and I was 23/25 on the standby list. Ok, what about the next flight? Sorry sir that is 15 overbooked and you are 14 on the list. 'Please tell me what I can do?' I pleaded.
Over the next few hours I was told 'I can get you a flight to Belfast and you can try from there'.
'What?' I asked. No way. 'Ok', she said, 'I can get you on a flight to Newcastle, can anyone pick you up?'
Still no good, I would not make it on time. Finally, she said she could change my ticket to British Midland on the 12pm flight to Edinburgh and that was her final offer. Done! It was now 11.15 and the flight would be boarding in 15 mins and I had to get to a different terminal. I made it as the girl was closing the gate and placed a desperate call on my massive mobile phone brick from the plane to my Rangers supporting girlfriend to ask to pick me up at Edinburgh Airport and take me to Paradise.
I landed at 1.15pm and made it to the 5-Ways Inn (it still might have been the Auld Straw Hoose back then) at the corner of the Gallowgate and Springfield Rd by 2.15. Just in time to meet my Dad, brother and friends and down a quick pint to calm the nerves before we made our way tentatively towards the ground and our fate.
The noise as the teams entered the field was as loud as anything I had heard since that May day in 1988 against Dundee and the excitement reached fever pitch as the future King scored only his 16th goal of the season after just 3 minutes. I think we all thought that it would be a procession from there but the goals did not come and then St Johnstone had a header at point blank range fizz past the post when it should have gone in.
⛔️ #CelticFC 'stopped the ten' #OnThisDay in 1⃣9⃣9⃣8⃣! pic.twitter.com/CiV77gmnwC

— Celtic Football Club (@CelticFC) May 9, 2019
The nerves were starting to tell and when a long ball up the park from the Saints keeper dropped in front of Stubbs rather than him attack the header, my dad finally lost it. 'Don't let the bloody ball bouncy Stubbsy!' he bellowed almost rupturing his vocal chords. It is a line that has gone done in the folklore of our group and for a time in section 111 before the green brigade took it over.
With news that Rangers were winning, the nerves in the stands were becoming more frayed and that was translating to the players with a vicious circle of poor play resulting in growns from the crowd, leading to more poor play…until about mid-way through the second half, 49,000 people almost telepathically realised that WE were part of the problem and slowly, quietly at first, a cheer began to rise. We needed to support the team, not get on their backs.
Then the Celtic Song came out followed by Fields and the support was driving the team on. All except my dad, who by this time was rocking back and forth on his seat. Then, just as we thought we might be about to crumble, up stepped the bold Harold to rifle a shot past the Saints keeper and send the crowd apoplectic.
Rob MacLean famously said on BBC, 'if your picture is blurred, do not adjust your sets, it's not us, this ground is actually shaking'.
The scenes were wild, I honestly do not remember a single thing about the remainder of the game apart from faither, saying through the bedlam, 'We could do with a third!' To which I promptly told him to sit down and shut the eff up, the league is won.
The outpouring of emotion was almost tangible, the elation, relief, joy, it was the most emotional I have ever been at a football game and the noise eclipsed even 1988.
The presentation was a blur, my memories of that part of the day rely on TV evidence but as we finally left the stadium and headed to our favourite haunt, Molly Malones, we regaled our stories of the past 10 years and what this would do to us as a club going forward. Hope for a European run, big name signings, Bratbaak's goal and this young superstar from Sweden that we had unearthed.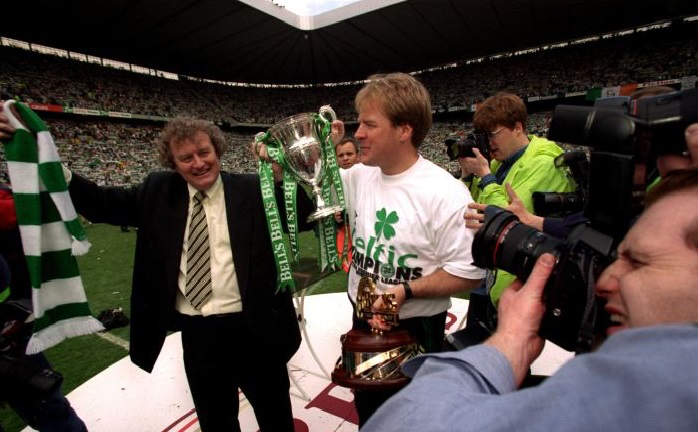 We had our spot in Molly's and despite having to queue to get in, it was still there waiting for us as if reserved. The beer flowed, Stevie ended up standing on the plinth above the door holding a beer barrel above his head bench pressing it. Graeme, who doesn't drink, was so caught up in the atmosphere he was almost stopped from getting in his car at the end of the night for being drunk and even my Rangers supporting girlfriend, who had saved my bacon earlier in the day came in and joined in the singing of YNWA.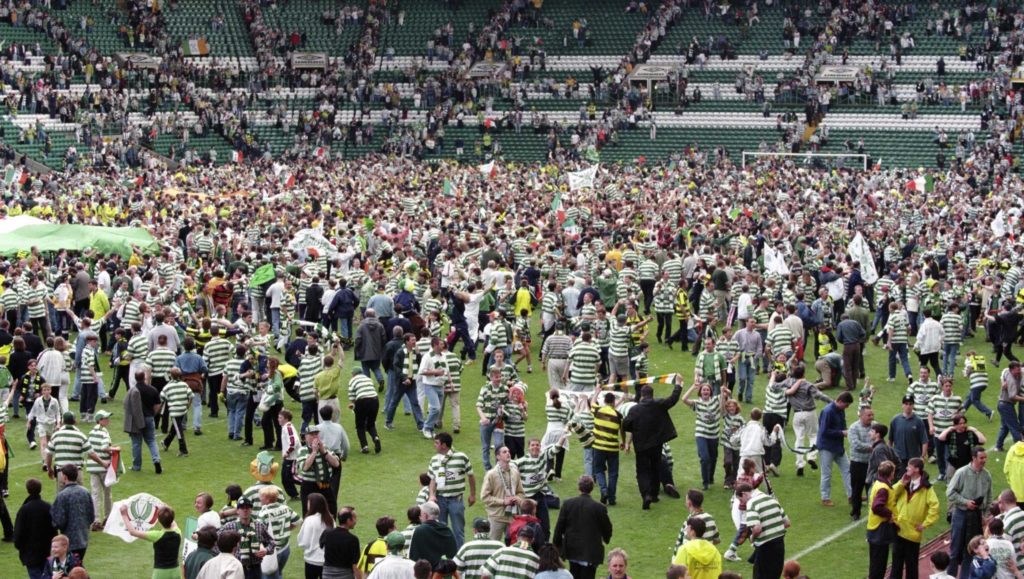 In all of my years supporting Celtic and through all the great times described above and in the last 20 years, including being there in Porto to see Henrik beat Boavista, that day in the sun in Paradise still reigns supreme in the memory bank.
I think to truly experience the highs of sporting triumph, you need to experience the lows and having gone through those terrible 9 years, I think we deserved that little bit of joy on that day.
I never take any trophy we win for granted and savour them all but that one was just a little bit special.
Brian Barrett
Part one of this great three part feature can be read HERE and you can also catch up with Part 2 HERE.