SEPTEMBER 5 1931 will always remain one of Celtic's saddest days, for it was the day that John Thomson met his death at Ibrox in a game against Rangers.
It was a dull 0-0 draw on a hot sultry day, and the incident happened early in the second half at the Copland Road end of the ground as John came out to dive at the feet of Sam English. He was very unfortunate in that his head came into contact with English's knee, and John happened to have a very thin skull. He died at 9.30 that evening in the Victoria Hospital of a depressed fracture of the skull, never having regained consciousness.
No blame was ever attached (by anyone sensible at least) to Sam English, and it was a total accident. He was buried the following Wednesday, and the small graveyard at Bowhill, Cardenden had never seen anything like the scenes of his funeral with both Celtic anD Rangers players, management and supporters there en masse.
At his memorial service in Glasgow, Davie Meiklejohn, the captain of Rangers and himself an Elder of the Church of Scotland had read the lesson, and it was also Meiklejohn who had the decency and the courage to plead with the cavemen of Ibrox to desist from cheering at the sight of the Celtic goalkeeper lying injured on the field. Sadly he was only partially successful, but he did at least try.
John was often said to be the best of them all. Such things are value judgements, but certainly in 1931 he was at his peak, having won the Scottish Cup, having played in the Scotland team which beat England, having met his hero the Labour Prime Minister J Ramsay MacDonald and having just returned from Celtic's triumphant tour of the USA and Canada.
He was engaged or "going steady" with a lovely girl, and he was such a wonderful, clean-living, charming, modest and unpretentious son of a miner who also drove a horse and cart through the evil edifices of bigotry by being the hero of Celtic, and being a non-Catholic. His Church was the evangelical Church of Christ.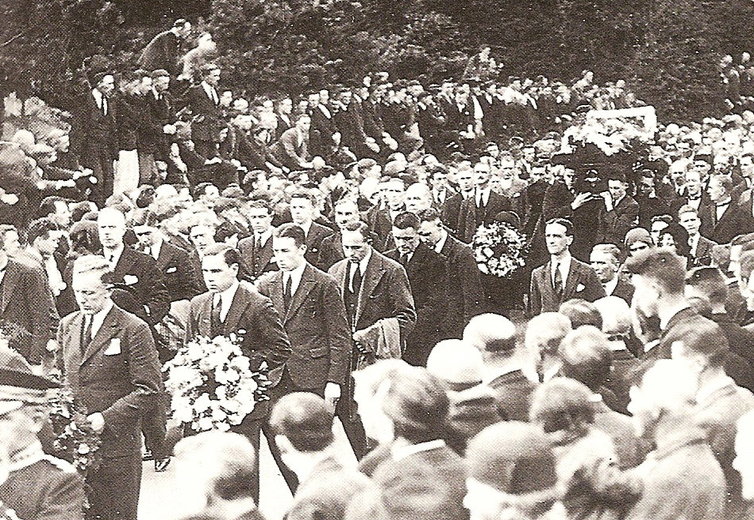 To commemorate the 88th anniversary of "our genius John Thomson" as the grief stricken Willie Maley put it, the John Thomson Memorial Committee in Cardenden are organising a football tournament in Cardenden this Sunday 8 September, and then after the trophies are presented, wreaths will be laid on John's grave at the Bowhill Cemetery by representatives of Celtic FC and by various local supporters clubs.
Everyone is invited to attend with the ceremony starting at about 4.30 pm. If you are not doing anything special on Sunday and live reasonably close to Fife, you could do worse than attend this usually very moving annual event. You would be very welcome.
David Potter