James Young was born in the early hours of the morning at 15 Kirktonholme Street, Kilmarnock on January 10 1882 to William and Annie Young. Anne's maiden surname was Gilmour, and sometimes Jimmy would sign official documents as James Gilmour Young, but his Birth Certificate definitely says that his name is James Young.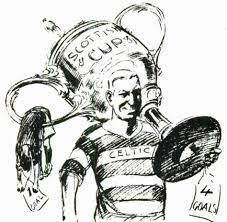 His father William had a good job on the railway as a Goods Porter, and he was literate, for he was able to sign the Birth Certificate. In 1882 literacy could not always be guaranteed, although following the Education Act of 1872, it was becoming more likely than not. The couple had married in Loudoun on July 15 1864.
No certain trace of the family can be found in Kilmarnock in the 1881 census, so it is likely that they had just recently moved into the town, but by 1891 when James was 9 years old, the family had moved to 7 Nursery Street, Kilmarnock where we find that William was now a Warehouseman rather than a Goods Porter and that the William and Annie now had eight children still living with them, of whom James was the second youngest. In order they were William jr, Anne, Sarah, Jeannie, Maggie, John, James and Nancy. The eldest five were working but John, James and Nancy were described as "scholars".
Kilmarnock is in East Ayrshire, and like most places, was small and insignificant, built round a Church, until the Industrial Revolution of the early 19th century when miscellaneous industries sprung up. But Robert Burns from nearby Alloway had already immortalised the place. In 1786, the first edition of Burns poetry "Poems, Chiefly in the Scottish Dialect" was published there by John Wilson, and this work has become known to posterity as "The Kilmarnock Edition".
Moreover, Kilmarnock is mentioned several times in Burns poetry, notably in the Elegy of Tam Samson.
Has auld Kilmarnock seen the deil?
Or great Mackinlay thrawn his heel?
Or Robertson again grown weel,
To preach an' read
"Na, waur than a'!" cries ilka chiel
"Tam Samson's dead!"

Kilmarnock lang may grunt an' grane
An' sigh, an' sab, an' greet her lane,
An' cleed her bairns, man, wife an' wean,
In mourning weed;
To death, she's dearly paid the kane,
"Tam Samson's dead!"

but the news turns out to be false!

Go, Fame, an' canter like a filly
Thro' a' the streets an ' neuks o' Killie,
Tell ev'ry social honest billie
To cease his grievin',
For yet, unskaith'd by Death's gleg gullie,
Tam Samson's livin'!
What usually determined the progress and growth or otherwise of a town in the nineteenth century was the arrival of the railway. Not only did the railway itself provide employment to people (like William Young) and encourage them to settle in the town, but it meant that local industry could thrive, knowing that goods could be readily transported to potential markets.
It also meant that people could choose to live in a town and not necessarily work there, and the town could provide a "dormitory" facility. Moreover, there was a feeling of well-being, civic awareness and prosperity associated with having the railway in town!
CONTINUED ON THE NEXT PAGE…