Celtic in 1903 were not doing at all well. They were well aware that if you discounted the one-off British League Cup (or Coronation Cup as some called it) in 1902, Celtic had won nothing since 1900, and it was hard to resist the conclusion that hegemony was passing (indeed possibly had already passed) across the city to Rangers who had won the Scottish League from 1899 until 1902.
This year they had lost that particular crown to Edinburgh, to Hibs, but had more than made up for it by landing the Scottish Cup by beating Hearts at Celtic Park 3-0 after a replay. No-one knew it at the time, but it would be 25 years before the Ibrox men would repeat that feat.
It is important to realise that at the time that Jimmy Young, a non-Catholic, joined Celtic in 1903, there was as yet no huge issue of sectarianism in Scottish football. It did exist, of course, with Celtic being seen as the "Irish" team of Glasgow, so that those of other persuasions might tend to drift to the "non-Irish" team which was rising in the west of the city. But there was nothing hard and fast about it, and the driving force behind the rivalry was of course money.
Some would say, that even in the 1920s when Rangers unashamedly identified themselves with Protestantism and Orangeism, the driving force was still money! But until the end of the Great War in 1918, sectarianism was not a major issue in Scottish football.
Alec Bennett and Willie Kivlichan played for both teams before the Great War. Indeed, even when it did become enshrined in the rivalry between the clubs, the problem tended to exist mainly in the minds of supporters, even though Rangers did not help matters by their "no Catholics" policy of the 1920s which pandered to the bigotry in the minds of their less clear seeing supporters.
Celtic had been woefully inconsistent in 1902/03 in the League and finished up a distant fifth, and had gone out of both Cup competitions to 0-3 defeats. The Glasgow Cup final in October 1902 had seen them go down 0-3 to a very fine Third Lanark side, but quite a few of the Celtic fans in the 20,000 crowd had been distressed by Celtic's lack of fight; the exit from the Scottish Cup had been even worse.
40,000 had been at Parkhead to see Rangers score three first half goals and stay on top in the second half with old warriors like Sandy McMahon and Barney Battles clearly outplayed by a younger and more determined Rangers team.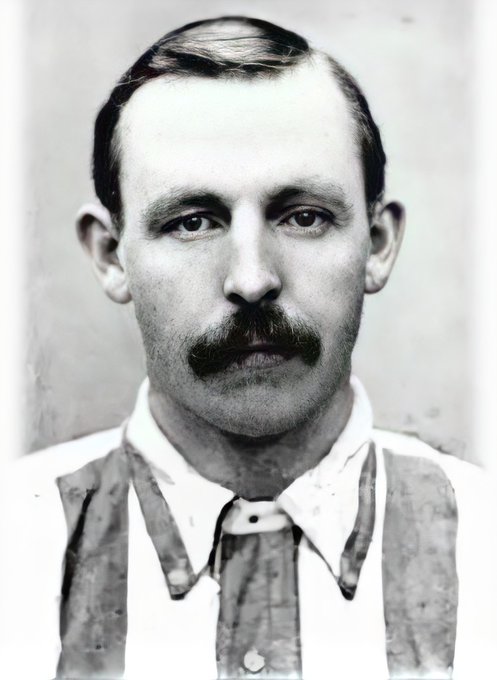 Maley, now coming up for six years as manager, knew that sooner or later he would have to bite the bullet and go for younger players. Some of the booing from his own supporters had not been pleasant for anyone to listen to, and Maley's feelings were of anger at the ingratitude shown to the great Sandy McMahon for example by the disgruntled fans.
Yet in his heart of hearts, Maley knew that Sandy was going to have to go, as indeed would Johnny Campbell. Young Quinn, Maley was reluctant to drop, for he was strong, and Maley always felt that if only the fragile young Crojan could close his ears to the barracking of the impatient, he might make something of him yet. Like most boys from mining villages, Quinn was socially inept in the big city and needed careful and tactful handling.
Continued on the next page…