Celtic FC Women striker Kathleen McGovern has announced that that she is leaving the club she loves after over a decade wearing the Hoops. Fran Alonso recently stated that he'd no plans to bring in any new players in the winter transfer window as he trusts the squad that he has assembled this season to go on and challenge for the SWPL title and the Scottish Cup to add to the League Cup that was won earlier this month.
Have a look at this photograph below, taken just as the final whistle sounded in Celtic's League Cup Final win over Champions Glasgow City at Firhill earlier this month. Just look at the joy on Kathleen McGovern's face as she runs onto the pitch to celebrate with her teammates. She's Celtic through and through that ghirl!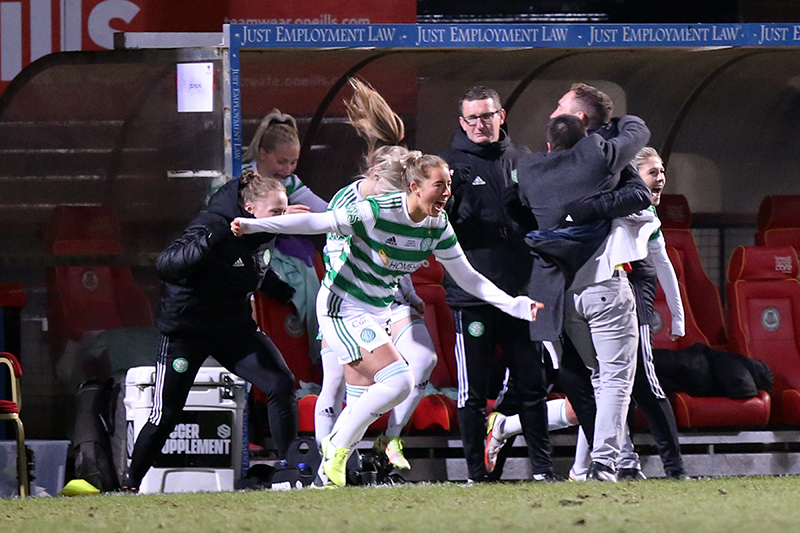 Kathleen McGovern was clearly part of Alonso's plans so her decision to call time on her Celtic career may mean that Alonso is forced to look at his transfer options. With the team now in its own mini-winter break – they have two weeks off for Christmas before returning to training just before the New Year to prepare for the first Scottish Cup match of the season on 9 January – McGovern has decided it's the right time to leave Celtic.
In an emotional post on social media the veteran Celtic striker said: "After 11 years of ups and downs I have took the decision to leave the club I love. I have made many special memories that I will treasure for life. I would like to thank everyone involved for my time at the club. Now time to focus on myself and my next adventure."
We wish Kathleen all the best for the future. HH.
After 11 years of ups and downs I have took the decision to leave the club I love. I have made many special memories that I will treasure for life. I would like to thank everyone involved for my time at the club. Now time to focus on myself and my next adventure 🤩💚 pic.twitter.com/tNLkFPOBVh

— kathleen mcgovern (@kathleenmcgove1) December 16, 2021