Celtic FC Women summer signing Charlie Wellings can't wait to make her SWPL debut for the club in tomorrow's opener against Aberdeen at Balmoral Stadium tomorrow afternoon, with the match being shown live on BBC Alba, with a 4.10pm kick-off. Or better still, if you're in the North East, you can go along and support the Ghirls, admission is £5 with under 16s getting in for free.
"It feels like it's been such a long pre-season, so it's nice that it's finally here," Wellings told Celtic TV presenter Louise Gould. "I think it's helped getting thrown straight into games," the 23 year old English striker said. "As soon as I arrived, we were playing pre-season. Getting straight into it is just the easiest way to settle in."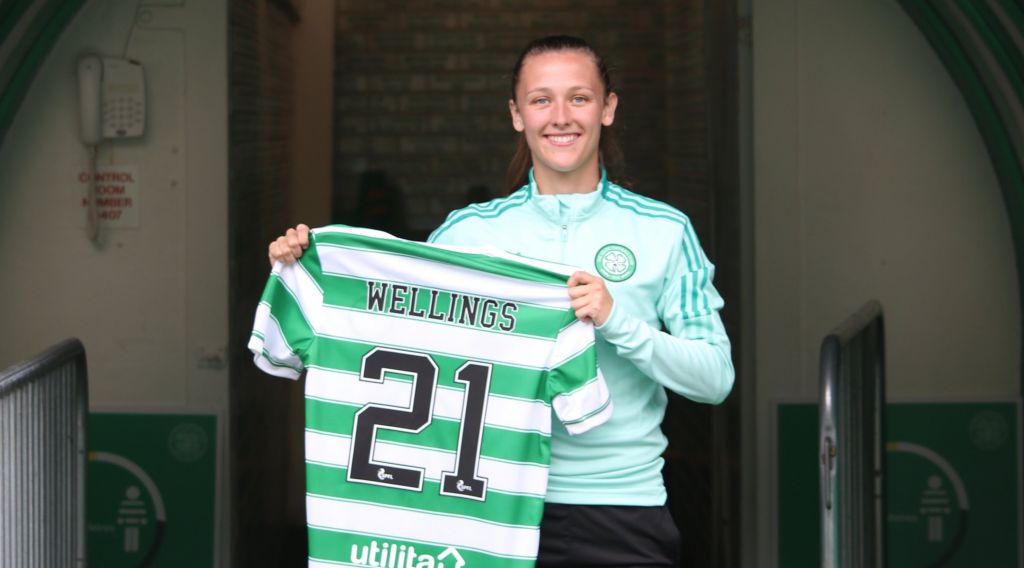 Wellings arrived at Celtic from Bristol City having previously spent the earlier part of her career at Birmingham City and looks more than capable of making the Celtic support forget about the loss of Sarah Ewens, the club's top goalscorer for the previous four seasons, who ironically enough left to join Wellings old club Birmingham City.
"At Birmingham we were always mid to top table and were fighting for everything – every game we were competing," she said. "But at Bristol, we found ourselves lower down in the table which gives you more experience in those must win games.
"Here at Celtic, knowing that you have to go into every game winning to get yourself up that table, it's important to have the experience of knowing what you need to do as you can't settle for anything else."
Before making her league debut for Celtic, Wellings has already hit the back of the net in the SWPL Cup and has had the wonderful opportunity to play for the club in the two Champions League matches against Levante and FC Minsk last month. "Over the pre-season I've been scoring goals which hopefully will lead on into the season as well," she said.
Looking ahead to tomorrow's tough opener away to the SWPL 2 Champions Aberdeen, Wellings recognises that this is a tough challenge for the Hoops. "Seeing the results they've had and the way they've been playing, they're not just going to settle," Charlie said. "We know it's going to be a tough game and we're ready for it."
And there's one Celtic player who has very recent experience of playing against this Aberdeen side that basically ran away with the SWPL2 title last season. Kathleen McGovern was on loan from Celtic at Hamilton and contributed enormously to the Accies getting the second promotion spot ahead of Partick Thistle and Dundee Utd. Hamilton came with a late run to win that particular race beating all the top sides – including the shock result of the season, beating Aberdeen away and guess who scored the winner and it was a goal of the season contender too!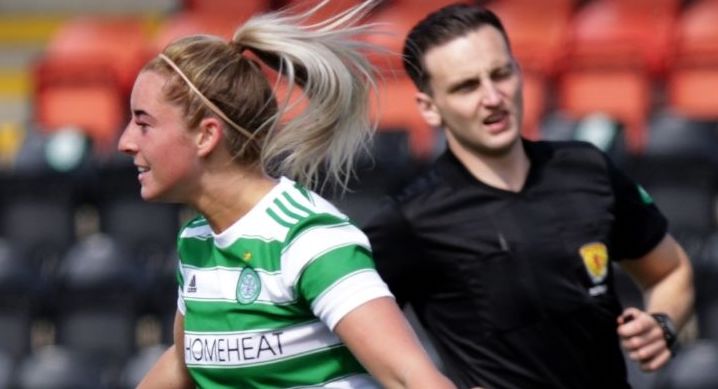 On Celtic's opponents tomorrow McGovern said: "They're a very organised side and the manager's got them playing really well. They're really athletic and quite young as well, so they've got hundreds of energy in their squad so it'll be a tough game I think."
Like Wellings, McGovern is keen to get the league campaign underway. "It'll be good to get the league underway. The mood in the camp is really good and hopefully we can go up there and get the job done," she told Colette Carr, staff writer on Celtic FC Women website. "We've had some really tough games and obviously Champions League was tough mentally and physically, but all the girls are raring to go and we're feeling fit, so hopefully we can get the job done."
We couldn't have a preview of the SWPL1 season opener without hearing from our manager Fran Alonso. The Spanish coach has been speaking to Celtic TV…
"I was so proud of the girls and the fans. The support from the fans has been amazing, and it's grown even in my team here. Not just on social media, but in the streets as well," Fran says…listen to the interview below.
Remember, tomorrow's game is live on BBC Alba, kick-off is 4.10pm.
COYGIG!