Fran Alonso didn't know whether to laugh or cry after that dramatic afternoon at the Penny Cars Stadium this afternoon. Down at the interval to that strange scoreline in football, 2-0 the next goal was going to be crucial and judging by that first half then the odds would have been very short indeed for the Champions Glasgow City to make it 3-0 and then dear knows what might have happened. Nothing particularly appealing from a Celtic point of view.
Celtic, for instance led Rangers 2-0 at the interval in the 1957 League Cup Final.Had Rangers scored next then it would have been game on but it was Billy McPhail who scored next on 53 minutes and went on to get a second half hat-trick as Celtic beat Rangers 7-1.
Today Celtic took their Chance and that's Olivia Chance and she did it again shortly afterwards to make it 2-2, the place absolutely erupted. You know that expression about the Celtic Roar? They probably heard it in Coatbridge.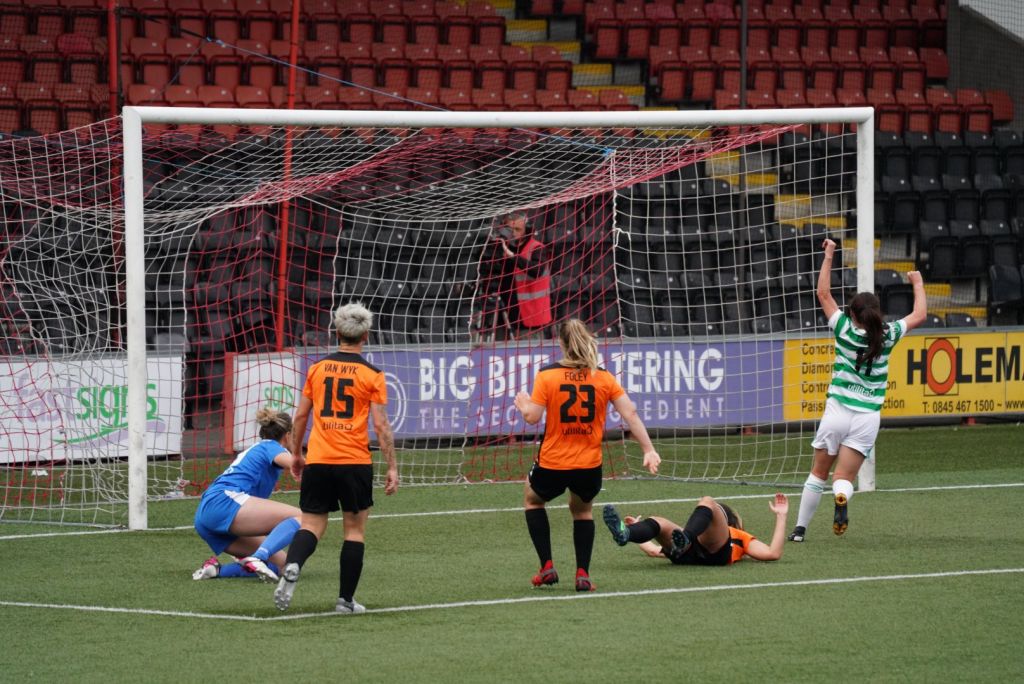 "I thought that the fight was great in both halves we told them at half we cannot blame the intensity or effort, the aggression was brilliant it's just that the quality hasn't been there and we haven't been sticking to the game plan so I told them we have to believe," Alonso said to Celtic TV afterwards.
"If we lose we lose but we lose playing our style of football, finding the players in the pocket. We work all week – we made a couple of changes and we start to find these players and that got us the point. I thought that we could have won at the end but we weren't good enough in the first half and I think we were the better team in the second half.
"Overall, a great game of football, very exciting for the fans, it was amazing to have our fans here and to hear 'Celtic, Celtic' even when we were losing so overall I'm very happy.
On the extra special atmosphere at the Penny Cars Stadium today, the Celtic manager admitted that he too got wrapped up in the enthusiast support lead by the People's Republic of Celtic (who incidentally were getting lessons in the words to Celtic chants at the interval from yours truly!)
Big thanks to the great crowd who came along this evening, can't wait to have you all back against Hibs on the 26th! #twelfthman 📢🙏 pic.twitter.com/UnCzg3yppR

— Celtic FC Women (@CelticFCWomen) September 12, 2021
"It was great, you know at half time, 2-0 down to the Champions, they don't concede many goals, it is very hard to get something from the game but we managed to do it. I can understand the excitement, I got excited myself, everyone felt it, it was great. It's just a shame that we didn't manage to get one more and then I would be over the moon.
"I think it's a positive day, a good game of football between the two best sides of last season," Alonso said.
What we need to get the numbers up at these Celtic home games at the Penny Cars Stadium. No-one there today didn't have a great time, the match between two top Champions League sides was outstanding and if we can add a few thousand extra supporters that could be the difference in beating Glasgow City and theRangers to the title.
The financial rewards and prestige in getting to the Champions League last 16 are HUGE and the Champions route is considerably easier than the runners up route Celtic were in this year. Paradise against Ross County was workmanlike yesterday, a bit mundane after the recent excitement at home games. Today was a buzz. You'll love it. Next up at the Penny Cars is Hibs. Why not come along and see what all the fuss is about? COYGIG
🎙️ Manager @FranAlonsoFA's reaction to the #Ghirls second half comeback 👊

The first #GlasgowDerby of the SWPL1 season – @CelticFCWomen 2⃣ – 2⃣ @GlasgowCityFC. #OneClub 🍀 @CelticTV pic.twitter.com/IjRPj4EEwK

— Celtic FC Women (@CelticFCWomen) September 12, 2021