It was a relief to win a domestic game, but it wasn't a complete performance for me, despite the scoreline. 
The first half started well, but quickly descended into the same old turgid performance with slow build up and not enough creativity. Soro, Turnbull and Ajer were the standouts in the first 45, but by contrast McGregor, Frimpong, Elyounoussi and Edouard were disappointing. French Eddy just looked disinterested if the ball wasn't on a plate for him and frankly his attitude stinks. The wide areas were a problem too.
A big positive was Turnbull's set piece deliveries from the left hand side. He almost created a goal with a delightful corner and then curled in a delicious free kick, from which Jullien should have scored. Turnbull was also on hand to tee up Edouard for another golden chance, but the disinterested Frenchman volleyed wide.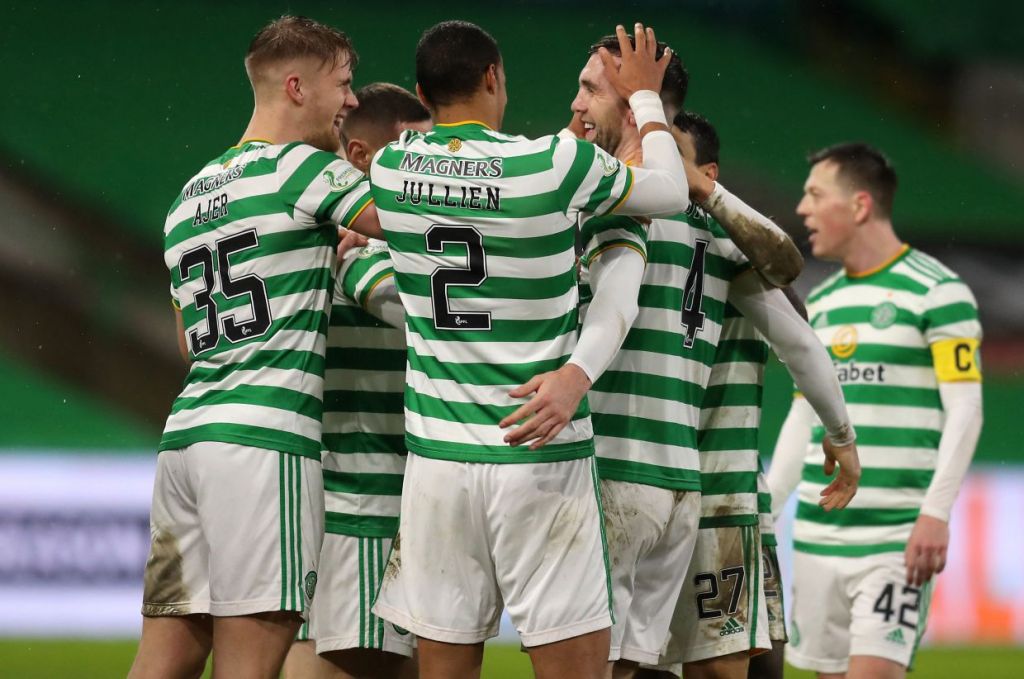 The second half was much better. Frimpong went on a decent run soon after kick off and the team seemed to look sharper. It took a bit of luck with a deflected strike by Elyounoussi to open the scoring. After which, we created numerous opportunities, before Shane Duffy scored a magnificent header from yet another Turnbull delivery. It was a superb goal that capped a very solid performance by the Irishman. It wouldn't be long before Duffy again got his head to a Turnbull corner, though he was unable to convert from close range.
Overall, I was very impressed with (man of the match) Kris Ajer at right back, Soro and Turnbull in midfield, Duffy in defence and Hazard in goal. Jullien and Taylor looked comfortable too and in fairness Elyounoussi had a better second half. It was extremely encouraging to see the return of Mikey Johnston. I thought he looked sharp and is the type of player we have been crying out for on the wing in James Forrest's absence. The team were solid and the second half was much more like the Celtic of old.
The emergence of Hazard, Soro and Turnbull gives hope of turning the corner, as does Ajer being deployed at right back. However, my optimism is tempered by the fact that Edouard has a disgraceful attitude and offers us nothing anymore. We didn't look very creative with him and the two wingers in the first half. Meanwhile, McGregor has been getting away with playing poorly for too long now.
There is hope that we can build on this shape and much of the personnel, but my optimism is cautious as it wasn't a complete performance and there are still one or two players needing replaced. Let's hope we can push forward to a quadruple treble and start clawing back Rangers' lead.