Celtic manager Ange Postecoglou has found an unlikely source of support in the form of Dundee United manager Tam Courts.
Courts, who has had a mightily impressive first season in a top flight dug-out, would have been forgiven for having enough on his mind with Dundee United facing the Champions elect tonight and a battle for European qualification, but the United boss took time out to both praise Postecoglou's job of work at Celtic whilst at the same time making some pertinent points about the judgemental nature of some who cover Scottish football.
Postecoglou was of course derided in certain quarters by mainstream media journalists and former players turned pundits before a ball was even kicked and that ramped up still further after three defeats in our opening six league games left Celtic in mid-table.
But that ignored entirely the magnitude of the task the Celtic manager faced when it came to rebuilding the confidence at Celtic, overseeing the biggest recruitment shift since Wim Jansen stopped the Ten, and facing up to a rival who had been unbeaten in the league the previous season.
Such mitigating factors however were entirely ignored by such journalistic luminaries such as Kris Boyd and Hugh Keevins, and Tam Courts as reported in the Dundee Courier points the finger of blame at a habit of being 'overly judgemental' in this country.
Hugh Keevins reckoned that ANGE stood for Absolutely Not Good Enough and here's Boyd's take…
Sky Sports football analyst😏 pic.twitter.com/I4qMvGIvSL

— JPBurton (@JPBurton5) May 7, 2022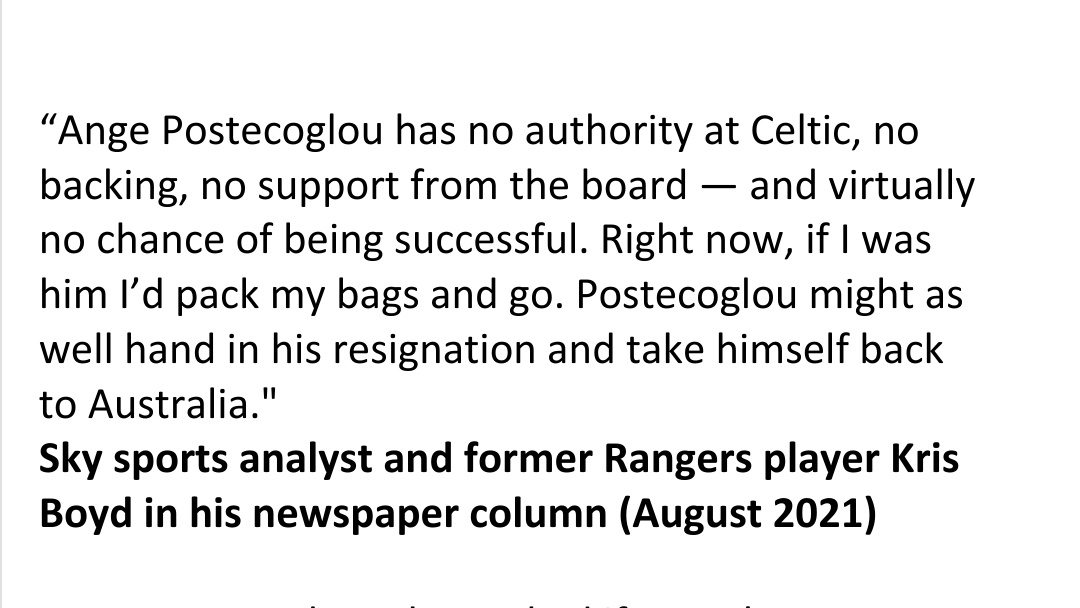 Tam Courts has a different take on this.
"You can clearly see he has a very clear playing identity and the players need to play in a certain style for his brand of football. He is a manager who has been backed by strong recruitment and some very clear player profiles.

"If there was any sneering towards him then I don't know what the reaction would have been to my appointment. I think we have a habit in this country of being overly judgemental. We have a bit of an island mindset.

"I definitely felt there was a bit of people being judgemental but, when you look at his career and his track record, it was very clear he is and has been a very successful manager."
This wasn't a subject Tam Courts had to touch on, given how much he himself has on his plate ahead of Celtic's visit to Tannadice tonight, but it is certainly a show of solidarity with a fellow manager who was treated abysmally  by the hacks and pundits when he arrived in Scotland.
For Ange Postecoglou it is unlikely any of that ever had an impact on his mindsight, as he's proven by taking Celtic against all odds to the verge of regaining their league title this evening.
But for the likes of Kris Boyd and Hugh Keevins you'd think a wee apology – made as publicly as their initial dismissive comments were – would be fitting once Postecoglou and his players win this league title. Probably best not to hold our breath waiting for that one however, we'd probably turn an unhealthy shade of purple.
Niall J