GREG TAYLOR has admitted that he was jealous watching his international teammate Andy Robertson enjoy Liverpool's title party on Thursday night. Jurgen Klopp's side ended 30 years without an English league title when Manchester City were beaten by Chelsea sparking scenes of jubilation on Merseyside. Taylor has said that he hopes that the club can make up for the lack of title party this season with a 10IAR party next season in front of the Celtic supporters.
The Celtic left-back admitted to The Herald that he and his teammates were delighted to get the club's 9th consecutive title even if he was jealous Robertson and Liverpool having been robbed of the chance to celebrate 9IAR properly as a result of the Coronavirus pandemic.
"Seeing them have that moment together, it did make me feel like that. We have still not actually been able to do that so there is a wee bit of jealousy.
"We were delighted to get nine in a row and it's a massive achievement for the club but it would have been nice to celebrate it in front of the fans or just have that moment as a team.
"I texted (Robertson) this morning to say well done and what a season. He got back to me after training to say thanks very much, top man. So, it was brief.
"He has been enjoying his celebrations but listen, it's fully deserved. It's been a long time coming for them."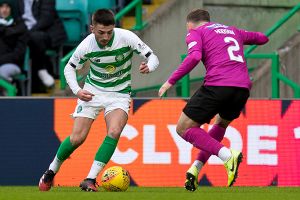 Taylor said that the Celtic celebrations were a bit of a downer compared to the party atmosphere on Merseyside as Celtic won the title amidst lockdown. Taylor hopes that he gets the opportunity along with his teammates to celebrate in front of the Celtic support.
"We had the odd Zoom call, a wee FaceTime with a few of the guys but the focus now is all on next season. We might miss out on that which is a wee bit of a downer.
"Equally it is my first major trophy and I don't want to downplay how proud that made me and my family.
"I was on the pitch at the end of the League Cup Final but I was cup tied so those celebrations weren't quite the same for me. As much as I was delighted for the boys, I hadn't played a minute in that competition so I wasn't really part of it. I was ecstatic for them, but I can't claim that one.
"I did get a moment with the league trophy, a chance to hold it and have my photo taken so that was good. To at least have that memento is good, something to put away.
"Hopefully we'll get our medals soon too. But I'd really like to get the chance to lift a trophy in front of the fans too."
The left-back joined from Killie last summer but struggled to really force his way into the team until after new year. Taylor made his debut at home to St Mirren and appeared a competent option but it wasn't until January that Taylor became a mainstay in the Hoops starting XI. The period following the Winter break saw Celtic drop just two points domestically with a draw at Livingston before Coronavirus forced the Scottish Premiership league to be curtailed.