We shouldn't have a problem with Neil Lennon's agent – and friend – Martin Reilly jumping onto Twitter last night to defeat the Celtic manager after such a disappointing tam performance against theRangers at Celtic Park yesterday afternoon.
Whether it was an advisable course of action for Reilly to take is open to debate but as we can assume that as he's very close to Lenny that we are getting the official unofficial perspective on the game and how the Celtic boss was feeling shortly afterwards.
Celtic were awful. Ask yourself this, have you ever seen a worse Celtic team performance against any of the Ibrox clubs? My first one was the 1977 Scottish Cup Final and I've seen have many disappointing games with poor results and performances since then but nothing remotely close to what happened yesterday. Celtic can and will lose games – we lost 2-0 to Livingston at roughly the same stage in the season last year – but it is the PERFORMANCE that is deeply concerning and that seems to be the view across the support.
Will things calm down from last night when emotions were running high? Of course they will and we'll be right behind the team come Thursday night when we switch to BT Sport to watch the game against an in-form AC Milan team. We might lose that one too but that's okay IF the team fight and play like they deserve to wear our jersey. Yesterday they fell way short of that and that unfortunately for Neil Lennon is down to him.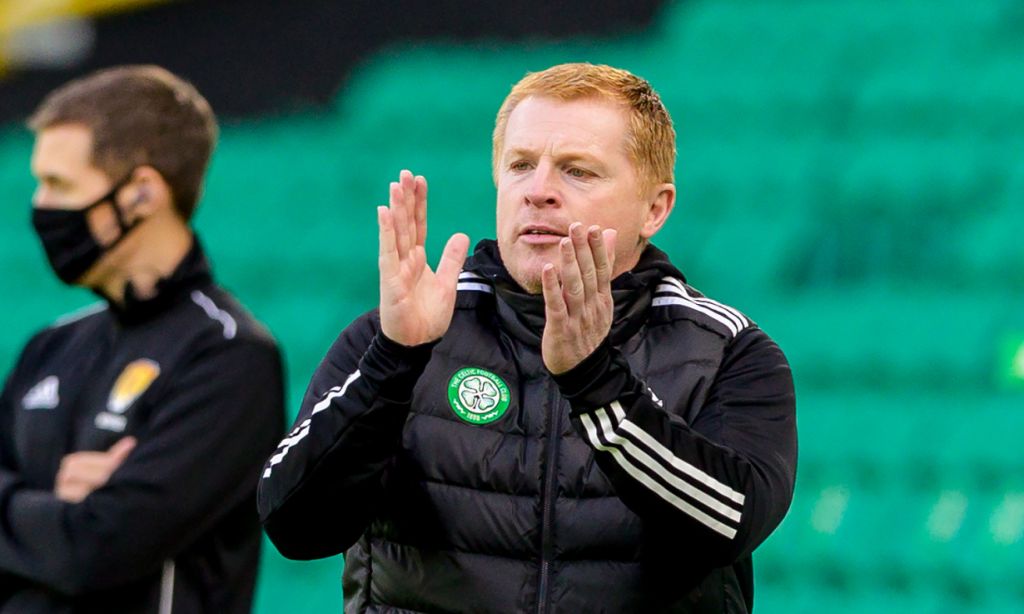 We can and will accept a decent performance but another defeat against AC Milan. What we CANNOT accept is anything other than THREE points on Sunday at Pittodrie.
Responding to the fierce criticism that was aimed at Neil Lennon, Reilly offered this defence.
"Team was decimated. We have a saying Keep the Faith. You lack it. Lennon will deliver. He always does."
Another Celtic supporter questioned the tactics and reckoned that yet again Lennon had been out-thought by theRangers manager, Gerrard. "What do you know about tactics. Nothing to do with that. Team was light. His hand was tied. Go back to chin stroking," the agent replied before listing what he sees (and presumably the Celtic manager does the same privately) as the real reason why Celtic lost yesterday.
"What more does he have to do. He had 6 first starters missing. 5 making their derby debut through no fault of his own. We need to roll up the sleeves. Not behave like spoilt kids."
He also stated his frustration at the way in which elements of the Celtic support seem to target Neil Lennon as soon as there is a bad result. "As soon as we get an adverse result people jump all over him. It's not the way Celtic do things."
Alan Thompson, the former Celtic Star and coach alongside Neil Lennon during his first spell as Celtic manager, also jumped to his pal's defence last night.
DO NOT BLAME LENNY !!!hes doing his job to the best of his ability #winner

— Alan Thompson (@Alantommo8) October 17, 2020
He'd previously (half-jokingly) put the blame on Peter Lawwell who apparently sacked Thompson from his job on the Celtic coaching staff. It's fair to say that few supporters judging by the replies to this tweet, had much time for that particular point.
It was @paulthetim (who has his account locked at the moment) who started the conversation with Martin Reilly, saying "Lenny and his players are all to blame for today if ye can't get the team up for this game especially going for ten in a row then god help us."
Here are Reilly's various replies…
Team was decimated. We have a saying Keep the Faith. You lack it. Lennon will deliver. He always does.

— Martin Reilly (@martinjreilly69) October 17, 2020
Really? 5 players making derby debut. One day to prepare the team. They are the facts. But you crack on

— Martin Reilly (@martinjreilly69) October 17, 2020
Griff and ajeti were never fit to start. Are you stupid enough to believe he would not have started them if they were. Give me strength

— Martin Reilly (@martinjreilly69) October 17, 2020
Paul I know your disappointed but the way people turn on Lenny and the club baffles me

— Martin Reilly (@martinjreilly69) October 17, 2020
Here is Neil Lennon speaking to the BBC after the game…
🗣️ 'It looked like what we were, a team put together the day before a game' – Neil Lennon speaking after Celtic's 2-0 defeat to Rangers.

More here ➡️ https://t.co/IbdgipgwLE pic.twitter.com/chjZura1sm

— BBC Sport Scotland (@BBCSportScot) October 17, 2020
And here he is speaking to Celtic TV…
And where's the thunder gone? Behind those gathering thunderclouds…
And if you haven't checked it out already here is Sandman's Definitive Ratings – well worth read….
A final point worth making, Kieran Tierney was allowed to play for Arsenal last night yet Ryan Christie was prevented from playing for Celtic. One rule for the Arsenal player caught up in the Stuart Armstrong COVID scare and a very different one for Celtic. You suspect that there's some blue-nose at NHS Lothian going to be living off his wee role in yesterday 'triumph' for years to come.
And a message to the SNP – don't bite the hand that feeds you.