We received this message yesterday from Gerard McGonigle relating to his early memories of his Celtic supporting dad singing a song about Jimmy McGrory.
"I was born in Glasgow & moved to the US in 1953 with my Dad who was also born in Glasgow and a Celtic supporter all his life," Gerard wrote.
"When I was growing up I would hear my Dad and some of his friends sing a song about Jimmy McGrory scoring 3 goals in 3 minutes.
"My Dad passed quite a few years ago and I have been trying to get the words to that song.
"I remember that the song described each of the 3 goals.
"Would you happen to know of this song & the words? I would love to have them.
"Appreciate your help, Sincerely."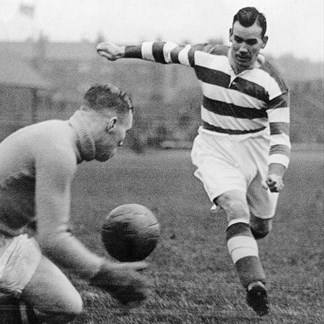 Who better to ask than David Potter?
"I seem to recall my father singing to the tune of the revivalist hymn "Tell Me the Old, Old Story," David replied.
He added, "as I said, it went to the tune of the revivalist hymn much sung by the Salvation Army in the 1930s," David explained. Here are the words…
"Tell me the old, old story,
A hat-trick for McGrory
A victory for the Celtic
And all in double quick time!
Delaney crossed to the centre
And Jimmy finished the job,
Murphy left the defenders dead
And the cross found McGrory's head!
McGrory scored his hat-trick
When Murphy did the same
McGrory rose like a singing bird
And headed home his third!
All glory to McGrory
The pride of the Garngad!
He's the hero of the Celtic
And he makes the Rangers sad!
"It went something like that, anyway! I wish I had paid more attention!
Another revivalist hymn provided the tune to these words," David continued.
"Look forever to Jimmy, his flicks, his shots and his headers
Look forever to Jimmy, he will carry you through!
He'll carry you through the hue
To beat the bar stewards in blue!
Look forever to Jimmy, he will carry you through!"
And there's more from David Potter, our esteemed Celtic historian: "There was also the poem,"…
"There's surely no denyin'
Wi oor captain Willie Lyon
We will win the Scottish Cup
Yes, we'll win the Scottish Cup once again!
In the goal Canadian Joe
Is strong enough to deny the foe
We've got Buchan and Jock from Croy
And Johnny Crum is the bhoy!
And on the wing Delaney's speed
Makes cross straight for Jimmy's heid.
A Cleland boy, so fast and true
A loyal Celt, through and through.
But wait a bit, don't go so fast
We've left the star turn to the last
There in the pride o a his glory
Goal a minute, James McGrory!
"These may or may not help with Mr McGonigle's enquiry. There were loads of such songs and poems – most of them sheer doggerel! As indeed with John Thomson. The 1930s were great times for such things. My father always recalled the great community singing at Celtic Park, likening it to a Welsh rugby crowd. Apparently "Erin's Green Valleys" used to be quite something!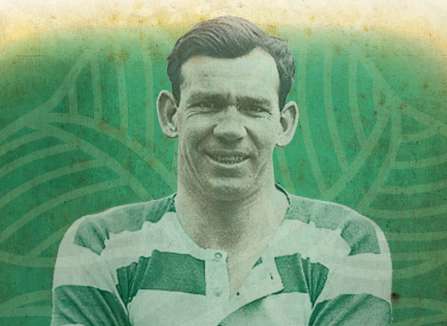 Jimmy McGrory is of course still included in the Celtic songs of the present.
"And they gave us James McGrory and Paul McStay,
They gave us Johnstone, Tully, Murdoch, Auld and Hay,
And most of the football greats,
Have passed through Parkhead's gates,
All to play football the Glasgow Celtic way."
Thanks to David Potter for his knowledge and assistance in answering Gerard McGonigle's question.