Every time Celtic go to Pittodrie I have an overriding feeling of fear. That feeling comes down to 16 August, 1998.
Celtic were title holders and that was something all the now Celtic Da's in the ground that day were still becoming accustomed too. For too many young 'uns following Celtic, it is far too comfortable. Just saying.
Only three months previously Henrik Larsson and Harald Brattbakk had delivered the first title since the centenary season. We'd halted what had seemed an inevitable ten titles for the original Rangers and to my 20 year old self we were now untouchable. As Yazz had said the only way was up. Baby.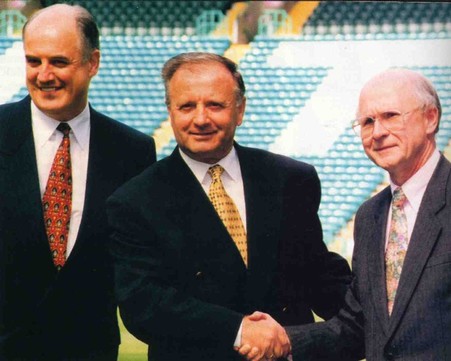 Granted Wim Jansen, the orchestrator of 'stop the 10' had headed for the hills and an elderly looking Jozef Venglos had taken on the baton, but by the time the Celts headed for Pittodrie that day we were basking in the previous year's silverware and a horizon that appeared to promise so much. That day brought us all back down to earth.
League champions – what a feeling that was – Celtic slumped to a humiliating defeat to Aberdeen in a truly astonishing match at Pittodrie, in which we missed two penalties and both teams ended with 10 men.
In a fairly ding-dong but uneventful first half Aberdeen scored first when Mark Perry looped a 30 yard effort like a rugby up n under high over Celtic keeper Jonny Gould and into the net.
Aberdeen's second came in the most embarrassing of circumstances when Regi Blinker scored an own goal that as bizarre as it was, became pretty much in keeping with the rest of the game.

Aberdeen defender Gary Smith pumped a free kick deep into the Celtic half and Regi Blinker, with no Aberdeen players nearby, inexplicably headed the ball over his stranded keeper Gould.
Words don't do it justice, so for the younger fans amongst us I've put the highlights package below. Just look at Regi's face when he scores that goal for Aberdeen. Complete embarrassment.
And four minutes later it was 3-0. In the best move of the game Aberdeen's Eoin Jess sent Hignett racing clear of the defence and he rounded Gould before scoring from a narrow angle.
King of Kings Larsson pulled one back on 68 minutes with a brilliant diving header at the far post from Blinker's cross, as the own goal anti-hero tried desperately to make amends.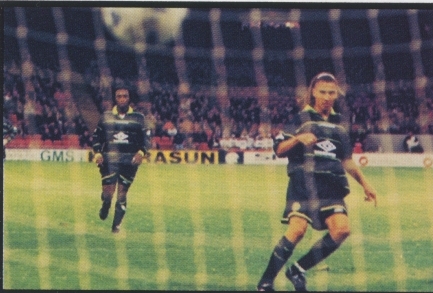 Moments later Larsson was guilty of what turned out to be one of the misses of the season when Leighton pushed the ball out and he blazed it wide from just three yards out.
The real bizarre nature of the game was the fact referee Willie Young-read John Beaton for the modern equivalent- had awarded Celtic three penalties. I believe Hugh Dallas may have booted his pal in the nuts for even daring to.
Simon Donnelly struck Celtic's first penalty against a post on 50 minutes so, when Young pointed to the spot again after 71 minutes we were all in shock but delighted at the lifeline.
Craig Burley stepped up still sporting the dyed blonde haircut of Scotland's ill-fated and last World Cup appearance. But he too suffered the agony of a penalty miss, as a diving Leighton parried his poorly-taken spot-kick.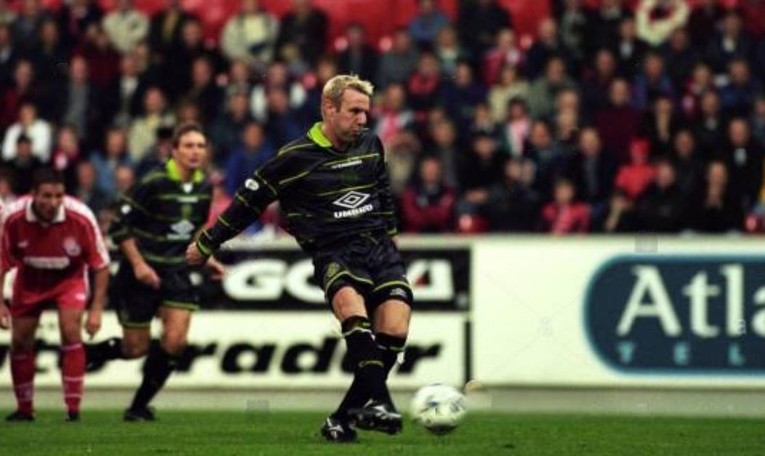 Finally, deep into injury time, Celtic got their penalty routine sorted out when they were amazingly awarded their third of the night. This time Henrik Larsson took the ball – and he made no mistake.
But by then Celtic had already conceded three goals and the contest was effectively over.
Darren Jackson was dismissed 11 minutes from time for kicking out at Ilian Kiriakov and three minutes later David Rowson was given his marching orders for a clumsy challenge on Jackie McNamara,-Get well soon Jackie.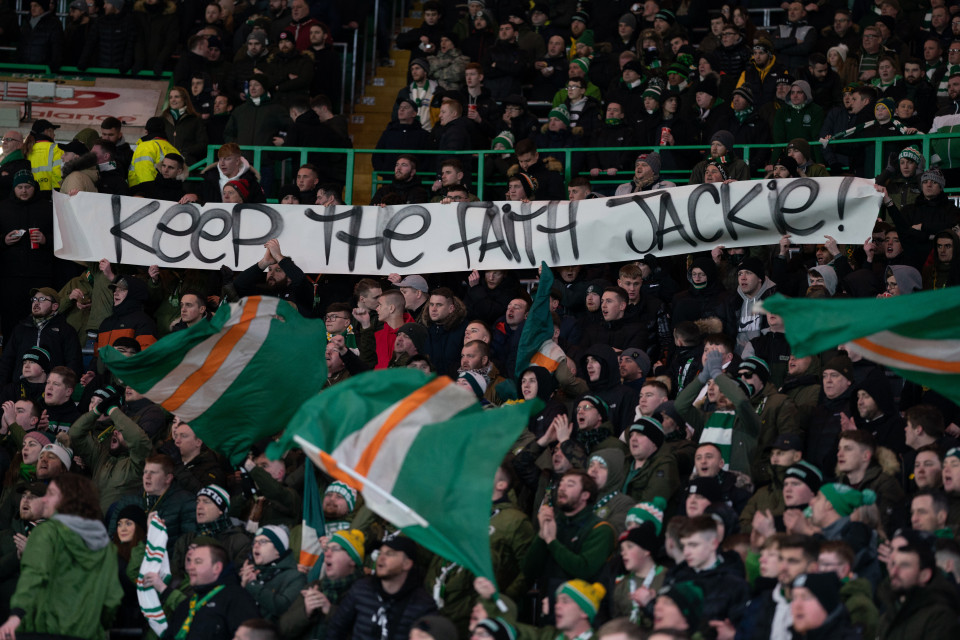 The Dons fans celebrated at the final whistle and although Celtic were guilty of squandering gilt-edged chances, the home team fully deserved their first victory over the Bhoys in 13 attempts.
It was a truly strange time. Considering Celtic had recently become Champions Fergus McCann and the players were in the middle of a very public bonus dispute. At the time it was no surprise. Celtic had a real knack of shooting themselves in the foot. The bonus dispute rumbled on, despite the payment of the entire due payment of £280,000 being made to Yorkhill hospital, the players decided to "work-to-rule" and not attend any of the post-match events expected of them. To think Boli's Uber app is the extent of our worries these days.
Thankfully Pittodrie is a far happier hunting ground for Celtic these days. For fans of my vintage however there still remains a wee look over the shoulder and a bit of a shudder.
Niall J
Help raise money for Celtic Youth Development by joining the £1 weekly lottery and you could win up to £25,000 – just click on the photograph below to join. Lots of our readers have already done so and they're now doing their bit to help fund Celtic Youth Development that can deliver the stars of tomorrow and beyond. And you might even win a few bob too!