Moi Elyounoussi was made the scapegoat by some of the Celtic fan media the other night after Chris Sutton's rant about him using his mobile phone after he was substituted in the 4-1 defeat to Sparta Prague. One site seemed to focus on that almost entirely after one of the worst performances ever seen  by a Celtic side playing at home in European competition.  We reckoned that Celtic had much more to worry about than Moi checking the score in the other game – he looked at his phone for about two seconds – and the stick he got as a result was pretty unsavoury to say the least.
Here's a reminder of Sutton's post match rant on Thursday night.
"That's scandalous! Is he committed to the club?

"I'd fine him two weeks' wages for that…"

Celtic's Mohamed Elyounoussi was caught on his phone after coming off and @chris_sutton73 is not impressed. pic.twitter.com/DwhLzXG8ZQ

— Football on BT Sport (@btsportfootball) November 5, 2020
However yesterday Moi kept his place in the Celtic side – unlike Shane Duffy and Odsonne Edouard – and he answered his critics in the best possible manner, picking up the match ball at the final whistle as a present for his daughter. Moi's goal celebrations are all for her but yesterday to would have been nice if he's done one where he mimicked putting his phone to his ear!  That would have been a great GIRUPY response Glasgow style!
"That's finished, that's behind me," Elyounoussi said when asked about it post match by Sky Sports, as reported by Glasgow Times. "What I can do is talk with my feet and that's what I did today. That's the best way to react.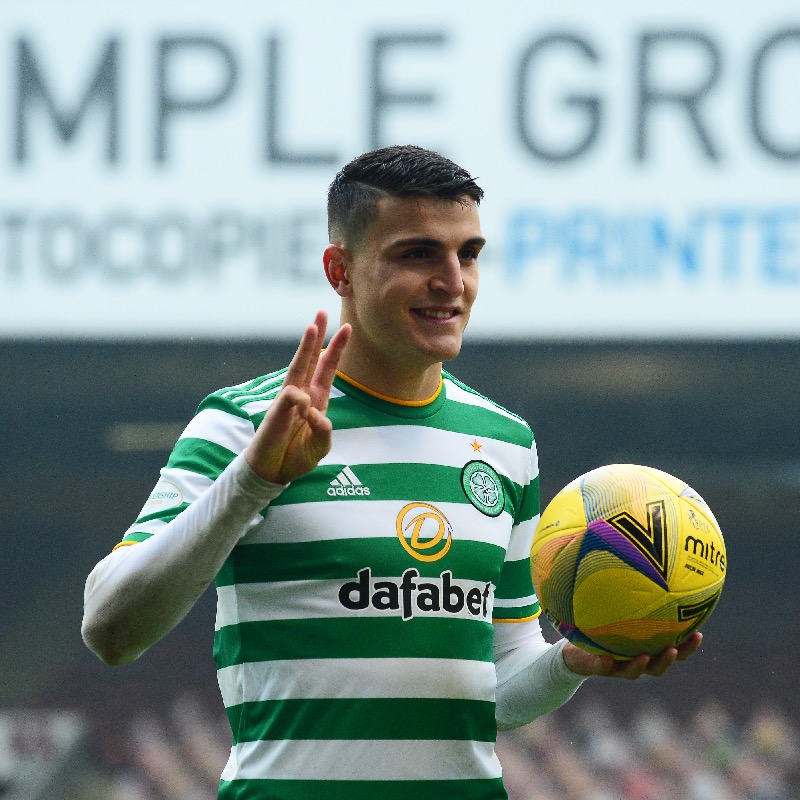 "I read a comment that it was stupid of me, and it was a big misunderstanding. What I have to say is that no one should question my professionalism, my commitment to the team. I am very professional and, like I said, the best way to talk is with my feet," the Norwegian star said.
Asked if he was fired up for the game against Motherwell: "I was. I'm here to help the team score goals and win games. So in the end, of course, I was frustrated and disappointed that someone questioned my professionalism and commitment.
"I am very committed – and I am happy to help the team win today. Anyone who knows me realises I am very professional, I give 100 per cent for my team and I am very committed on the pitch.
"Not only offensively, defensively as well. So, I don't think someone should question my professionalism on the pitch. That's in the past, I just focus on the next one ahead. We're happy we've got the three points today."
Here's Moi speaking to Celtic TV after his Man of the Match performance at Motherwell.
"I'm delighted, and I'm very pleased that we had a good game as well, to get the win and the three points," Elyounoussi told Celtic TV. "I was disappointed not to get the hat-trick against Lille, but today I said to the manager, after getting the two goals, that I was going to go for the third and take the ball home. I'm obviously pleased with that and also to help the team get the three points as well.
"It was a great reaction after conceding today, that's why the third goal was so important. They'd just scored, we had to show a reaction. We also had to show a reaction from Thursday's game and I think we showed character today and showed the best side to our game, and now it's just up to us to keep that momentum going."
And Celtic's hat-trick hero confirmed that his daughter Amina will be receiving the match ball.
"Yes, my daughter is getting the match ball, definitely. She was watching the game from home so hopefully she was proud!
"We can hopefully go away now, get some wins with our national teams, stay healthy with no injuries and then come back here and go on from there. I didn't realise I was at 10 goals, I just focus on the next one and the next game and then, in the end, see what the number is."
Highlights for yesterday's game below…