Fran Alonso declared himself to be well satisfied with a excellent perfomance and result as Celtic FC Women swept Hamilton Accies away yesterday with a 6-0 win that maintains his side's 100% start to the season, with the added attribute being that the Ghirls have managed to keep clean sheets in each of their five straight SWPL1 wins.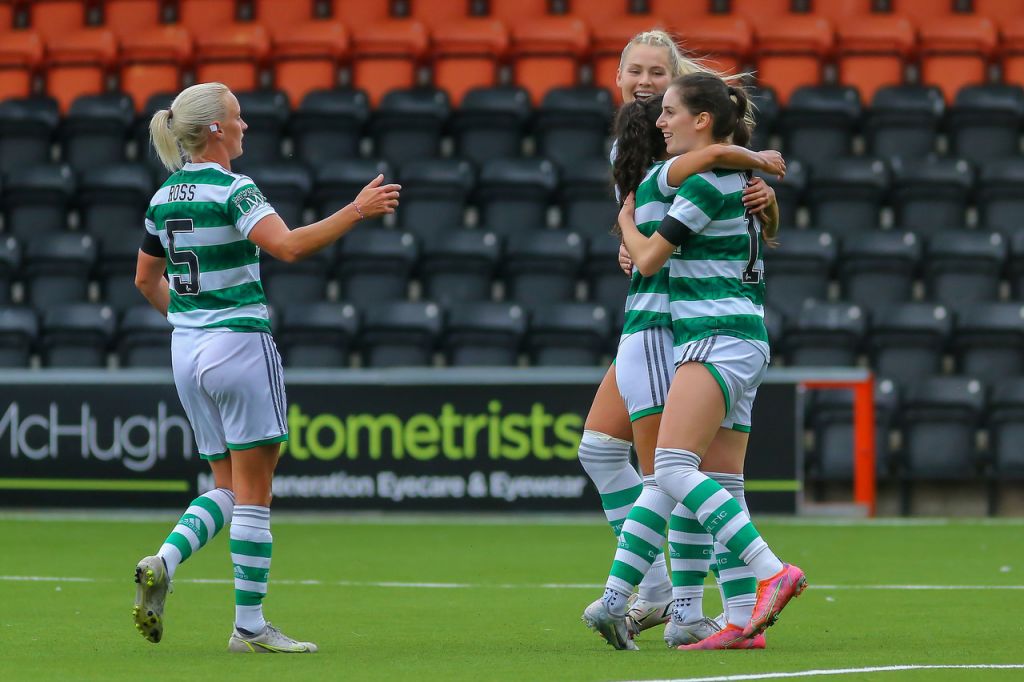 Two Jacynta goals, at the start of each half, one for Clarissa Larisey and Chloe Craig and first Celtic goals for summer signings Shen Menglu and for Liz Fergusson, who came off the bench and scored with her first touch, made sure that this was the convincing Celtic win that we might have expected earlier in the day over at Paisley.
"I'm very proud of the Ghirls, I think that the tempo was outstanding for the whole game," Fran Alonso told Colette Carr, who handles the media for Celtic FC Women, and is a bit of an unsung hero within the backroom staff. Here's a photo of Colette at the game yesterday.
"It's not easy, concentration levels were outstanding. That's very demanding. Hamilton made it difficult for us, defending deep and with numbers and they had an oustanding performance from their goalkeeper, she was incredible today. But we still managed to score six goals so I am very proud."
As ever Fran Alonso was looking for ways to improve but trying to find fault with that performance was a tough task. Nevertheless he gave it a go! "Probably if I have to pick up on something to improve in the next game it would maybe be the decision making in the final third, but overall it was outstanding.
"It's not easy to beat a team like Hamilton by six goals. On top of that, in keeping a clean sheet, we kept them to zero chances. That tells you what the whole team did to stop them progressing up the pitch."
The Celtic manager was perhaps expecting a more difficult fixture yesterday, especially after a fortnight away from competitive club action, but any concerns were unfounded as the team came out the traps fast and were ahead with two minutes.
"It was a tricky game, last year in the same fixture it was 1-0 for a long time and we almost conceded when they had a chance so today we totally dominated the game and the Ghirls were very professional from minute one and I am delighted," Alonso said.
"I told them beforehand that I was a little bit concerned, haivng not played for two weeks. We did play a friendly and we were good but our International players weren't there so I was a little concerned about our form and fitness levels and the way we want to play after not competing for two weeks.
"But it wasn't an issue during the game. The Ghirls' concentration was fine. We scored very early in the game. We knew that we needed a quick start and overall I think it was a fantastic performance and on top of that there were first league goals for both Shen Menglu and for Liz Fergusson which helps their confidence so it was a very good day for us."
Maybe in a similar situation to Ange Postecoglou yesterday, Fran Alonso was dealing with fringe players desperate to get a start and while Chinese star Shen Menglu was given a first start, others like Liz Fergusson was kept on the bench before coming on to make an immediate impact and in doing so made the manager's job even tough for next Sunday's trip to Aberdeen.
"This is exactly what we talk about," Fran said, as he praised the English striker after her first goal for the club. "I said make sure that you make an impact and that is exactly what she has done. Every player not starting is frustrated and a little disappointed because they all want to play.
"So the only thing that they can do is when they come on is to make sure that they make an impact and it was her first touch of the game. You could see how she celebrated! It means the world to her and it means the same to us. So it's great and it's what we expect from players coming from the bench."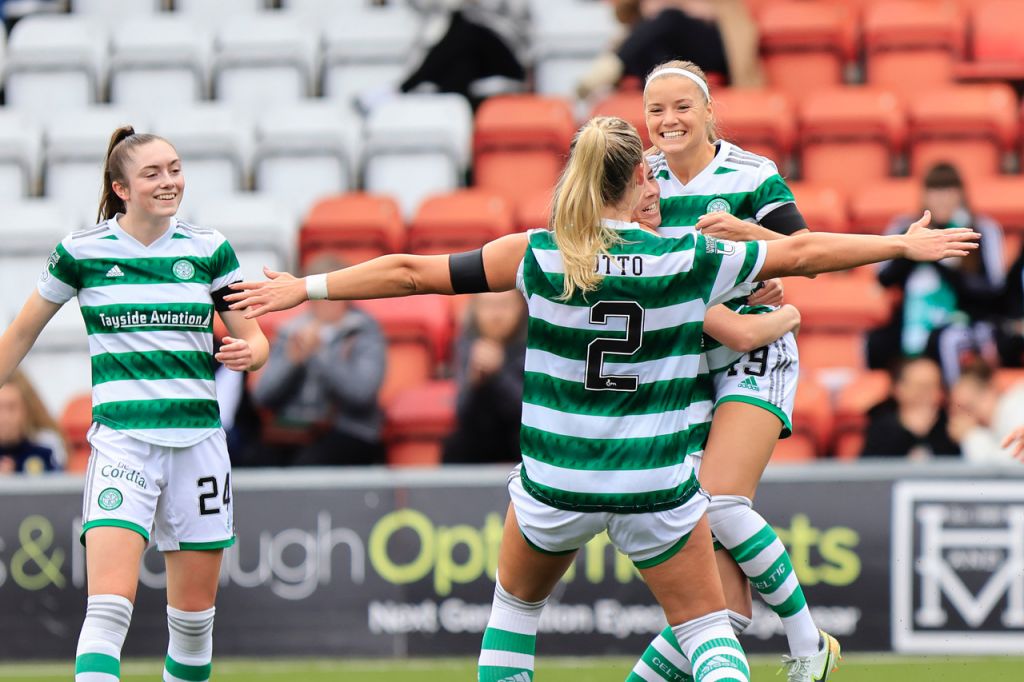 And on the forthcoming selection headache for next Sunday, you get the feeling that Fran is quite happy to have such 'headaches' to deal with."It makes it difficult for me picking the team for next week. It's difficult to keep them happy but they are showing great levels of professionalism.
"Players not starting are showing their disappointment by working harder then making an impact from the bench. They are making the team better and that's why this year so far we have this 100% record and we have yet to concede.
"So very happy with the team's atmosphere, the team's chemistry and the outstanding squad that we have. Let's see if we can keep this going next week."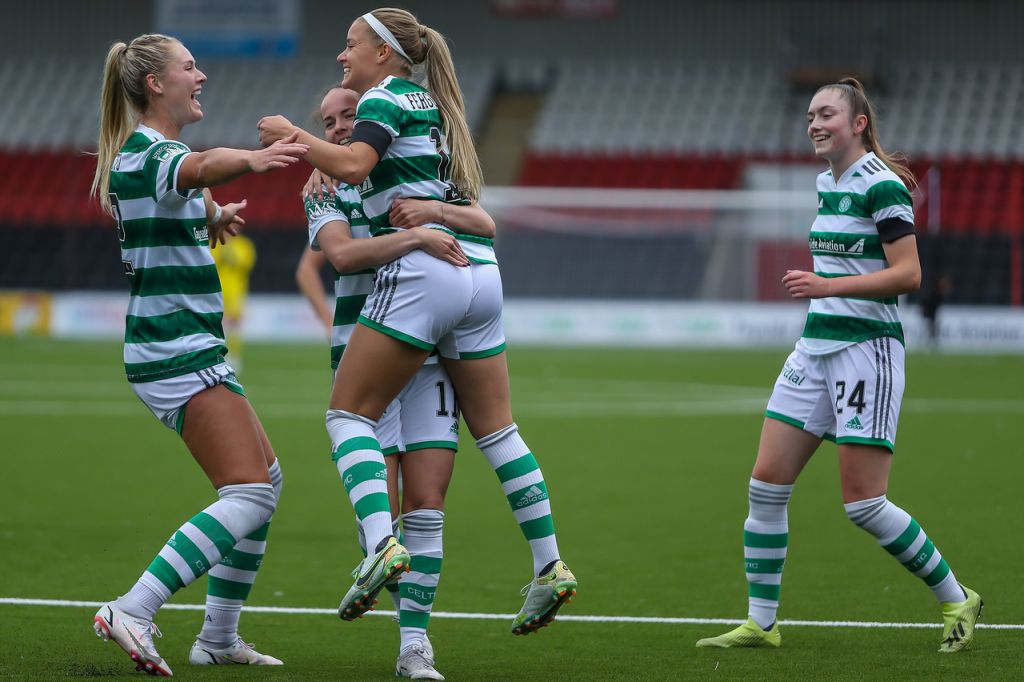 The Celtic manager also look forward to this week's League Cup draw and that allowed him to revisit the successes in both cup finals last season. "We love cup compeitions. Last year we were lucky enough to get to both cup finals and to win them both and they were incredible, one of my best feelings in football.
"To be able to defend the cup again is amazing and we will try our very best to retain it but we know how hard that is going to be. It's very exciting but it's very important that we focus on Aberdeen.
"That's the next game so it's the only game that we shoud think about. It's not going to be easy. It's a long trip away, so we will work all week, work hard and make sure that we are put on another professional display like we have done today."
📹 Manager Fran Alonso was delighted with his team's professionalism this afternoon 💯⤵️

🍀6-0⚫️#CELHAM | #SWPL | #COYGIG pic.twitter.com/qbzsQOGRgb

— Celtic FC Women (@CelticFCWomen) September 18, 2022
Another great performance by the team!🍀
Thanks to everyone attending especially delighted to have all our Academy ghirls at the game.

Future is bright!! HH

🍀6-0⚫️#CELHAM | #SWPL | #COYGIG pic.twitter.com/SKz66j92OP

— Fran Alonso (@FranAlonsoFA) September 19, 2022