The 4-2 Game, perhaps the most joyous night for The Celtic support, unfolded on a Monday evening 40 years ago today. We'll start by having a look back at the story that lead to the game itself but we'll just feature photographs of that Magical Monday from four decades ago today.
After a long period when there was no football due to the bad winter, Celtic were playing catch up in games to be played and we were well down the table when we eventually did start to play again at the start or March.
We had to go on some run if we were going to get anywhere near the title and gradually – game after game – we started to believe! On 5 May however we suffered what seemed like a major set-back when we lost 1-0 to Rangers in their home league match which was played at Hampden as Ibrox was having reconstruction work done. Johnny Doyle hit the post late on to almost salvage a point but they held on and their fans were convinced that another Rangers Treble was on. The crowd at Hampden was just 52,841.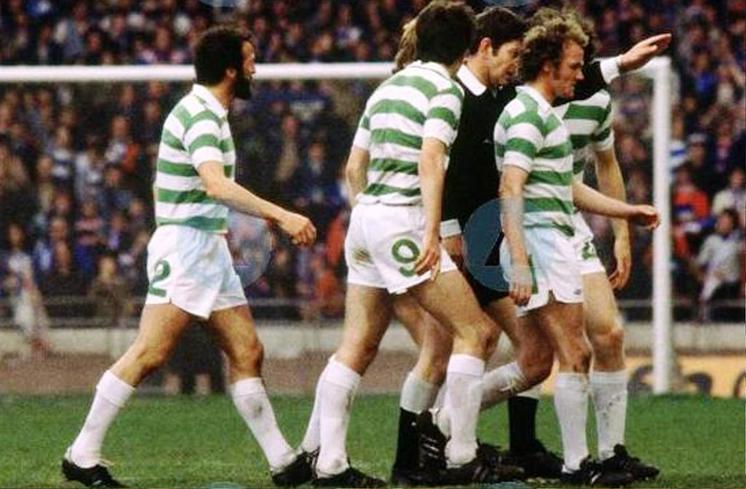 Our chances of winning the league weren't over but they were remote to say the least. We needed to win all the remaining games starting at Firhill just TWO days after the defeat at Hampden.
This was the Bank Holiday Monday and was a game that was postponed back in January and Celtic's Hampden hangover was apparent in the early stages when Somner opened the scoring for Thistle in the first few minutes. The league seemed to be slipping away for Billy McNeill's Celtic side.
But they weren't going to go down without a fight and for the rest of them game laid siege on the Thistle goal. Davie Provan equalised with 14 minutes played and a goal from George McCluskey on 71 minutes won the two points for the Hoops.
It remains a source of frustration that the only footage of that famous 4-2 game was taken by the cine camera of Celtic Films, TV electricians went on strike before the game. pic.twitter.com/Z4Hwk4Q3T9

— Lisbon Lion (@tirnaog_09) May 21, 2021
Then rather bizarrely we played our next match – away to St Mirren – on the Friday night (having had a Glasgow Cup tie in between this and the game against the Saints – and this game wasn't at Love Street but was actually played at Ibrox!
The Rangers ground was in transition from the old stadium to the new – their new Copeland Road stand was almost complete but the old Celtic end was still there. This would be the last time our support would ever stand in that terracing. It was a nervy night, we just had to win or it was over. Over 20,000 of us were there on the old terracing and in their Centenary stand.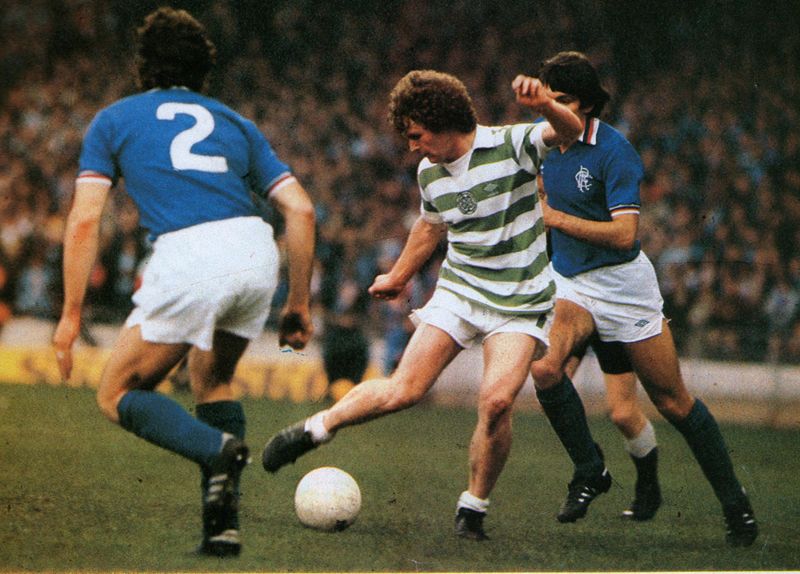 The game was brought forward to the Friday night at the request of the Police – remember Celtic had played THREE games in previous SIX days so the Police were doing Celtic no favours by insisting that the game moved to the Friday. (Their reason was that the Scottish Cup Final between Hibs and Rangers was being played on the Saturday, that finished 0-0 and went to a replay).
A win though would take Celtic to the top of the league for the FIRST time but they had to keep winning as Rangers had a game in hand.
The game was goalless at the interval and Celtic hadn't played at all well. They upped the intensity in the second half and George McCluskey made the all important breakthrough with a header from a Davie Provan corner midway through the second half. Lisbon Lion Bobby Lennox made sure of the win with ten minutes left.
The Celtic players must have been exhausted but incredibly they had to play another league match on the Monday night – this time at home to Hearts. In these days when 60,000 regularly attend even relatively mundane league games, on this occasion, with Celtic now two wins away from one of the most unlikely league triumphs in our history, only 18,000 bothered to get along to Paradise to cheer the side on.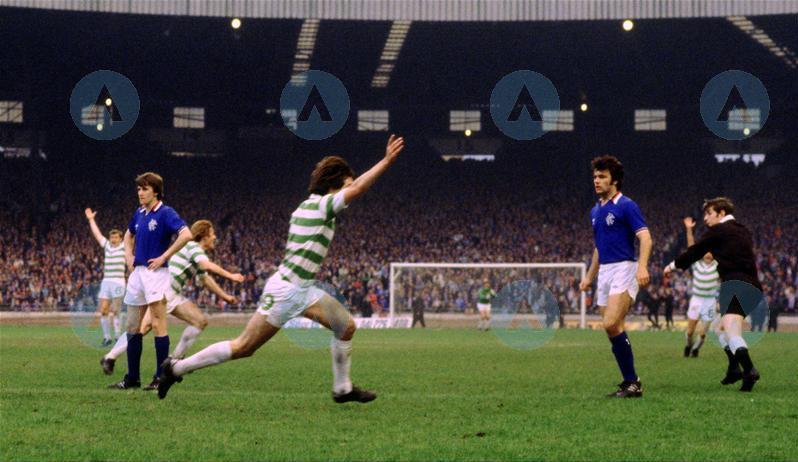 A win would set up a title decider the flooring Monday night against Rangers at Celtic Park. And a win we got thanks to an unlikely hero in Mike Conroy who headed in from another fine Davie Provan cross ten minutes into the second half.
Celtic were now three points clear and had one game remaining (you got two points for a win in those days) – against Rangers 40 years ago today. Rangers had to travel to Celtic Park knowing that they had two games in hand so a draw would be enough at Celtic Park for them to almost certainly win the title. Celtic knew what they had to do – they needed to win.
The Celtic Wiki features an article on this game that appeared on an old Celtic site Loanstarceltic.com which is no longer around. We're sure they wouldn't mind us telling part of their story here…
"…"Consider then a championship that depends – after a season of two main protagonists' matching each other's achievements – on just one game. Consider further that the two main protagonists are Celtic and Rangers. Even better, put yourself in the old Jungle at Celtic Park at around seven o' clock on Monday 21 May 1979.
"This was Celtic's last game of the season, although Rangers still had two games afterwards. A Celtic win meant that Rangers could not gain enough points – as Celtic would be five ahead of them. A draw, however, would leave Celtic three points ahead and Rangers would have the opportunity to get those points from their final two matches. In short, they only a needed a draw, we needed to win.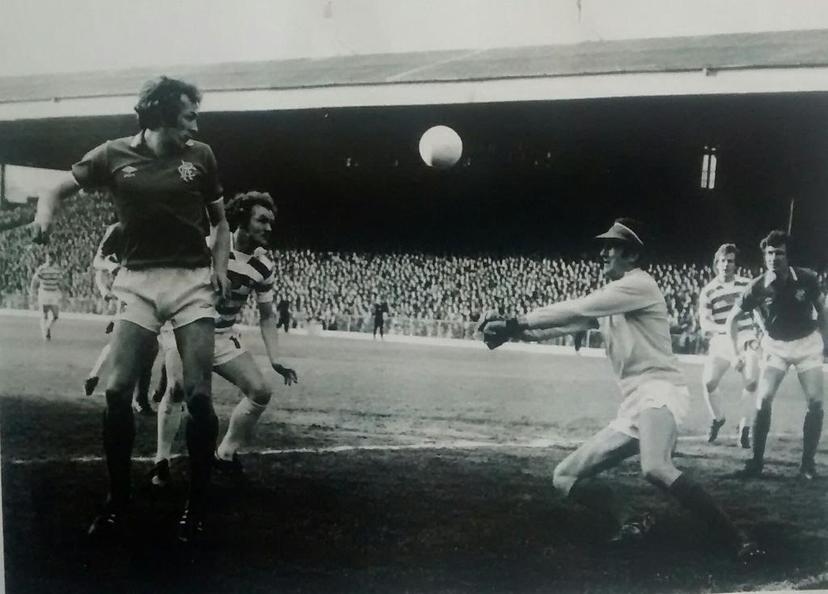 "The event itself was surrounded by political conditions not of football's making. Margaret Thatcher's Conservative government had been elected only weeks before, and the industrial unrest which had pertained in the UK over the last year was still manifesting itself in all aspects of life in this country. As the crowds made their way up Janefield Street behind the Jungle, a television mast was being removed due to a snap strike by TV technicians. The upshot was, unknow to most of the fans at the match, the event was not recorded for posterity.
"As the match itself began, the tension was tangible, everyone aware that the next 90 minutes would decide who was the Best Team in Scotland.
"After nine minutes, and in Rangers first attack of the match, the Jungle was silenced when Alex MacDonald – so often a thorn in Celtic's side – gave Rangers the lead. Celtic soon had another mountain to climb when John Doyle was sent off for retaliating to a tussle with MacDonald of Rangers.
"This situation remained until half time, despite Aitken's header which rebounded from the bar to deny Celtic an equaliser. It seemed to be an impossible task for the remaining ten Celtic players. They were a goal down, a man down, and there was the certainty that unless they could muster up at least two goals from that position, the league was lost.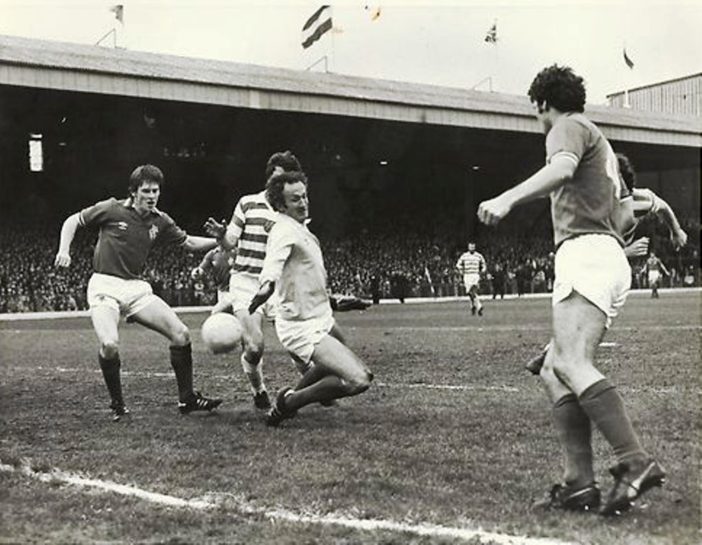 "To make matters worse, this was in the days of standing room only terraces, and there were around 25,000 Rangers fans preparing to celebrate a famous championship victory at Parkhead – a feat they had hitherto failed to achieve.
"What went through our minds was too awful to imagine, and perhaps that was how the players felt also, because Celtic galvanised themselves, and with a mighty effort and no lack of skill, they took control of the game, and equalised through Roy Aitken in 66 minutes after a pass by Davie Provan. In 74 minutes, bedlam. George McCluskey, a forward with a great deal of skill and flair, an eye for goal and sense of the big occasion, put Celtic ahead with a shot from 12 yards after Aitken's original shot had been blocked by a defender.
"The roller coaster ride was not over though. Celtic theatre is never simple, and perhaps that is the reason so many football lovers the world over are drawn to the club. From a position of having done enough to claim the championship, disaster struck again.
"Two minutes after McCluskey's goal, Rangers were awarded a corner, and to the collective dismay of the assembled Celtic multitude, Bobby Russell's speculative shot from the clearance clipped the post and went in. Now it was Rangers who were again looking at greatness and a place in next season's European Cup – Celtic ten men seemingly having given all that they could be seriously expected to. After all, there were only some thirteen minutes remaining, and it would have been understandable if Billy McNeill's side begun to wilt after their brave efforts.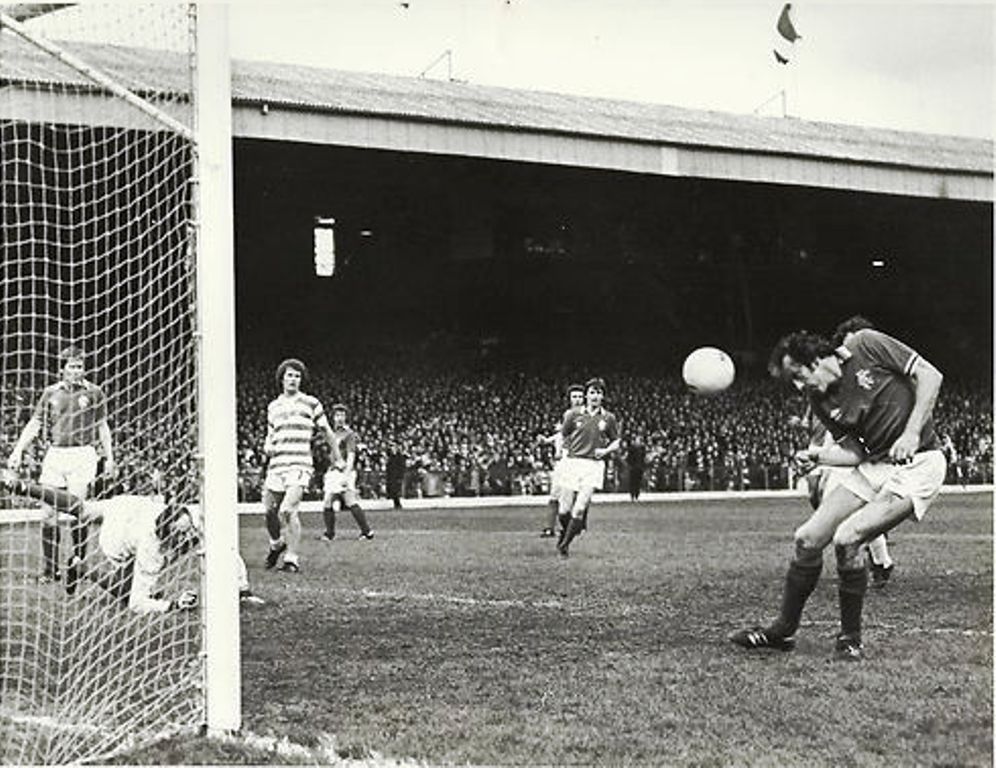 "At this point perhaps, some pause is required. On so many occasions throughout our rich history, Celtic have again and again re-invented the wheel of fantasy. It is a necessary component of the Celtic mindset that the green and white phoenix continually finds itself in ashes, only to be re-born moments later. It's about last minute rescue, impishness in the face of adversity, and the knowledge that achievement echoes through generations.
"It was time for Billy McNeill's ten men to write themselves into the history books, and etch their names and achievements into the hearts of Celtic fans for the next hundred generations.
"Incredible though it seems, a Roy Aiken-inspired Celtic pushed hard for the winner, and Aitken himself almost scored when his goal-bound header was brilliantly saved by Peter McCloy in the Rangers' goal. The courage of the team was not to go unrewarded however, and with five minutes left, cross by McCluskey was cut out by McCloy. Unfortunately for the Girvan Lighthouse, he only succeeded in touching the ball onto the head of his colleague Colin Jackson, and the ball rebounded from the Bomber's Bonce and into the back of the net.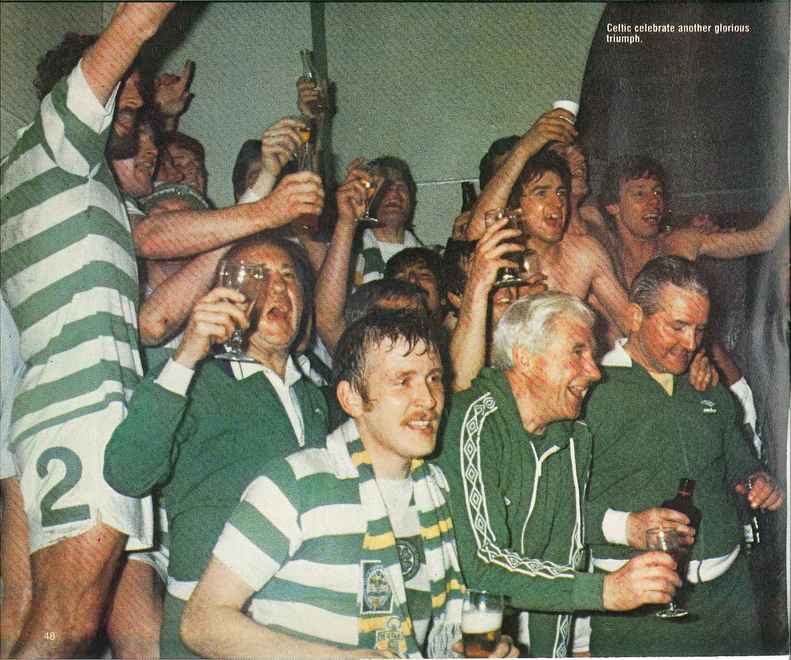 "At this point the tension became even thicker. We were still aware that another Rangers goal against our ten heroes would be disaster. We willed the referee to blow his whistle. Rangers had a corner. The ball ended up bouncing around in the Celtic area, before being humped unceremoniously into the waiting arms of ten thousand of us in the Jungle. We weren't quick to give it back. Now a shy to them, ("Please God BLOW THAT WHISTLE" or some rather more prosaic words to that effect).
"The ball is thrown goal-wards, and Rangers commit their men forward in search of a last minute equaliser. The ball is once again blootered up the park by the Celtic's Tom McAdam. Murdo MacLeod, bought earlier that season from Dumbarton for a club record of £120,000, controls it and looks up. He sees the goal. More importantly, and in the knowledge that there are seconds left, he sees 25,000 Celtic fans behind the goal in the Celtic end of the stadium. He decides to hit the ball as hard as he can in that direction, knowing that if the ball goes into the crowd, he will have used up valuable seconds. He urges his tired legs to give it the ball one last lung-bursting WHUMP!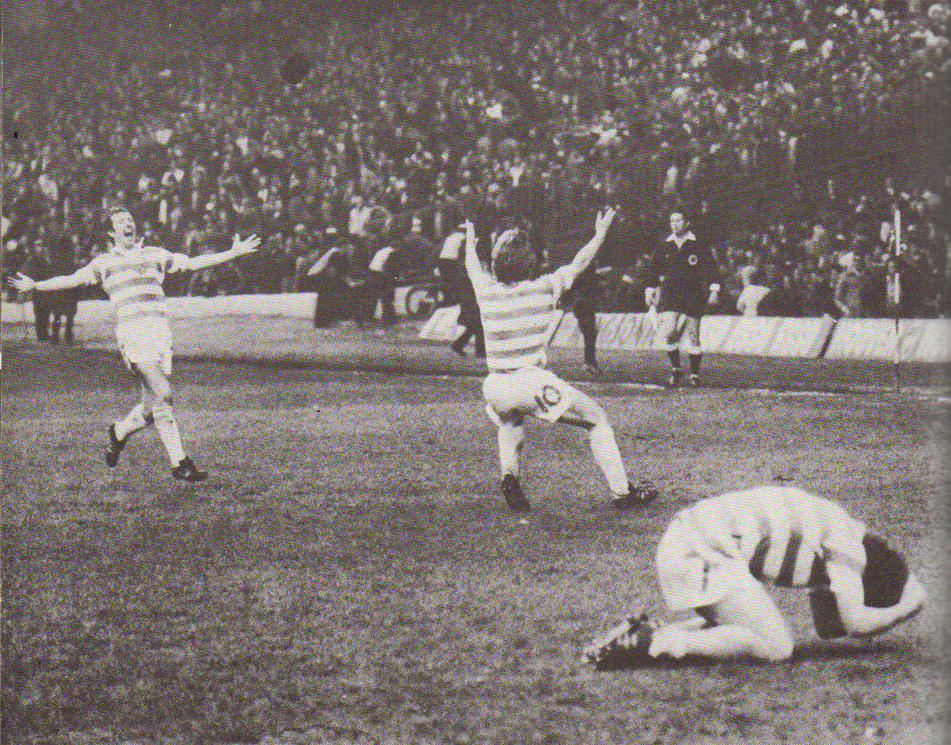 "There is a brief silence. The ball, guided by history, projects itself into the postage stamp corner of the Rangers' goal, evading the grasping fingers of the goalkeeper. You could almost hear the rustle of the net. That was the last sound most of heard before our eardrums ruptured as a consequence of the demands placed on them by the indescribable cry of joy which erupted from two-thirds of the stadium. Players – from both teams – were on their knees. The Rangers players, who in truth had contributed little to the match other than their ridiculous good fortune, had sagged earthward due to despair. The Celtic players, seemingly, led in prayers of thanks by skipper Danny McGrain.
"The singing and dancing after the final whistle were unbelievable. The players and fans were truly like different parts of the same family. Joy was bursting from every smile or grin. Bellows replaced lungs as the cry of, "We 've Won the League Again – Fly the Flag" was born. It was sung constantly and continuously throughout the night. Even the absence of highlights on TV were not enough to dampen spirits, and speaking of spirits….
"Many an attendee at that occasion has dined out for decades on the story, the pictures of which were denied to the generations by the TV strike. For those of us who were there, pictures are not required. We knew then as we know now, that we had witnessed first-hand, one of the truly seminal chapters in the incredible story of this football club.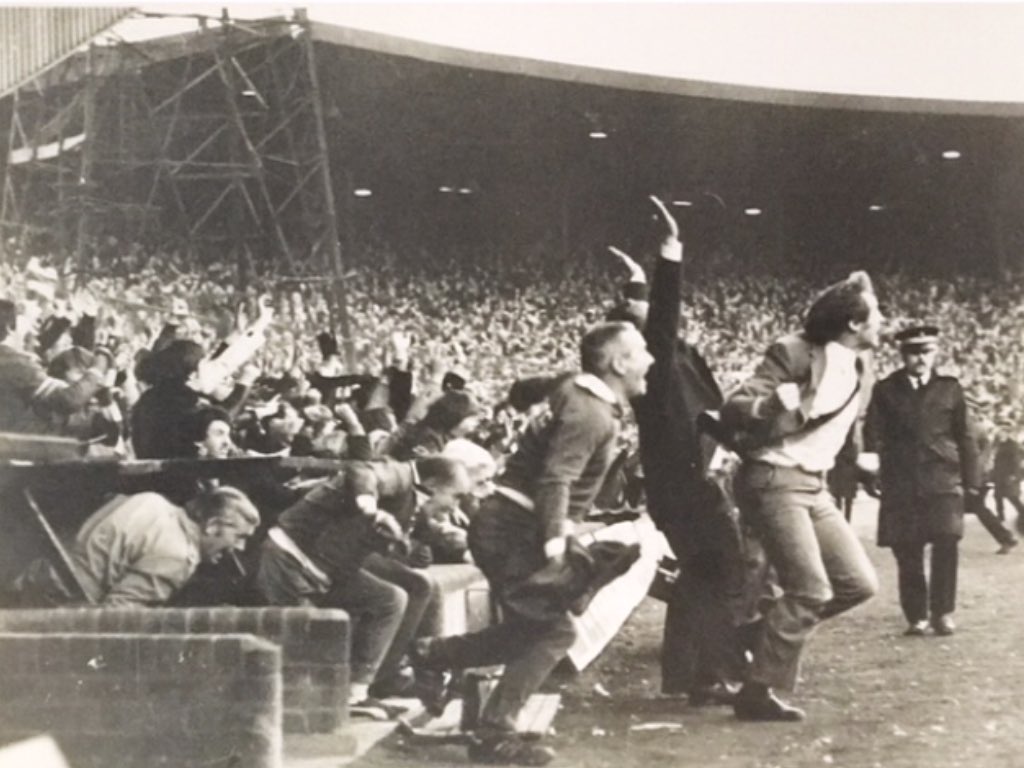 "To most of us forty-somethings, there are two Celtic occasions which are head and shoulders above almost anything else. Lisbon of course is up there, but the night that Ten Men Won the League is THE tale worth telling!!!"
The Celtic team was Latchford, McGrain, Lynch, Aitken, McAdam, Edvaldsson, Provan, Conroy (Lennox), McCluskey, MacLeod, Doyle Sub: Davidson
Celtic scorers : Aitken (66), McCluskey (74), Jackson og (85), MacLeod (90)
Sent Off: Doyle 51 mins.

Their team was team McCloy, Jardine, Dawson, Johnstone, Jackson, A MacDonald, McLean (Miller), Russell, Parlane, Smith, Cooper Sub: J MacDonald
Rangers scorers : MacDonald (9), Russell (76)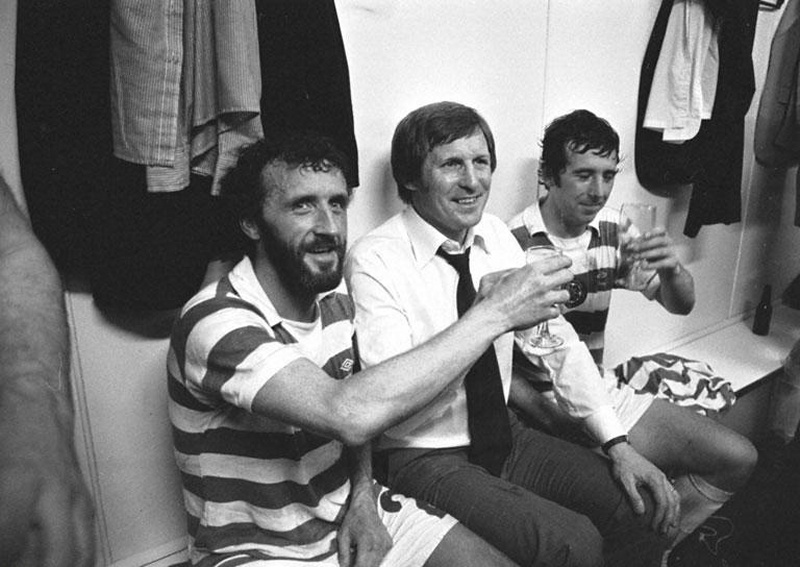 Attendance was reported as being 52,000, including I am delighted to tell you, my good self who was at that time in second year at school. Still my favourite Celtic game that I've attended.
Murdo MacLeod looked back on that remarkable evening at Celtic Park. "Forty years since 10 men won the league! My first trophy won at Celtic Park! TV crews went on strike; Celtic Cine Club filmed the game! What a game!!!
Forever grateful to Billy McNeill," Murdo stated.
Here's the footage that the Cine club Bhoys, the forerunners to Celtic TV, filmed on that Wonderful Monday night…we used to sing the Boomtown Rats 'Tell Me Why they Don't Like Mondays' to them…