CELTIC legend Tommy Gemmell wrote his first book, The Big Shot, when he was at the height of his career as a professional footballer. The Big Shot was a best seller when it was first published in 1968.
In The Big Shot, Tommy told for the first time his side of the story regarding the notorious incidents that occurred in Montevideo in a play off match against Racing Club of Argentina. Much has been written about these matches in later years but Tommy's account, written so close to the matches, gives a real insight into what actually happened and what drove Tommy to make that most famous of well aimed kicks to the tender regions of the Racing No.11. Raffo apparently squealed like a pig!
I got to know Tommy personally in the last few years of his life and found him to be a humble, well mannered man who retained a passion for Celtic. He liked nothing better than to talk about his time at the club and while there was always a great deal of pride in what he achieved at the club – scoring in two European Cup Finals – there was always a modesty there too.
Tommy had worked on his third book, All the Best but couldn't find a publisher for it. I was proud to be able to help him with that and he kindly gave me permission to include the chapter on those games against Racing Club which initially appeared in The Big Shot.
After last night's result at the World Cup it is maybe an appropriate time to look back at this. As far as football is concerned we have little reason to cry for Argentina.
Here is how Tommy described these matches with Racing Club in The Big Shot…
A South American Liberty!
Ever since 1960 the European Champions have met the top team in South America for a trophy called the Inter – Continental Cup. That name is hardly ever used, however, as everyone accepts that this home and home fixture is for the World Championship – the supreme status symbol in club football. So I imagine there are lots of youngsters in many countries who dream of playing in these very special show games.
Frankly, my advice to them all is…FORGET IT! Aim as high as you like in football but don't worry if you never get to play for that World title because then your dream might just become a nightmare – and as a Celtic player I can speak from bitter experience. We were the first British club ever to play for the Inter-Continental Cup and naturally it was a terrific honour. It was a great feeling too to be going forward as Europe's Champions, knowing that only one team stood between you and the World title.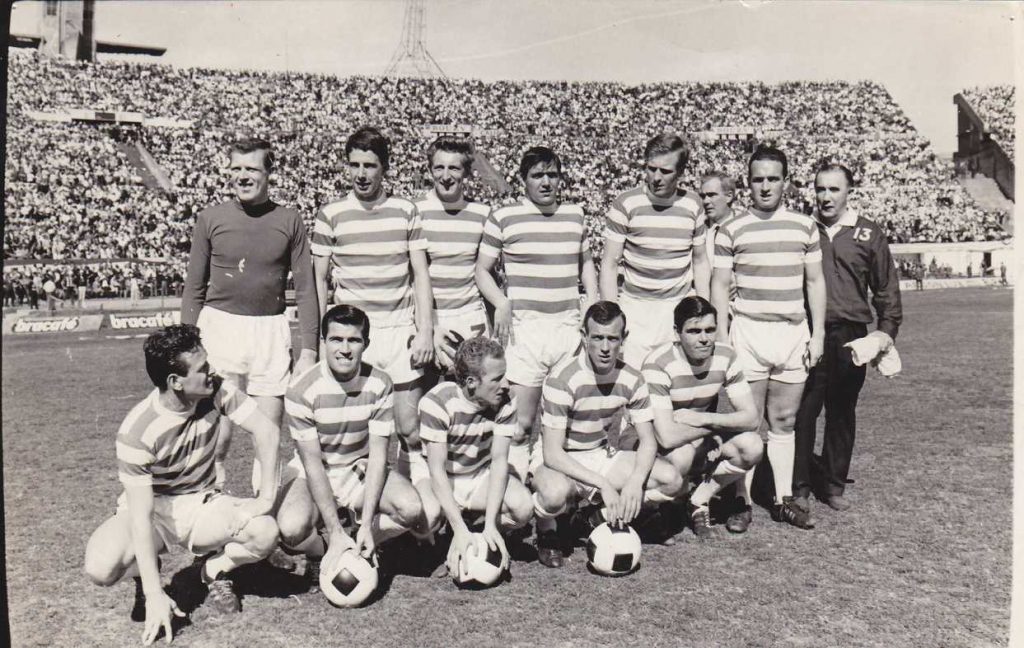 In 1967 we thought we could win that title. We were playing good football and we were a better side than the South Americans. But that was before we knew very much about our opponents, Racing Club of Argentina. Later, we were to discover that their plans for winning the World crown had very little to do with football.
These Argentinians were like no team I had ever encountered before. Indeed, I think it is fair to say that they were the dirtiest, most ruthless, and despicable bunch of soccer hatchet-men ever gathered together under the one set of jerseys. In all grades of football you'll find the tough guy and the 'fly' man. But Racing Club were in a class of their own.
They were the masters at heel-clicking and catching you with their elbow when the ball was well away and they had long since perfected every other dirty trick known in football, including a fair amount of spitting. I'm not saying they took us by surprise. The Boss, Jock Stein, had compiled a pretty thick dossier on them before they reached Scotland and he warned us that in the first leg at Hampden they would be a certain amount of trouble, as the best way to slow any game down is to commit as many fouls as possible. We were just as determined not to let them knock us out of our stride.
The Hampden tie worked out as anticipated. They played a purely destructive game and we refused to be upset. Self-discipline was easy for us on that October evening because as far as behaviour was concerned this game was no different from any other. Every player at Parkhead knows he will get no sympathy if he is guilty of field offences. In fact, although it was well into the second half before Billy McNeill headed the winner I think we all gained confidence from this match because Racing did not appear to have much to offer in the finer points of football, although they gave us one or two hints that they knew a thing or two about unarmed combat.
It was not until the second leg in Buenos Aires, however, that we fully realised why Racing are known as the 'dirtiest team in South America'. The astonishing thing is that their coach, Jose Pizzuti, is a most pleasant wee man off duty and was a really skilful player in his day. You would think he would seek the same kind of reputation for his team. Instead, when he went for that coaching certificate, he must have studied under SMERSH!