The Celtic Graves Society welcome all fans to the commemoration of Celtic great Mick Dunbar (1863-1921). Mick played in Celtic's first ever XI in 1888 and was on the Celtic Committee from 1891, before becoming a Celtic Director from 1897 until his death in 1921.
Mick Dunbar was one of the pivotal figures in the foundation and establishment of Celtic on and off the field.
The commemoration will take place at St Peter's Cemetery in Dalbeth, 1900 London Road, Glasgow G32 8TX on Sunday 21 August at 12 pm, ahead of the Celtic v Hearts game at nearby Celtic Park.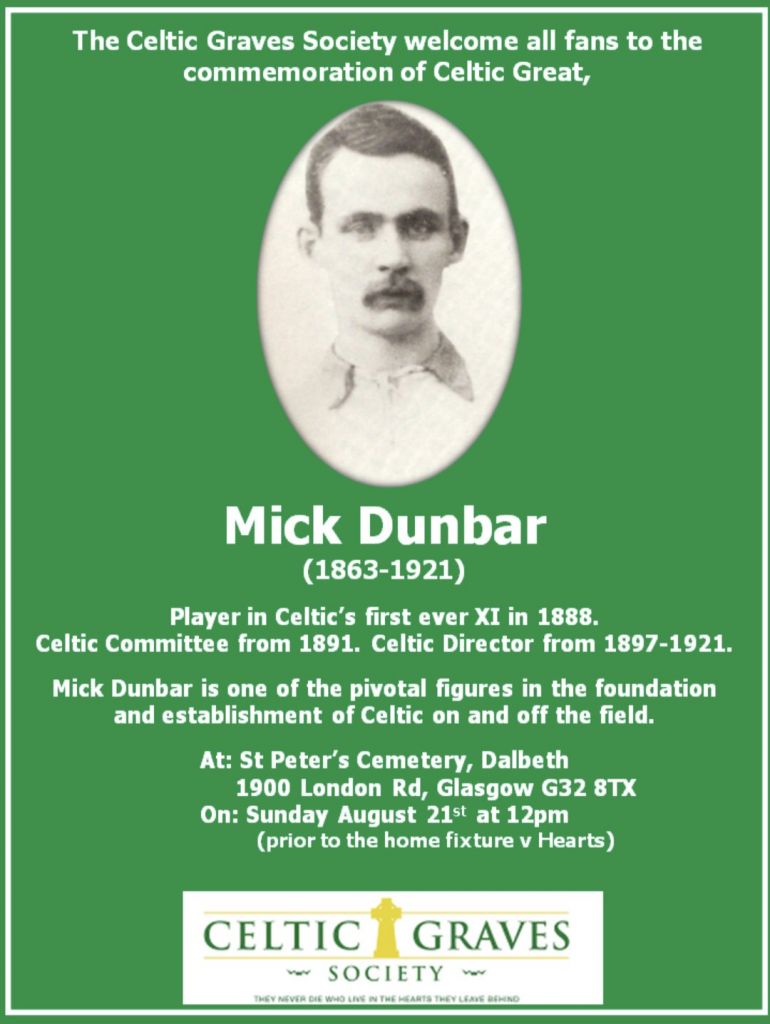 So why not join The Celtic Graves Society  in commemorating Celtic Great, Mick Dunbar. He played in our first ever match and devoted the rest of his life to Celtic as player, committee man and director. All welcome…
Commemorating Celtic Great, Mick Dunbar.
He played in our first ever match and devoted the rest of his life to Celtic as player, committee man and director.
All welcome. pic.twitter.com/C6t7kxZPtt

— Celtic Graves Society (@CelticGraves) August 4, 2022
Ahead of this Celtic Graves Commemoration we asked Celtic Historian David Potter, a great friend of Celtic Graves and regular speaker at their events, to remind us of the contribution that Mick Dunbar played in the development of Celtic on and off the park….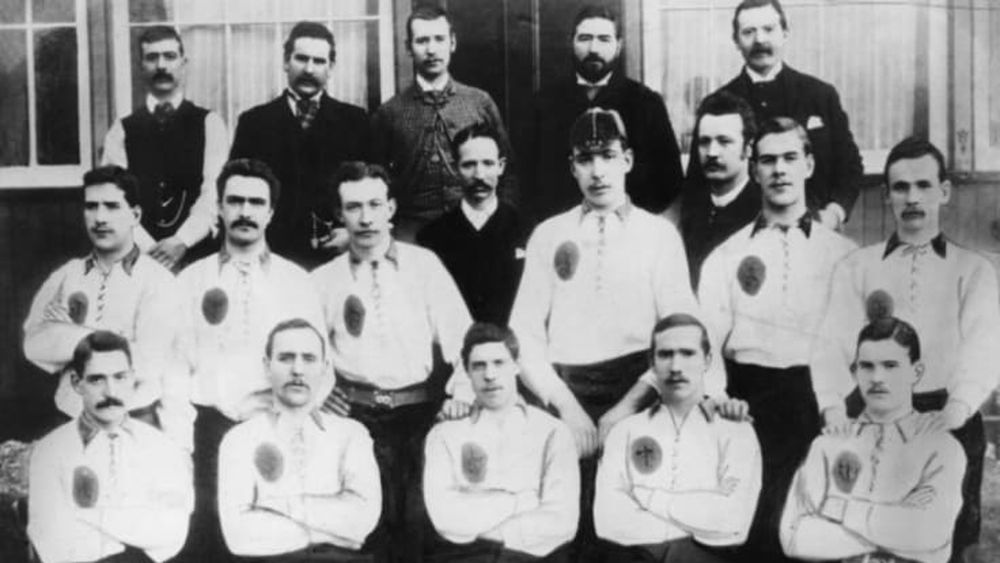 MICK DUNBAR (1863-1921)
Possibly one feels that Mick Dunbar should be better known among the Celtic support. He played at inside left in Celtic's first ever game on 18 May 1888 and scored one of the 5 goals against Rangers Swifts. He was still a Hibs player at the time. He had also played for Busby Cartvale and Cowlairs. He had already played for Scotland in 1886, but his historical reputation suffers in that he never won a major honour with the club, other than the Glasgow Cup of 1891.
He was reported as a good player, although he was not as good as Sandy McMahon who took over from him. Mick accepted this in good grace and retired from the game in 1893, when he was 30. He had played an important part in launching the club that he loved, and he remained closely associated with it for the next few years.
The next few years were not without their trauma, but when the decision was made in 1897 to form a limited company, Mick became one of the Directors and held on to that position until his sudden death on Tuesday 6 September 1921.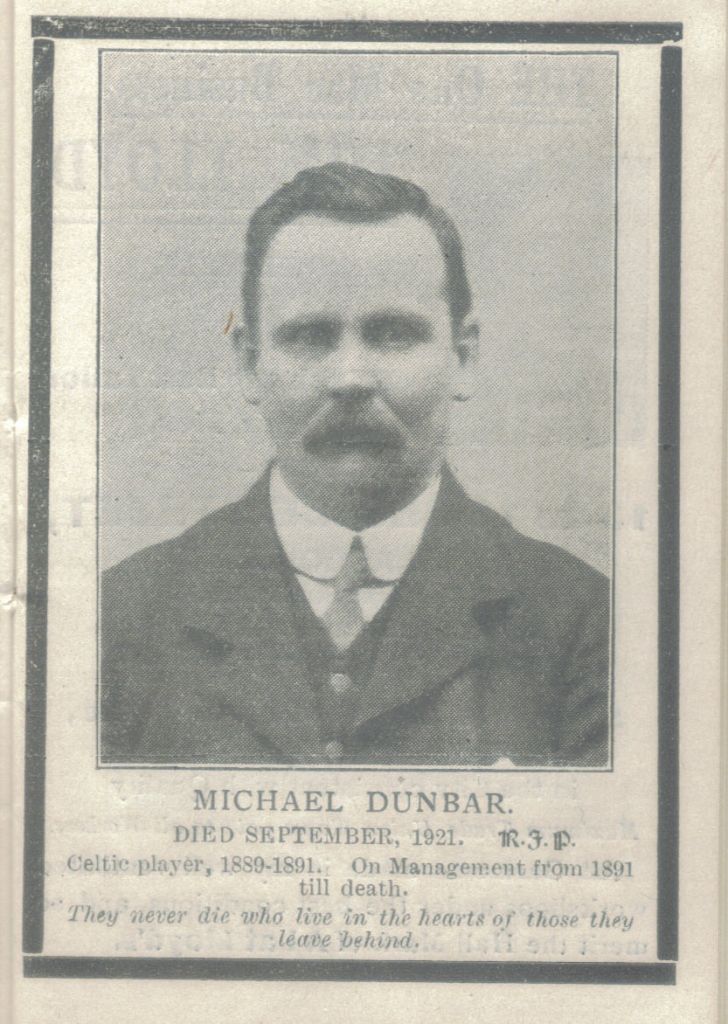 He can thus claim a fair share of credit for his part in the Young, Loney and Hay years with the amazing successes of Quinn and McMenemy, and for the development of the prodigious Patsy Gallacher. He was well liked and a great friend and supporter of Willie Maley with whom he had played in the early years. His younger brother Tom had also played for Celtic (and Rangers at a time when his religion was not a problem there) as a full- back, but he died young in 1908.
"Waverley" of The Daily Record (a far superior newspaper, incidentally, compared to what it is a hundred years later!) tells how the bachelor Mick Dunbar had been ill for about a year and had gone to Torquay for a break, but had returned looking a great deal better.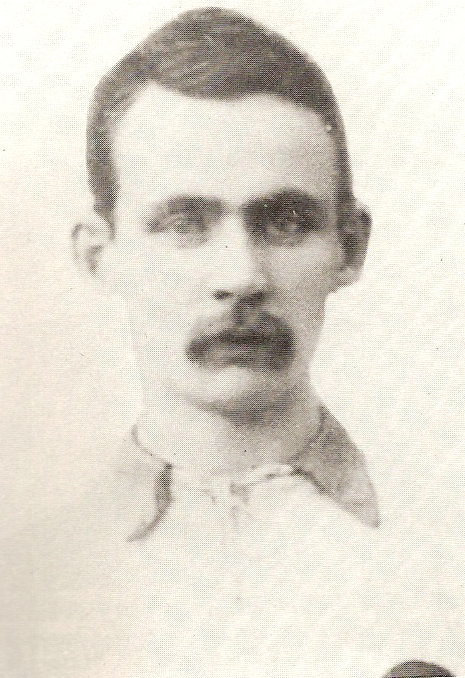 He had looked in "at business" (Celtic Park, one assumes but he was also a wine and spirit merchant) but had collapsed and been taken to the Royal Infirmary where he passed away. He was described as an "even tempered, likeable fellow" with a great deal of contacts in Scottish football circles. It is not clear exactly when he died, but on that same day Celtic beat Dumbarton 4-0 with Tommy McInally, Patsy Gallacher and Joe Cassidy all on song. Whether they knew about the passing of their beloved Director or not, it was an eloquent testimony to his memory.
David Potter
Great to be back commemorating some Great Celts after the lay off of the last two years.

Mick Dunbar is a very significant figure in our history. Come along, pay your respects and hear more about Mick's role in Celtic's early history

Be good to catch up with so many of you.☘️☘️ https://t.co/deF4YwOj9e

— Celtic Graves Society (@CelticGraves) August 11, 2022
David Potter's new book, Willie Fernie – Putting on the Style is featured in the new edition of the Celtic View which is out now and available from the Celtic Stores. You can also pick up the Willie Fernie book there too or order direct from Celtic Star Books, link below…