The inaugural winner was James Forrest and it was richly deserved. This year the task to choose The Celtic Star's player of the year will be even more difficult. After all how do you choose one standout performer from a team responsible for winning 9-in-a-row for only the second time in the club's history?
Thankfully we don't have to. You are going to do the hard part. We'll just give you all the runners and riders over the next couple of days. We'll get it down to a shortlist of four from which we ask The Celtic Star readers to vote for their main man from the 9-in-a-row campaign. So let's get started shall we?
THE CELTIC STAR – SEASON 2019-20, PLAYER OF THE YEAR CONTENDERS (PART 1)…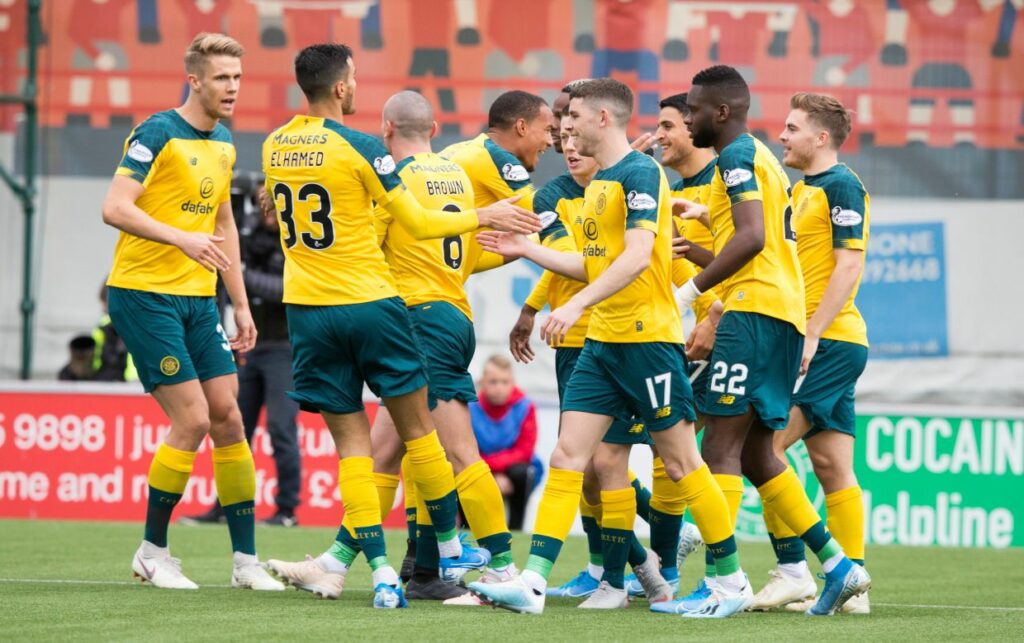 1. JAMES FORREST
First up last year's winner and bona fide club legend James Forrest. If it came down to selflessness allied to goals and assists, you'd be hard pushed to look past James Forrest again this season.
Jamesy Forrest appreciation post 👏

🔥 He's played in all nine seasons of this phenomenal #9INAROW run… #CelticFC's Homegrown Hero. 💚 pic.twitter.com/CsC6pGSLC1

— Celtic Football Club (from 🏡) (@CelticFC) May 24, 2020
From 47 starts Jamesy has returned a remarkable 16 goals and 22 assists across all competitions. Only the premature ending to the season stopped him breaking the 20 goal barrier yet again. Not bad for an out and out wide player. But is he?
Neil Lennon has utilised Forrest at right midfield, left midfield and even behind the striker before returning from the winter break in Dubai and being asked to play as a wing back, as Neil Lennon adopted a new formation.
It is always god to see one of our own come through the ranks and establish himself as an essential first team player and over the last 3 or 4 seasons Forrest has added a consistency to his game often missing from wide players.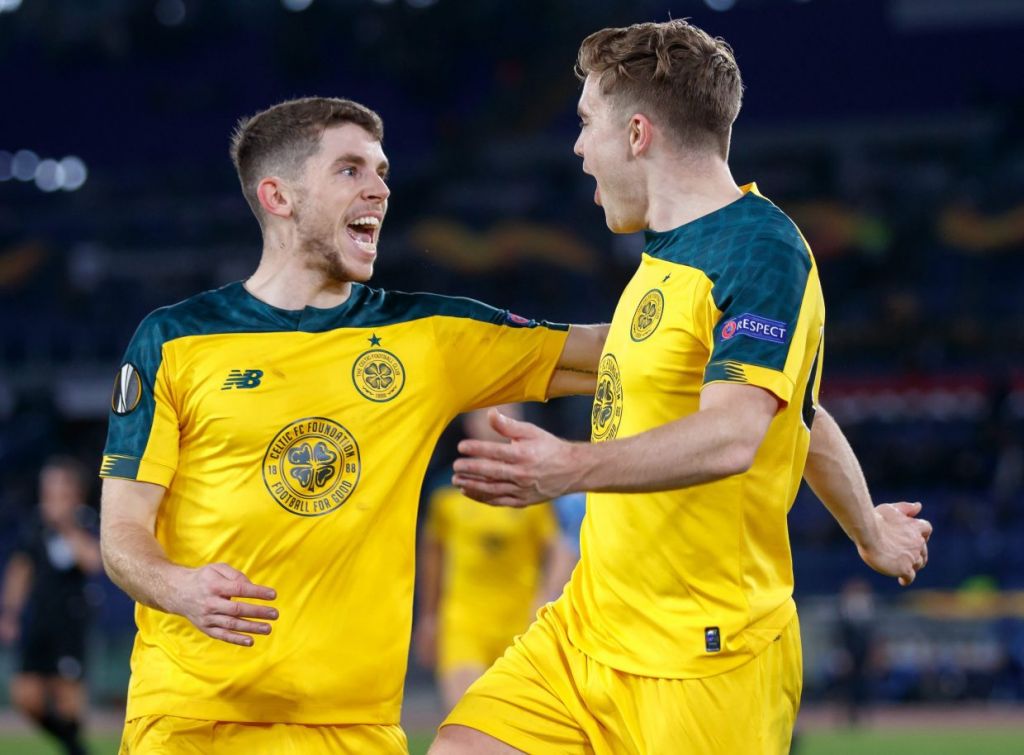 Forrest's equaliser against Lazio in Rome shows his skills transfer from league football to the big European nights, where he scored home and away against Cluj and did the same against AIK. His best domestic performance arguably came in the 4-0 win at Pittodrie in October last year where he scored one and set up two more as Celtic blitzed Aberdeen. It could be argued he's not quite hit the heights of last year but 2018-19 was always going to be a hard act to follow.
2. SCOTT BROWN
You can't consider a player of the year and not include Captain, Leader, and Legend Scott Brown. Reports of his demise have been mentioned in despatches for several years now, yet the Celtic captain keeps on proving everyone wrong.
Considering the season was cut short Broony had already started 50 games this season contributing 5 goals to the cause. Perhaps the reports of the captain's demise are somewhat exaggerated. This is the man Neil Lennon has advised he leaves to run the dressing room, such is the respect he has amongst his teammates and it's a respect that is matched amongst the support.
Once again this season Brown has been the protector of the defence and a driving force in midfield. His performance against 'the' Rangers at Ibrox when Steven Gerrard's side were expected to win the midfield battle was imperious. Celtic won the game 2-0 and Odsonne Edouard rightly got the headlines, but it was Scott Brown enforcing himself and driving his players on where the foundations for that win lay.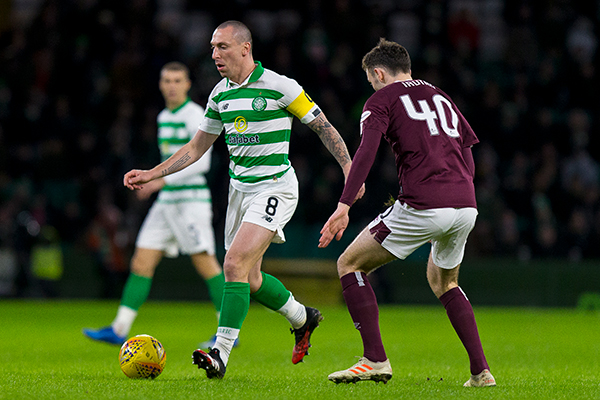 In the League Cup semi-final against Hibs at Hampden Brown added a couple of goals to a controlled midfield performance, as he inspired Celtic to a brilliant 5-2 win en route to another League Cup Final appearance.
And who can forget the late, late show against Hamilton at Celtic Park. Hamilton's 90th minute equaliser looked to have damaged Celtic's title challenge but Scott Brown epitomised the never say die attitude of this record breaking team when he scored with virtually the last kick of the ball deep into injury time, to turn despair into delight. When it comes to choosing a player of the year contender the captain of the 9-in-a-row team is bound to be on most people's shortlist.
3. CALLUM McGREGOR
Next to be considered is Celtic's Mr Consistency Callum McGregor. Much like Ryan Giggs during his Manchester United career McGregor appears to put his recovery skills down to practicing Yoga. Yet if it was down to just that there's a couple of folk at my work who would be pulling on the Hoops every weekend.
The Celtic Star's Sandman has christened him the metronome and that seems apt as McGregor is very much the man who produces Celtic's pulse. Callum has earned himself to right to be compared to McStay and Collins when it comes to great Celtic midfielders, in fact a midfield of those three Scottish Celts would be that match for any side in Europe never mind Scotland.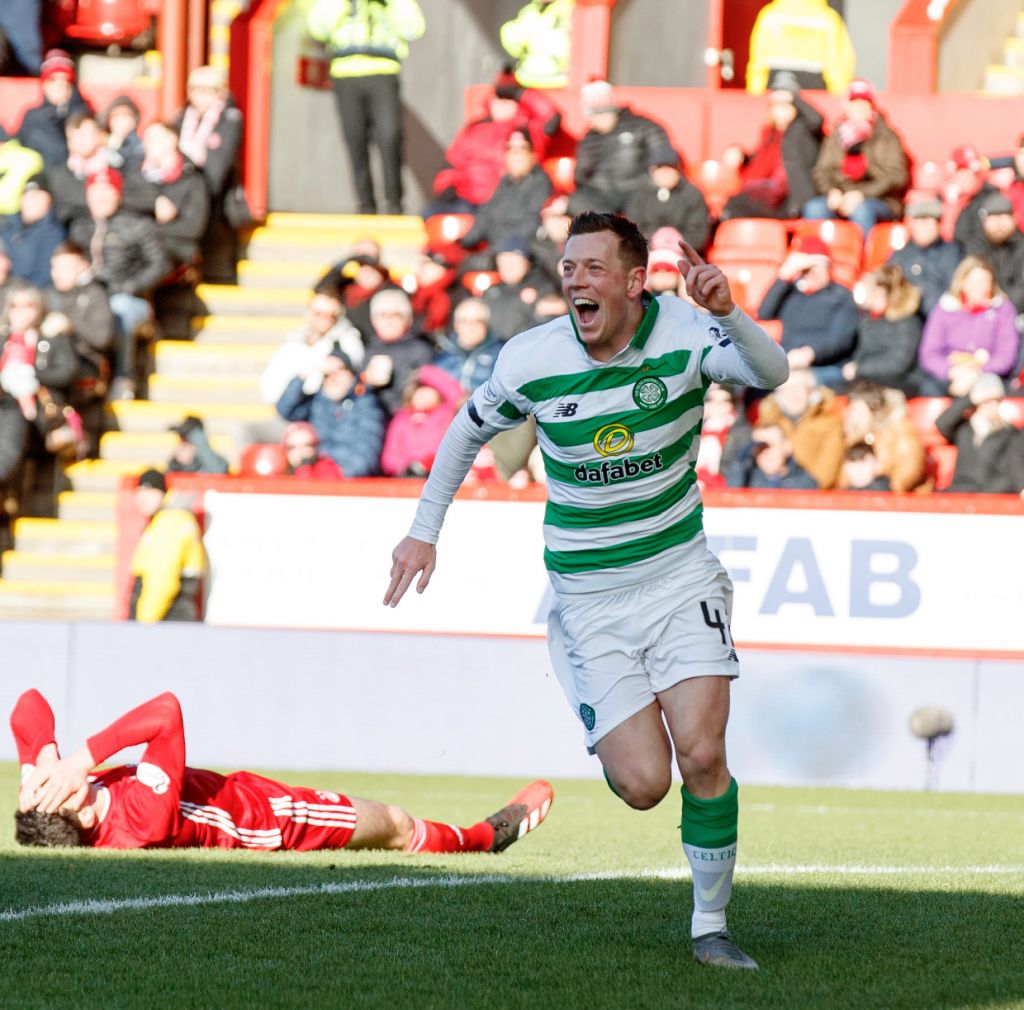 This season he has matched Scott Brown in the appearance stakes with 50 and Calmac has added a brilliant 13 goals and 10 assists too. A player who appears comfortable playing as a 6, 8 or number 10, it's a shame we can't clone the lad and have him play all three.
This season saw a steady start from Callum playing alongside Brown in a 4-2-3-1 formation but after the team returned from Dubai Callum was pushed further forward to support the attack, as Neil Lennon gambled mid-season and switched formation to 3-5-2. The gamble paid off and McGregor took on the responsibility by grabbing some vital goals as the Celts kicked on in the New Year.
In Champions League qualifying he scored against Sarajevo and Kalju and bagged three in the league prior to the winter break, against Hearts, Ross County and St Mirren.
Post Dubai the goals really started to flow with seven goals scored from January until the season was curtailed in March.
This time last year you could have argued Callum's form had dropped off a little in the closing matches. This season it appeared he was reaching new heights. Callum is one of the first names you always look for on a team sheet alongside Scott Brown and when he's there we all breathe a little easier. This season has probably been his best yet and he has to enter anyone's calculation for player of the year.
It takes a lot for a new signing to break into a legendary Celtic side when it has already won eight consecutive titles and a Treble Treble of domestic trophies. It takes someone special to not only do that but also be a contender for the player of the year.
4. CHRISTOPHER JULLIEN
Christopher Jullien has simply been a fantastic signing by Neil Lennon. After signing up from French side Toulouse you would assume he was a fine defender when he came with a price tag of £7million, yet there were a few questions initially as he struggled to force his way into Neil Lennon's starting eleven. When he did he soon became a first pick.
Not only is he a top player, he has also embraced all thing Celtic and seems to already have a love for the club and the support. By the season's end Jullien had made 46 appearances for the first team and contributed seven goals, as well as adding a couple of assists along the way. Not a bad return from a new Bhoy especially from Central defence.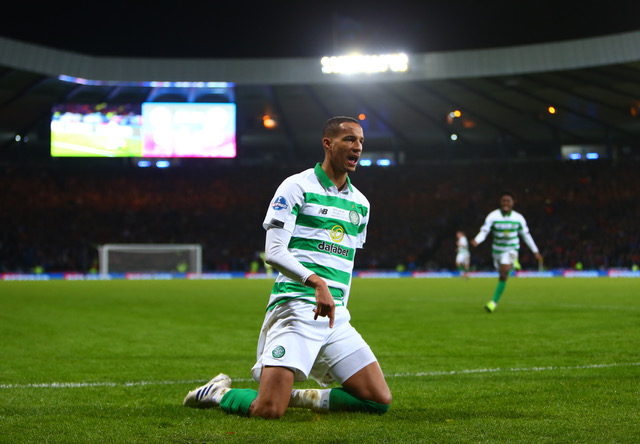 It was October at Fir Park before Jullien made his league debut, though he did play against Kalju and Cluj away in the Champions League qualifying rounds. He scored his first goal for the club in Europa league qualifying in a 4-1 win away to AIK, but really made his mark with the winning goal against Lazio at Celtic Park in the group stages. He certainly looked like he enjoyed the moment.
Jullien further cemented his claim as a player for the big occasion by scoring a brilliant winner in the League Cup Final. If you intend ingratiating yourself to the Celtic support then a winner in the cup final over 'the' Rangers is a fair way to go about it. You couldn't consider a player of the year award without including this likeable Frenchman, he's been involved in some of the most important moments this season.
If you are worrying your choice of player of the year has been left out then don't. There are plenty more players who can stake a claim to The Celtic Star player of the year, and we'll cover them all before we ask you to vote.
'There can be only one' as Connor Macleod said in 'Highlander'. Choosing will be no easy task.
Niall J