Are Celtic about to put Five Stars on our shirt?
Celtic have ONE star on our jersey, it's The Celtic Star and as well as giving this site it's name it represents the club's European Cup win in 1967 when Celtic became the Champions of Europe.
Celtic have won the league on 49 occasions and are 11 points ahead with 5 games to play as they close in our 50th title.
Aberdeen, our opponents on Sunday in the Scottish Cup semi-final, have TWO stars on their shirt, representing their European Cup Winners Cup and the subsequent Super Cup win in 1983. Fair enough, but it NOT anywhere near on a par with The Celtic Star!
Across the city the Phoenix Rangers wear 5 stars on their shirt. Somewhat absent-mindedly they seem to have overlooked that fact that all 54 titles they won or shared happened before the old club was liquidated in 2012. Without their brass neck they'd have zero stars – which everyone in Scottish football – including them – knows.
But their 5 stars represents winning 50 titles, even if it was the old Rangers.
So Celtic have apparently been looking at this matter for next season and if leaked images are correct then they plan to recognise the achievement of reaching 50 title wins (not out) by adding five stars to next season's shirts.
The shirt has FIVE stars above the Celtic badge with four being gold and the central one being Green, representing both ten league titles AND the European Cup win in that glorious late afternoon in Lisbon on 25 May 1967.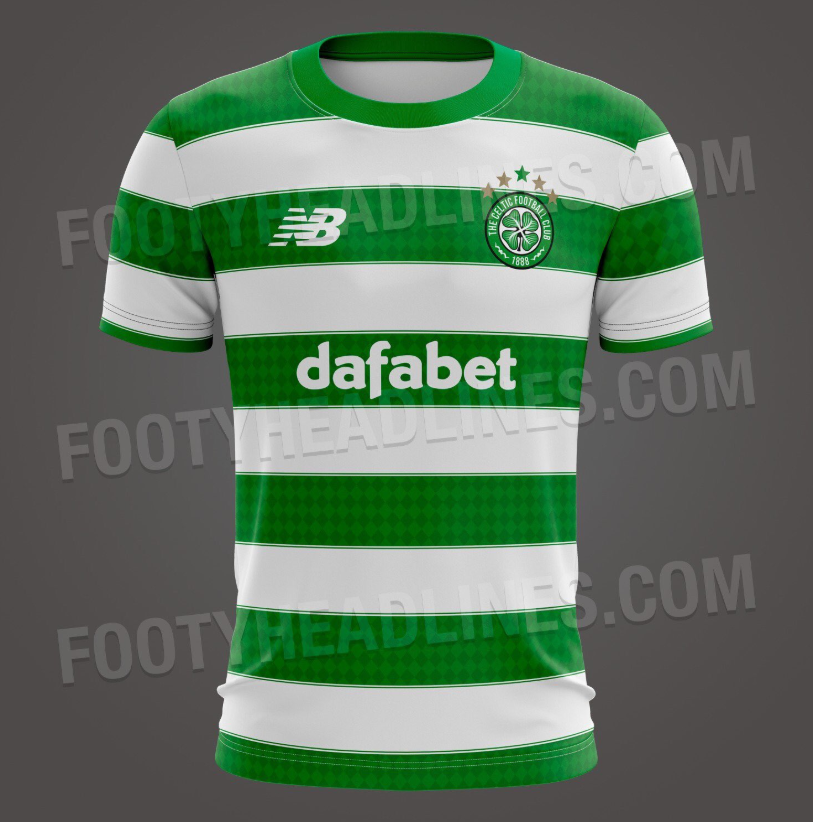 This leaked image of is claimed to be next season's home shirt appeared today on Footyheadlines.com – this was the site that leaked the new home kit for this season last April, so it is a credible source for these type of things.
However we've had a look through the site this afternoon and this image is NOT displayed on there and it's not one their own social media channels – but it is out there on the internet and is being picked up by the media.
So putting aside doubts about whether it's accurate or not, we'd like to know what YOU think on this. Should Celtic continue to have ONE STAR on our shirt to recognise our greatest achievement or should we incorporate the success of winning 50 titles (touch wood) by displaying FIVE STARS next season, as per the image above?
Please vote now…
 Loading ...