THE Celtic Star's Fan of The Week is back, last week we had Jim in Canada; however, this week we have a Celtic fan that's been around the world and settled back in Glasgow – Sean B.
If you would like to take part and answer some questions for us please email editor@thecelticstar.co.uk
Here's Sean's entry as The Celtic Star's Fan of the Week.
Having lived in Asia the majority of my life, supporting Celtic involved watching matches on Celtic TV at kick off times ranging from 10pm on a Saturday to 3:45am for midweek games. In 2016, I moved to Glasgow for University and have been a season ticket holder ever since.
Earliest Celtic memory?
My earliest Celtic memory would be in 2006 when my dad took me to see Celtic beat St Mirren 2-0. Stiliyan Petrov scored the second goal in what would be his last game for Celtic.
How did you end up supporting the Bhoys?
I ended up supporting Celtic through my dad who has supported Celtic since the 60's. When I was just 2 years old he used to take me to a Celtic Supporters Club in Texas to watch all the games.
I can also remember owning a DVD called 'The Greatest Celtic Games in the World Ever!'. I used to watch this DVD with my dad and he would always point out all the games he was at and tell me stories from them which made me want to experience the games for myself.
What does a normal match day involve for you?
I don't have a normal match day routine – train to Bellgrove and walk up to Paradise; however if it's cold I will always get a pie and a Bovril in the ground and for midweek games sometimes have a few drinks before going to the stadium, helps keep me warm.
Best Celtic memory?
My best Celtic memory would be when Celtic beat Rangers 3-2 in April 2008 to put Celtic 5 points clear at the top of the table. I was 9 years old and living in South Korea at the time, and because the match was late at night on a school night, my mum had forced me to go upstairs to bed at half time with the game poised at 2-2.
When Scott McDonald won the penalty, my dad ran up the stairs to tell me, only to find that I had snuck out of my bed and was watching from the top of the stairs. We both celebrated as Barry Robson scored the penalty and he let me watch the rest of the match. To this day my mum still doesn't know why I was so tired the next day.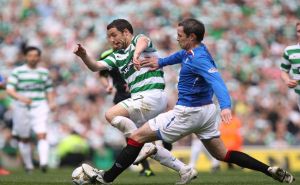 Favourite player of all time and why?
Favourite player of all time would be Nakamura as he was one of Celtic's best players when I was growing up, and also because I miss the days when Celtic were actually able to score from corners.
Favourite current player?
My favourite current player would be James Forrest as he always seems to deliver in the big games and have always thought he has been under appreciated at times by the Celtic support.
Best transfer in your time supporting Celtic?
The best transfer in my time would be Moussa Dembele as we got him on a free and he played a massive part in the invincible treble season, was just a shame how it ended.
Biggest transfer letdown in your time supporting Celtic?
Biggest transfer letdown for me would be Derk Boerrigter. When he joined for around £3m from Ajax I thought we were getting a pacey winger that would contribute with a lot of goals. Unfortunately, he was injury prone and only ended up scoring 1 goal. Hopeless.
Favourite away ground?
My favourite away ground would be Ibrox before the allocation was cut, I have only been there once but it was great to see 8,000 Celtic fans celebrating a 5-1 win whilst the rest of Ibrox was empty.
Do you think Neil Lennon will deliver us 10IAR?
I was a bit skeptical at first, but now as long as he is backed by the board I fully believe that he will get us there.
FANCY TAKING PART? If you would like to appear as The Celtic Star's Fan of the Week simply email editor@thecelticstar.co.uk and we'll send over the questions. If you can send us a few photos of you at a Celtic game that would be awesome.