EARLIER THIS week the one-time Chairman of Rangers Alastair Johnston decided to re-ignite the debate on the myth that Rangers survived liquidation in 2012. He claimed that some Celtic Supporters believe that Rangers died in February 2012 and questions our mindset for holding such beliefs.
Yesterday we responded to Johnston's remarks and indeed many other Celtic sites also did so. You can read our article in response to Alastair Johnston – Alastair Johnston and A Statement from Celtic Supporters, "Air of unreality as 140 years of history is formally ended in less than nine minutes," The Herald, 15 June 2012 – HERE.
Today we have a new extract from Stephen O'Donnell, who is the author of Tangled Up in Blue, and who also wished to respond to the remarks made by Johnston on Thursday, that were so gleefully covered by all the newspapers, who never seem to question or challenge these people at all, just publish the propaganda message that they wish to get out there, for whatever reason.
No doubt we'll find out soon enough why Johnston wanted to re-ignite the Rangers didn't die debate.
He is of course correct to say that Rangers didn't die in February 2012. On 14 February 2012 they entered Administration but plenty of clubs have come out the other side and therefore lived to tell the tale. Rangers didn't. They had a CVA rejected in June 2012 and entered liquidation in October 2012 so he is completely wrong to say that Rangers didn't die, it just didn't happen in February 2012.
And Mr Johnston no Celtic supporter thinks that was the date that Rangers died.
Here is today's extract from Tangled Up in Blue from Stephen O'Donnell and we also include an earlier extract from last year and an interview with the author, plus you will find links to review of Tangled Up in Blue by David Potter on The Celtic Star and Auldheid on Scottish Football Monitor, so plenty of high quality reading for you on a Saturday morning…
An Extract from TANGLED UP IN BLUE…by Stephen O'Donnell
Rangers had died, and the media buried them: "Rangers Football Club Born 1872, Died 2012", lamented The Herald over its entire front page; the tabloid Scottish Sun carried a picture of a coffin, tastefully adorned with a Rangers' wreath, being lowered into a grave; the Daily Record's page one spread featured a photo of Tom Vallance's Gallant Pioneers, the Rangers team who had taken on Vale of Leven in the Scottish Cup Final of 1877, under the headline R.I.P. RFC, with the paper declaring: "Rangers football club were plunged into liquidation yesterday by the taxman – bringing the curtain down on 140 years of history"; while the headline story in the Glasgow Evening Times focused on how short the creditors' meeting had lasted: "140 years of Rangers ends in eight minutes".
Charles Green's Holding Company, S*vco Scotland Ltd, acquired the bones of Rangers for £5.5m, an amount which barely covered the administrators' fees. Green paid £1.5m for the 'heritable properties', namely Murray Park and Ibrox Park, which had been valued at £119m in 2005 when the club was trying to fight off insolvency by overstating the value of its assets.
Half of the purchase price, a total of £2.75m, was for 'player registrations', which, given that the club would soon be liquidated and the players' contracts would be null and void, didn't augur well for those concerned about Green's competence.
The new owner insisted that all contracts held by Oldco Rangers had been automatically transferred to his Newco, but several high-earning squad members, including Allan McGregor, Kyle Lafferty and the three Stevens – Whittaker, Davis and Naismith – all disagreed and declined to join Green's new entity, citing their right to have their contracts cancelled under the Transfer of Undertakings (Protection of Employment), or TUPE, code of practice.
TUPE regulations were designed to allow employees in such circumstances to join a new company on the same terms as they had previously enjoyed, but there was no obligation to do so. Refusing to accept that Green's club was the same Rangers and instead referring repeatedly to the new entity as 'S*vco', Naismith insisted: "I am disappointed and angry that Rangers Football Club no longer exists in its original form…My loyalty is with Rangers, not with S**co, who I don't know anything about", while Whittaker concurred: "We owe no loyalty to the new club. There is no history there for us".
By this time, a very strange thing seemed to have happened with regards to the new Ibrox entity; certain media outlets, who had confirmed the demise and death of Rangers, and all its history, when the club was consigned to liquidation, now instead started talking in mysterious terms of 'a traumatic summer for the club' following the events of June and July 2012, while others began referring retrospectively to 'some initial confusion' at the time over the universal response to HMRC's decision to vote down Charles Green's CVA offer.
Everyone had naturally assumed that bankruptcy and liquidation spelled the end of the club which had dominated Scottish football for one hundred and forty years, but Newco Rangers, on their website and elsewhere, had always maintained that they were still the same club.
For the most part, this was largely seen as defiance and an attempt to sell season tickets, but it now seemed that the Ibrox club really had risen from the grave, and liquidation, the terminal end which had to be avoided at all costs, was now viewed as merely something that had happened to somebody else.
It was the company, Scottish football was latterly informed, namely The Rangers Football Club plc, Company Number SC004276 and incorporated in May 1899, which had died, while the ethereal 'club', along with all its history and heritage, had in fact survived the insolvency process and been bought up by Green as part of his acquisition.
References to Green's purchase of the 'business and assets' of Rangers were amended to the 'business, history and assets' and anyone who suggested otherwise, or used references to Rangers being a 'new club' or a 'relaunched club' would face public intimidation and be flooded with abusive communications.
Now, nobody in their right mind was claiming that the Ibrox supporters shouldn't continue to follow the new entity as if it were the old Rangers, and carry the club with them in their hearts, but that was not what was happening, with everyone from Rangers fans and directors to the media who had buried the club, to SPL chief executive Neil Doncaster now claiming that the old and the new Rangers were legally one and the same thing, and woe betide anyone who should suggest otherwise.
It wasn't long before the 'same club' contention became the almost universally accepted position in Scottish football, except amongst fans of other clubs, needless to say, who, despite being the only group not to have performed an Orwellian volte-face on the issue, were once again marginalised and denigrated for alleged narrow-mindedness by the more powerful mainstream narrative.
'Rangers' seemed to be having their cake and eating it, keeping the parts of the old club which they liked, such as its history and honours, but conveniently shedding its debts and responsibilities, including any potential sanctions as a result of the SPL inquiry into the alleged use of undisclosed payments to players at Ibrox.
Stephen O'Donnell
Stephen O'Donnell is the author of Tangled Up in Blue, the best-selling book on the demise of Rangers FC.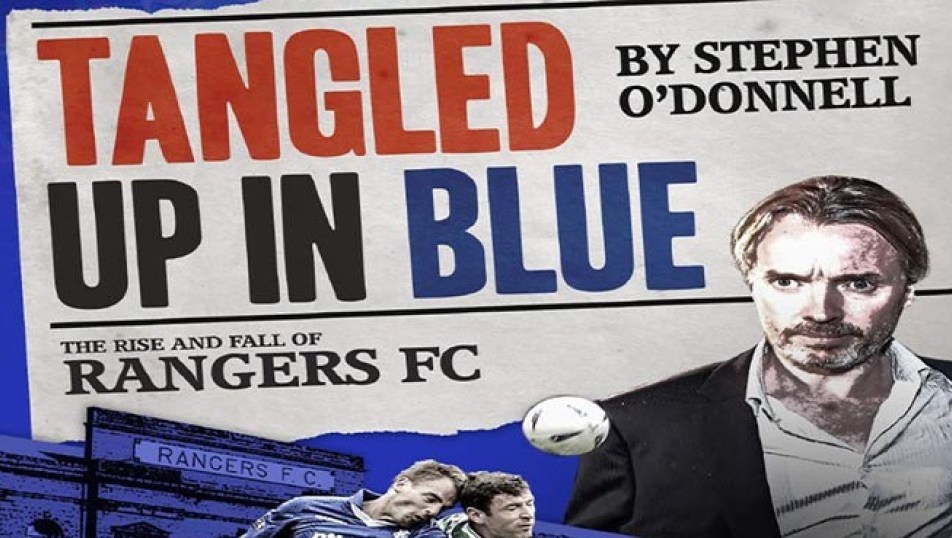 Extract from Tanged up in Blue, by Stephen O'Donnell which is out now on Pitch Publishing and available at selected Waterstones stores and also on Amazon – you can order your copy HERE.
The Celtic Star last year published various extracts from Tangled Up in Blue and if you missed them the first time around you can catch up below…
CLICK below to read 'Tangled up in Blue – Stephen O'Donnell on how Rangers lost track of their Foundation Date'